By all accounts, the Green Bay Packers have a plethora of talented wide receivers in training camp.  Davante Adams, of course, is a First Team All Pro at the position.  Furthermore, Randall Cobb was acquired in an effort to help mend the relationship between Aaron Rodgers and the front office.  Amari Rodgers was drafted in the third round and has showed great promise early on.  With all of these talented receivers, many wonder how many of them will make the final cut.  Here, we look at the locks and borderline roster decisions that the Packers will face.
Locks to Make the Roster
Davante Adams
As mentioned previously, Davante Adams is the best wide receiver the Packers have.  Without a doubt, he will be the Packers' number one receiving threat again this season.  Last year, he set the franchise record for receptions (115) while tying the record for receiving touchdowns (18).  Additionally, Adams has made the Pro Bowl four seasons in a row and is just entering his prime.
The question surrounding Adams is not his standing on the team this season.  Rather, it is whether or not he will be a Packer in 2022 and beyond.  Adams and the Packers are in the midst of contract negotiations, which GM Brian Gutekunst said takes some time.  Gutekunst did state, however, that it is very important to the Packers to keep Adams long-term.
[pickup_prop id="7098″]
Randall Cobb
The fact of the matter is this: the Packers did not trade for Randall Cobb just to have him not make the team.  Brian Gutekunst himself admitted that the move was made to make Aaron Rodgers happy.  Cobb is even living with Rodgers at his house in Green Bay while he searches for his own:
Aaron Rodgers has Randall Cobb living with him for the time being and said he's got a lot left in the tank.

Added: "He's in a really good headspace mentally."

— Lily Zhao (@LilySZhao) August 4, 2021
Despite many thinking that Cobb was "washed up," the veteran wide receiver has still been productive in his post Packers career.  In his two seasons after leaving Green Bay, Cobb has recorded 93 receptions for 1,269 yards and six touchdowns.  These may not be eye-popping numbers, but the averages are better than his final season in Green Bay before being brought back.  The Packers will likely use him in the slot, and he will mentor his protégée, Amari Rodgers, while doing it.
[pickup_prop id="9961″]
Amari Rodgers
Speaking of Amari Rodgers, he too is a lock to make the final roster.  The Packers drafted him in the third round of this year's draft, which would indicate that he is going to be part of the action this season.  No team is going to bury their third round pick on a practice squad.
The Packers already love all the things that Amari Rodgers can bring to the team.  Reports from camp state that he has been playing some slot, but also has been utilized out of the backfield.  In the backfield, he serves as a H-back and jet-motion player.  This is the role that Tyler Ervin had on the offense.  Even though Ervin did not put up huge numbers, his motion at the line kept defenses off balance.
Additionally, the Packers are experimenting with Rodgers as the team's punt returner.
Packers ST coordinator Maurice Drayton said he's "leaning toward" rookie WR Amari Rodgers as the punt returner and they're "vetting" rookie RB Kylin Hill on kickoff returns but "a lot of other guys are putting in work." pic.twitter.com/XLMuDihiPZ

— Rob Demovsky (@RobDemovsky) August 8, 2021
The Packers' special teams have been the team's biggest weakness for many years.  If Rodgers can even be an average punt returner, it will be a massive upgrade for the Packers.
[pickup_prop id="6883″]
Allen Lazard
At one point last season, it appeared as if Allen Lazard was the number two receiver that the Packers hoped he would be opposite of Davante Adams.  Unfortunately, a core injury required surgery and Lazard was limited to just 10 games in 2020.  Furthermore, upon his return, Lazard was obviously still playing hurt and had 10.9% drop percentage.  In 2019, when he was healthy and played all 16 games, Lazard had only a 3.8% drop percentage.
In the final year of his rookie contract, the Packers are hoping that Lazard can take the next step necessary to warrant a new deal.  When healthy, Lazard has dependable hands and has a knack for being in the right place at the right time.  He may not be the fastest or the best route runner, but he is a solid wide receiver.
[pickup_prop id="5636″]
MVS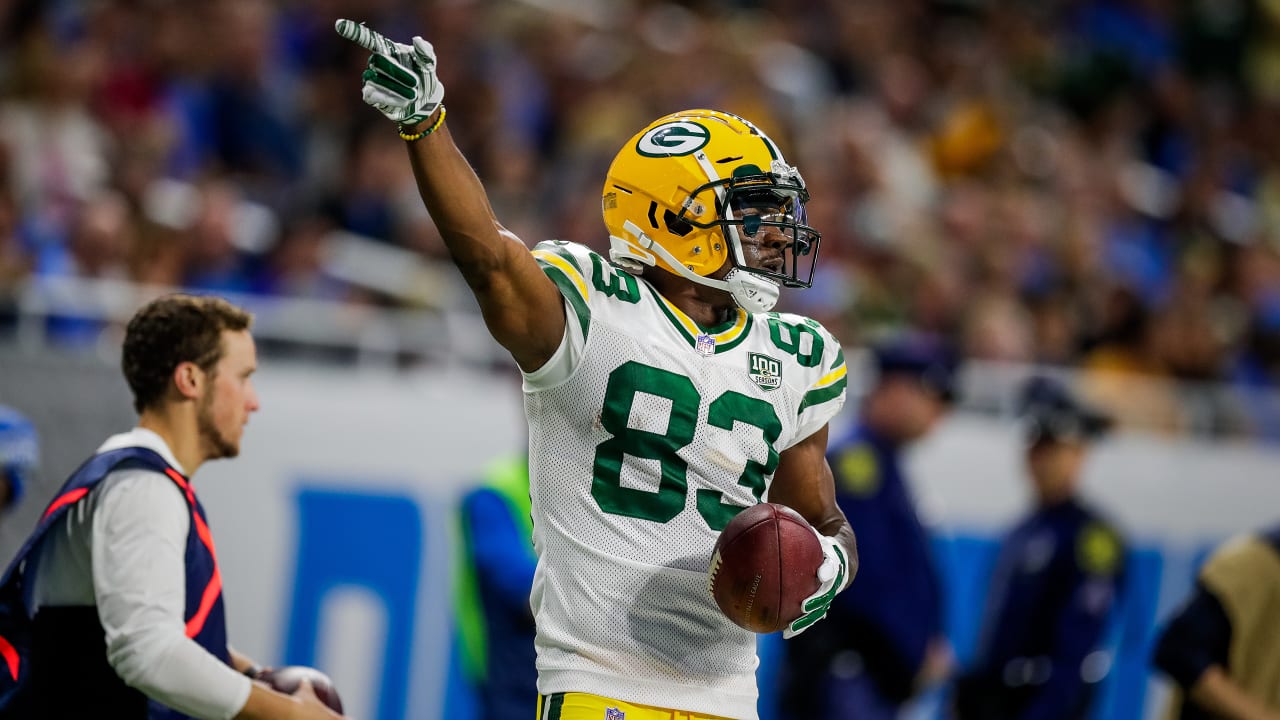 Bold prediction: MVS is going to emerge as the Packers' number two receiver this season.
There is a great deal to love about MVS.  He is the fastest wide receiver on the team.  According to him, he is still the fastest player overall on the Packers' roster, despite Eric Stokes and his insane combine speed.  Last season, he led the entire NFL in yards per reception with 20.9.  The only thing that is missing is putting all of his skills together.
If Marques Valdez-Scantling can consistently make difficult catches, he's going to be a legitimate threat

6' 5" / 206 pounds / 4.37 sec 40
pic.twitter.com/4mXfidQ6Sr

— IKE Packers Podcast (@IKE_Packers) August 10, 2018
Last season, drops plagued MVS and caused a great deal of criticism from fans.  Some went as far as to threaten his life on social media.  Despite this, MVS kept grinding and emerged as one of the best wide receivers on the Packers' roster.  He finished 2020 with 33 receptions for 690 yards and six touchdowns.  In the NFC title game, he had four receptions for 115 yards and a score.  To put it plainly, MVS is a dangerous receiver and everything is going to click for him this year.  There is no way that he is not making this team.
[pickup_prop id="4749″]
Six or Seven?
The Packers' top five receivers will most likely be any combination of the five previously mentioned.  However, the question that training camp will answer (among others) is will the Packers keep six or seven (or more) wide receivers on the roster.  In this section, the Packers' probable sixth and seventh receivers will be analyzed.  They have received their ranking based on reports from training camp.
Juwann Winfree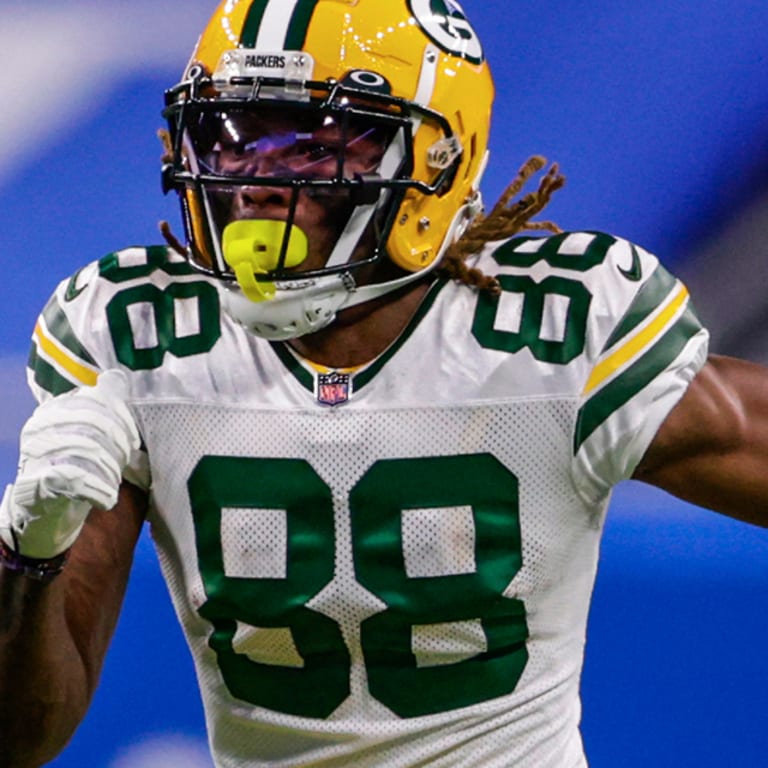 The most impressive wide receiver in Packers' training camp has been third-year player Juwann Winfree.  It seems that there is a new Tweet about an amazing play that he made almost everyday by the reporters who watch camp.  The best way to summarize his camp thus far is this:
Juwann Winfree has been absolutely killing it at #Packers training camp.

We keep talking about that last WR spot…

He is going to be 𝗵𝗮𝗿𝗱 to cut.

— Eli Berkovits (@BookOfEli_NFL) August 3, 2021
Juwann Winfree has yet to catch a regular season pass in the NFL.  However, he seems to have a good connection with both Aaron Rodgers and Jordan Love so far in camp.  At six foot three and 215 pounds, he has no physical limitations to his game.  If he continues to impress during preseason games, there is no doubt that he will make the Packers' final roster.
Malik Taylor
Here we have a player who could make the final roster due to his abilities on special teams.  Despite not being a return specialist, Taylor played more special teams snaps than any Packers player who was not Mason Crosby or JK Scott.  With a new special teams coordinator, it could be that he plays even better in that role this season.
The ability to play special teams is not all there is to like about Taylor, though.  Last season, he had limited snaps on offense.  However, Rodgers had a 152.1 quarterback rating when targeting Taylor.  Additionally, he did not drop a single pass.  Now granted, he only had five receptions for 66 yards and one touchdown all year.  Aside from that lone touchdown, all his other catches resulted in first downs.  He is young, he is somewhat raw, but he has a ton of potential.
The Others Competing for a Roster Spot
The other contenders for the Packers' roster at wide receiver or EQ St. Brown, Devin Funchess, and DeAndre Thompkins.  St. Brown was on the Packers' roster last season, but has struggled to remain healthy.  In addition, he had several crucial drops in the playoffs last year that have hurt his case.  Right now, he may be on the outside looking in.
Devin Funchess signed with the Packers last offseason, but opted out due to the COVID-19 pandemic.  This offseason, he took a pay cut in order to provide the Packers with more salary cap space.  By all accounts, he has had a good training camp as well.  Unfortunately, he made a controversial racist remark during his Family Night press conference.  Even though the Packers have stated that it will not directly lead to his release, it certainly will not help his case to make the roster if the decision is between him and an equally talented player.
The Packers filled their 90-man roster with the signing of DeAndre Thompkins earlier this offseason.  To be sure, he has all the potential in the world.
Packers fill final roster spot w/ WR DeAndre Thompkins:

🔹2019 UDFA from Penn State
🔹No career regular season NFL snaps
🔹4 yrs college exp | 80 tgts | 60% comp | 14.9 ypc | 6 TDs
🔹82% of snaps out wide
🔹66 career PR attempts | 10.2 ypr | 2 TDs
🔹Ran 4.34 40-yard dash pic.twitter.com/xqigDdhQFa

— Paul Bretl (@Paul_Bretl) May 26, 2021
Thompkins has had a very successful camp thus far.  He is taking some reps at punt/kick returner, but also has impressed as the jet motion player in the backfield.  He is surly going to be very difficult to cut.
For More Great Wisconsin Sports Content
Follow me on Twitter at @theotherAdams14 and follow us @WiscoHeroics1 for more great content. Check out our merch page here and use promo code Wisco at check out for $1 off! To read more of our articles and keep up to date on the latest in Wisconsin sports, click here!