Giannis Antetokounmpo led the Milwaukee Bucks to victory in Game One of their opening series against the Chicago Bulls. The two-time MVP had 27 points and 16 rebounds on 10-19 shooting. This included a 1-4 effort from three. Today, Giannis made sure that he focused on his three point shot in practice. At one point, he knocked down 15 in a row!
No big deal, just Giannis Antetokounmpo hitting FIFTEEN straight threes. pic.twitter.com/Gx3pXBHgRu

— Scott Grodsky (@ScottGrodsky) April 18, 2022
Giannis Antetokounmpo and the Three Point Shot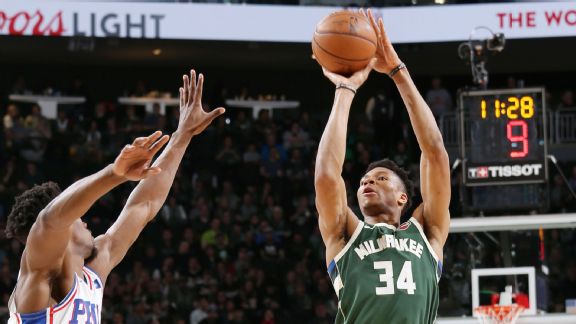 This past regular season, Giannis Antetokoumpo shot 29.3% from three. Despite more attention being given to his improved jump shot, this percentage was actually down from last year. In 2020-21, Giannis shot 30.3% from three. Some may say that the dip was due to Giannis taking more three point shots this year. That, however, was not the case. Giannis actually averaged the same number of three point  shots made (1.1) and attempted (3.6) per game as he did last season.
Actually, Giannis has shot over 30% from behind the arc four times in his NBA career. The first occasion was his rookie season, when he made 34.7% of his threes while attempting 1.5 of them per game. After that, Giannis went through three seasons in which he was terrible from three, shooting 15.9%, 25.7%, and 27.2% respectively.
The best season of Giannis Antetokoumpo's three point shooting was actually in 2019-2020. That season, he made 30.7% of his three point attempts while averaging 1.4 makes on 4.7 attempts per game.
So Is Giannis a Better Shooter This Year?
So is the media/Bucks fans just making it up? Is Giannis really a better shooter this year than in the past? The answer is an emphatic YES!
The three point percentage may have been down slightly, but his field goal percentages from other areas of the floor have gone up tremendously:
3-10 feet in 2020/21: 40.1%
3-10 feet in 2021/22: 42.1%
10-16 feet in 2020/21: 35.9%
10-16 feet in 2021/22: 41.6%
16-3P in 2020/21: 32.4%
16-3P in 2021/22: 43.1%
It is the midrange game that has really made Giannis into a lethal scorer this season. Of course, he is still dominant in the paint and in transition. However, this jump shot is making him even more unstoppable.
[pickup_prop id="22959″]
For More Great Wisconsin Sports Content
Follow me on Twitter at @theotherRobin19 and follow us @WiSportsHeroics for more great content. To read more of our articles and keep up to date on the latest in Wisconsin sports, click here! Also, check out our merch store for some amazing WSH merchandise!