Khris Middleton sure has been getting his name out in entertainment circles lately. Earlier this month, it was reported that he will appear in the new Adam Sandler movie, Hustle. The three-time All-Star also just appeared on Jimmy Kimmel Live! this weekend to play the game "College Knowledge." The  Milwaukee Bucks forward teamed up with fellow Texas A&M alumnus DeAndre Jordan in a trivia contest against Kentucky alumni Shai Gilgeous-Alexander and Malik Monk.
NBA stars play #CollegeKnowledge! 🎓 🧠 @DeAndre @Khris22M @ShaiGlAlex @AhmadMonk @AggieMbk @KentuckyMBB #NBAFinals #GameNight pic.twitter.com/hZHzqkuocR

— Jimmy Kimmel Live (@JimmyKimmelLive) June 11, 2022
How Did Khris Middleton Do?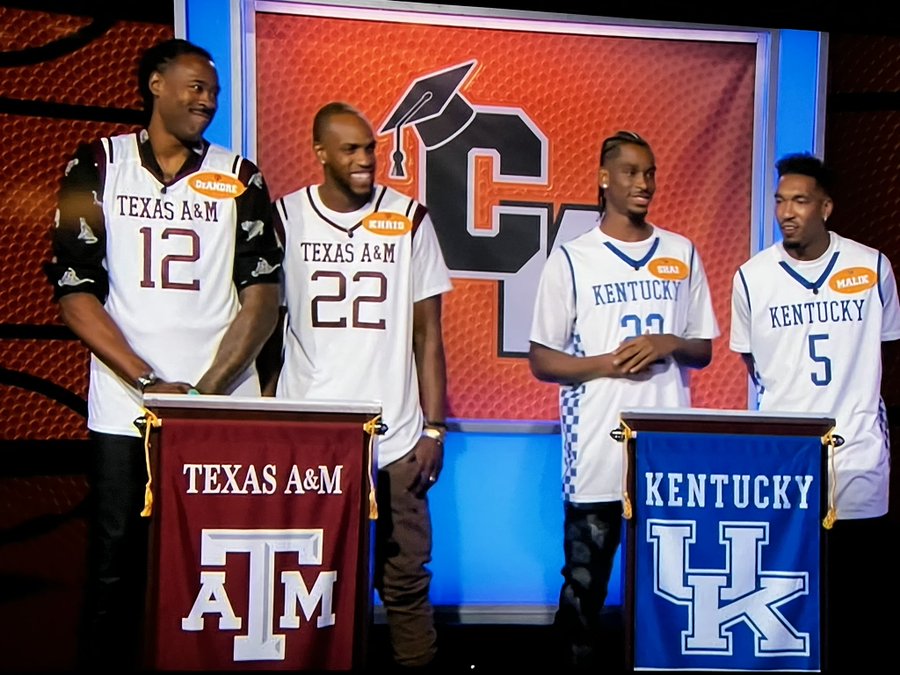 Well, if you watched the video you saw that Khris Middleton started out strong. For reasons that are a serious indictment against the public education system, he seemed to be the only player who knew that Benjamin Franklin was on the $100 bill. You would think that players that make so many Benjamins would know that.
Middleton and DeAndre Jordan also correctly answered that the Kentucky Derby is the largest horse race in the world. The players from Kentucky did not know that…
When the question came about where the George H.W. Bush Library is located, both Middleton and Jordan knew the answer was Texas (one would hope they knew that). Middleton also appeared to be the only player that knew France gifted the Statue of Liberty to the United States.
After that, well, things got a little ugly. After incorrectly guessing that Leonardo da Vinci painted the ceiling of the Sistine Chapel in Rome, none of the four players could answer the question, "At what temperature does water boil?"
In any case, it was a fun game and the players were comical and played to the audience. For winning, Middleton and Jordan received caps that say "Genius" on them. Monk and SGA received caps that said "Jeanyus."
For More Great Wisconsin Sports Content
Follow me on Twitter at @theotherRobin19 and follow us @WiSportsHeroics for more great content. To read more of our articles and keep up to date on the latest in Wisconsin sports, click here! Also, check out our merch store for some amazing WSH merchandise!