The Wisconsin Badgers will have two representatives at the 2021 NFL Combine. Tackle Cole Van Lanen and cornerback Rachad Wildgoose will participate. The NFL Combine takes place at each participant's college pro day. Wisconsin's is March 10.
323 draft prospects invited to participate in 2021 NFL Scouting Combine.https://t.co/UzNybPh7Lf pic.twitter.com/eHF5a6RzBR

— NFL Draft (@NFLDraft) March 3, 2021
Cole Van Lanen
Van Lanen was a first team Big Ten selection last season by the coaches. He hails from Bay Port High School in nearby Green Bay. He played in 45 career games at Wisconsin. 19 of these were starts at left tackle.
According to the Draft Network: "Van Lanen is an absolute load coming off the snap. He's got natural power for days thanks to his foot drive and mass, once he's able to create any level of forward push, he's consistent in his efforts to continue to balloon the point of attack. Really enjoyable to watch him in gap/power concepts to continue pushing pace and collapsing defenders off of the football — he's going to be a natural in the run game at the next level."
I really like what Van Lanen did in his career at Wisconsin. While mock drafts have him at best a late day three pick, I think he's going to carve out a good NFL career.
Rachad Wildgoose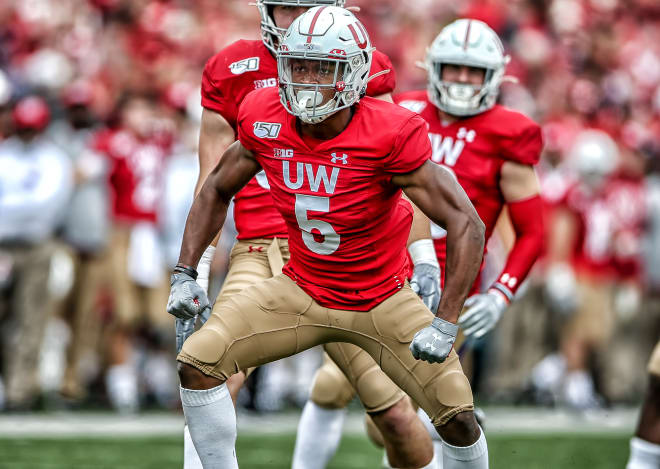 It's safe to say the Rachad Wildgoose decision was a surprising one to many. It feels like Wildgoose took a big gamble on himself. Wildgoose only appeared in two games this past season. He was injured in the Northwestern game and was seen with a sling on the sidelines in the second half. As a result, that was the last we saw Wildgoose play. He has decided to bypass his senior season.
Per the NFL Draft Network: "Rachad Wildgoose Jr. was a surprise entry into the 2021 NFL Draft. His resume of game tape at Wisconsin was fairly lean and he only played in two games this season before a shoulder injury brought the end of his campaign—not an inspiring sample size to inject excitement into an unsuspecting draft profile. Wildgoose Jr. has shared time between the perimeter and nickel, the latter of which is where I will like him most at the pro level.
Wildgoose is also projected to be a day three pick as well, although NFL scouts seem to be higher on Wildgoose as a prospect than Van Lanen. The potential is there for Wildgoose, but the sample size seems to be raw at this time.
Follow me on Twitter @DylanBuboltz. Check out our merch page as well. Use promo code WISCO at checkout for $1 off! To read more of our articles and keep up to date on the latest in Wisconsin sports, click here!