Now that nearly two months have passed since our dreams came true.  I think it's time we revisit the list of the best Milwaukee Bucks ever.  Being that it was only Milwaukee's second title in the franchise's history, the main contributors for this team have made a significant jump up the list.  Understanding that recency bias is a real thing,  I'm going to try my best to not have that influence this.  But I'd be lying if I said I wasn't still over the moon about our small market team reaching the pinnacle of the NBA for the first time in 50 years!
For clarification, this list factors a combination of individual play, team success, and longevity of their time with the franchise.  Without further adieu, here is my current top five Bucks of all time.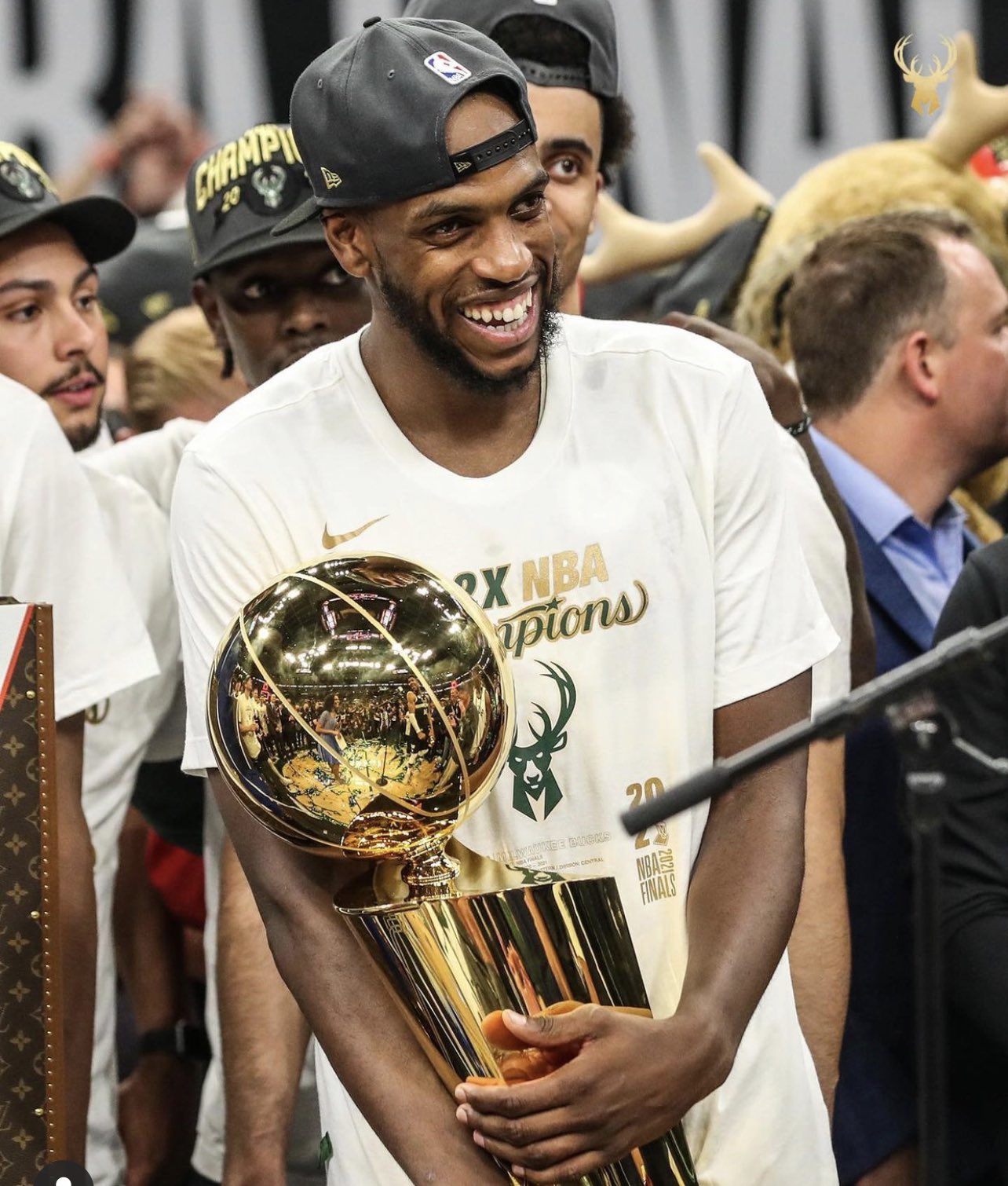 #5- Khris Middleton
Considering how important Middleton has been to the franchise since his arrival up until the championship, he has to be on this list now.  Throughout the years he has been the most consistent player in the playoffs (outside of Giannis of course) and the team success has greatly been determined by his play game to game.  Playing above average defense combined with solid playmaking make him a good starter.   Add in the fact that he can take over games at times offensively and you have a yearly All-Star candidate.
His play in this year's playoffs was something to behold.  He hit the game winner in overtime against the Heat in their first game.  He put in the go-ahead bucket in overtime against the Nets in the do-or-die Game Seven.  Against the Hawks he had multiple 20 point quarters, including 23 in the third quarter of the series clinching sixth game.  Finally, in Game Four of the finals he scored 40 points to tie the series at 2-2.   While yes his streakiness is a concern for fans still, he's had too many huge moments for this team's success for me to leave him off of this list.
#4- Sidney Moncrief
Moncrief had a short-lived career by current NBA standards, but he was a heck of a player in his day.  Mostly known as a defensive stalwart, Moncrief won two NBA DPOY awards with the Bucks.  His all-around play was so impressive that he received public praise from Michael Jordan in 1986.  Saying, "When you play against Moncrief, you're in for a night of all-around basketball… He'll hound you everywhere you go, both ends of the court. You just expect it."
Moncrief spent all of his career as a Buck until he retired in 1989.  The only season he didn't play in Milwaukee was in 1990 when he came out of retirement to play in Atlanta.  While the Bucks never reached the finals, Moncrief did help them reach the conference finals three times.  Milwaukee would not reach the conference finals again until 2001.
#3- Marques Johnson
Many people coin Johnson as the leagues first true "point-forward".  The 6'7″ playmaker played seven years with the Bucks.  In just his second season, Johnson averaged a career high 25.6 points.  Considering the lack of three point shooting in this era, it is very impressive he was able to shoot over 50% from the field almost every season of his Milwaukee career.  Without the size to dominate down low and without the spacing of today's updated rules it's truly impressive.  Marques was a four time All-Star selection in Milwaukee and was the focal point of the offense during two conference finals runs in the early 80's.
You really could flip him and Moncrief on this list with no problem.  Both were great and played together for a few years.  The only reason I'm giving Marques a nod over Sidney currently is because of his work as an announcer for the Bucks the past few seasons.  Moncrief had his time in the booth as well, but Marques definitely seems to have a knack for making every play exciting as a color analyst.
#2- Kareem Abdul-Jabaar
On the court Kareem was simply a monster.  Standing at 7'2″ with a 7'6″ wingspan, his skyhook was unstoppable.  He was as long as anyone the league had seen, but with the agility and shooting touch of a guard.  He was undoubtedly the leader of the Bucks when they won their first championship in 1971 in just his third NBA season.  His scoring has just simply never been matched as he is still the NBA's all-time leading scorer.
The only knock on him is his ugly split he had with the city of Milwaukee.  While he did have some legitimate reasons for wanting out of Milwaukee at the time, it took a long time for the wounds between him and the city to heal.  Luckily those tensions seemed to have been worked out now, but most people remember Kareem for his play as a Laker.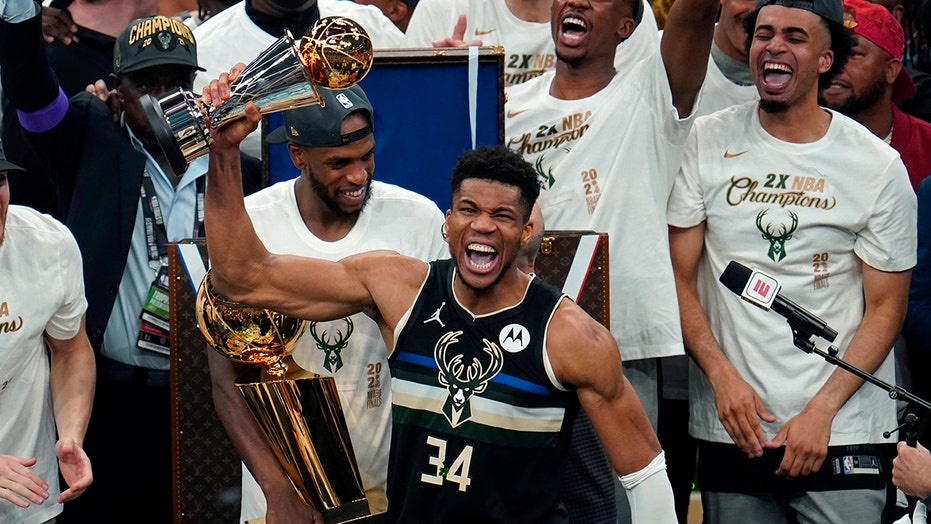 #1- Giannis Antetokounmpo
If you didn't know Giannis was going to be #1 by now, are you really a Bucks fan?  Coming in as a raw prospect out of Greece, almost nobody expected Giannis to become what he is now.  It is a tribute to his crazy work ethic that he became anything better than a role player.  He is the most dominant player in the NBA right now, and arguably the top player overall depending who you ask.  At the young age of 26, Giannis has a list of accomplishments better than many hall of famers.   He has won Most Improved Player of the Year, Defensive Player of the Year, 2 regular season MVPs, a championship, and a Finals MVP.  Not to mention he is a five time All-Star, three time All-NBA First Team, and four All-NBA defense.
His impact goes far beyond the stat sheet though.  The energy he plays with every possession is contagious and the whole team plays better when he's in the game.  His leadership has grown just as exponentially as the rest of his game over the years as well.  Additionally he showed his loyalty to the city when he signed his supermax extension in 2020 when he could've waited until the end of this season to do so.  He simply is the best player Bucks fans could ever be blessed with.

The Big Scare
Giannis at times seems to be super-human.  Not only because of his freakishly athletic plays, but his ability to recover from injury.  During the Eastern Conference finals Giannis had his knee hyper extend to the point of which all of the online medical experts said there was no way he didn't tear at least one ligament.  They all said the best case scenario would be for him to be ready for the following season, but even that wasn't guaranteed.  Instead, he was found to have no structural damage and return to action merely a week later in the first game of the finals.  By the second game he was playing as if nothing had ever happened to him.  The man simply has no fear and his determination is unmatched.
The Game of a Lifetime
Giannis had several huge moments during the finals.  A couple crazy chase down blocks.  An alley-oop from Jrue to seal a Game Five victory with less than 20 seconds to go in Phoenix.  Or blocking a Deandre Ayton alley-oop on what is possibly the greatest block in Finals history.  All of that was topped by his performance in Game Six to win the championship.
Giannis scored 50!  I repeat, Giannis scored 50 of the 105 total points the Bucks scored that night.  Including 20 in the third quarter alone.  He also secured 14 rebounds and was all over on defense racking up five blocks.  The craziest stat of the night was that he made 17/19 free-throws after hearing criticism all post season long from media and fans alike.  In the biggest moment in the last 50 years for Milwaukee, he had the best game of his career.  Only a few weeks removed from what appeared to be a season-ending injury.  Giannis is simply incredible.
Here's to you, Giannis.  Let's do it again!
[pickup_prop id="11347″]
For More Great Content
Follow me on Twitter @IAmMitchLang and follow us @WiSportsHeroics for more articles like this!  To keep up with the latest in WI sports, click here!