There is certainly lot of talk of how the Packers will look for the 2021 season. The Packers' roster is really better then most think. The talent on the team is indeed up there with the best in the NFL. Why is that? The Packers, in each position outside of inside linebacker, have players ranking in the top five or ten of their position. Here are the players on the Packers that rank top five or ten at their position.
Aaron Rodgers- Top Five Quarterback
Without a doubt, Aaron Rodgers is arguably the best and most talented quarterback to throw a football. He was definitely the best quarterback in the NFL in 2020. He led the NFL in completion percentage, touchdown passes, and passer rating. In addition, he was the 2020 NFL MVP for the third time in his career. He will be back for the Packers in 2021 for another run at the Super Bowl. Beyond 2021, his future is in doubt, but we should let it all play out. Until then Aaron Rodgers is arguably the best quarterback going into 2021.
Davante Adams-Top Five Wide Receiver
Since 2016, no wide receiver has had more touchdowns then Davante Adams. Since 2015, when he was about to be considered a bust, Adams has been on a tear in the NFL. He has had four out of five years with double digit touchdown seasons. In addition, if he did not get injured in 2019 he would have had another one. He had 18 touchdowns in 2020 and is continuing to be a go to target for Aaron Rodgers. As he is still in the prime of his career, he looks to climb the ranks in the NFL. Now he will be a free agent after 2021, but the Packers clearly will re-sign him. Look for Davante Adams to have another dominant season in 2021.

Aaron Jones-Top Ten Running Back
Aaron Jones has established himself as one of the best running backs in the NFL. He is explosive and really gives the Packers' offense a new dimension. In addition, he has had back to back one thousand yard seasons and ten plus touchdowns. He is definitely a true weapon in the Packers offense. In addition, since Jim Brown, Jones is the only player to have 3,000 plus rushing yards and 35 plus rushing TDs in a three year span. He also has an average of 5.00 plus yards per carry in his first four seasons in the NFL. He is a Packer for life as he signed a four year deal that is really team friendly.  He turned down more money in free agency to stay with the Packers. He will look to be better in 2021 for the Packers offense.
[pickup_prop id="5631″]

Robert Tonyan-Top Ten Tight End
The player who  certainly came on the scene in 2020 was Robert Tonyan. He has given something the Packers have not had since Jermicheal Finley: production at the tight end position. He became a weapon on the offense and dangerous in the end zone. Tonyan tied for first among all tight ends in touchdowns with Travis Kelce. He showed that he can stretch defenses be another target for Aaron Rodgers. He will be back for the Packers in 2021 and looks to improve his game. If he can keep this up a long term deal will be indeed be coming up for him.

Elgton Jenkins-Top Five Offensive Guard
The Packers offensive line, without a doubt, has been dominant for most of Aaron Rodgers' career. They have had lots of great players along the offensive line. Elgton Jenkins will be another great one. He played all positions along the Packer offensive line in 2020 and played well in all of them. His best spot is at left guard where he is becoming a dominant offensive linemen. He has only allowed one sack and is a nightmare for defensive tackles. Jenkins made his his Pro Bowl in 2020, which he clearly deserved and may have many more in the future. Jenkins has the potential to be a all time great, yes he is that good and can be up there if his play stays up. He will be certainly a cornerstone for the Packers in the future.
David Bakhtiari-Top Five Offensive Tackle
The player that is the glue that holds the Packers offensive line together is David Bakhtiari. Since 2013, he has been an elite offensive tackle in the NFL. Talk about a steal of the 2013 NFL draft! Aaron Rodgers has not taken many beatings in the NFL, mostly due to David blocking his blindside and keeping him clean. This was true again in 2020 as  Aaron Rodgers had a clean jersey most of the year. David was missed in the NFC Championship game as the offensive line struggled against the Tampa Bay Buccaneers. He clearly makes a huge difference. The Packers locked him long term and he will continue blocking the blindside of Aaron Rodgers in 2021.
Zadarius Smith- Top Ten Edge Rusher
One the biggest game-changing free agents for the Packers was Zadarius Smith. He is probably the best signing since Charles Woodson. The biggest steal of the 2019 free agency class is now in his third year with the Packers. He has had back to back double digit sack seasons. Brian Gutekunst really deserves credit for getting Smith to come to the Packers. Thanks to Smith, the Packers look like a top unit, something that the Packers have not had since 2010. He is not alone along with the rise of Rashan Gary and hopefully Preston Smith bouncing back. The pass will certainly be dangerous in 2021.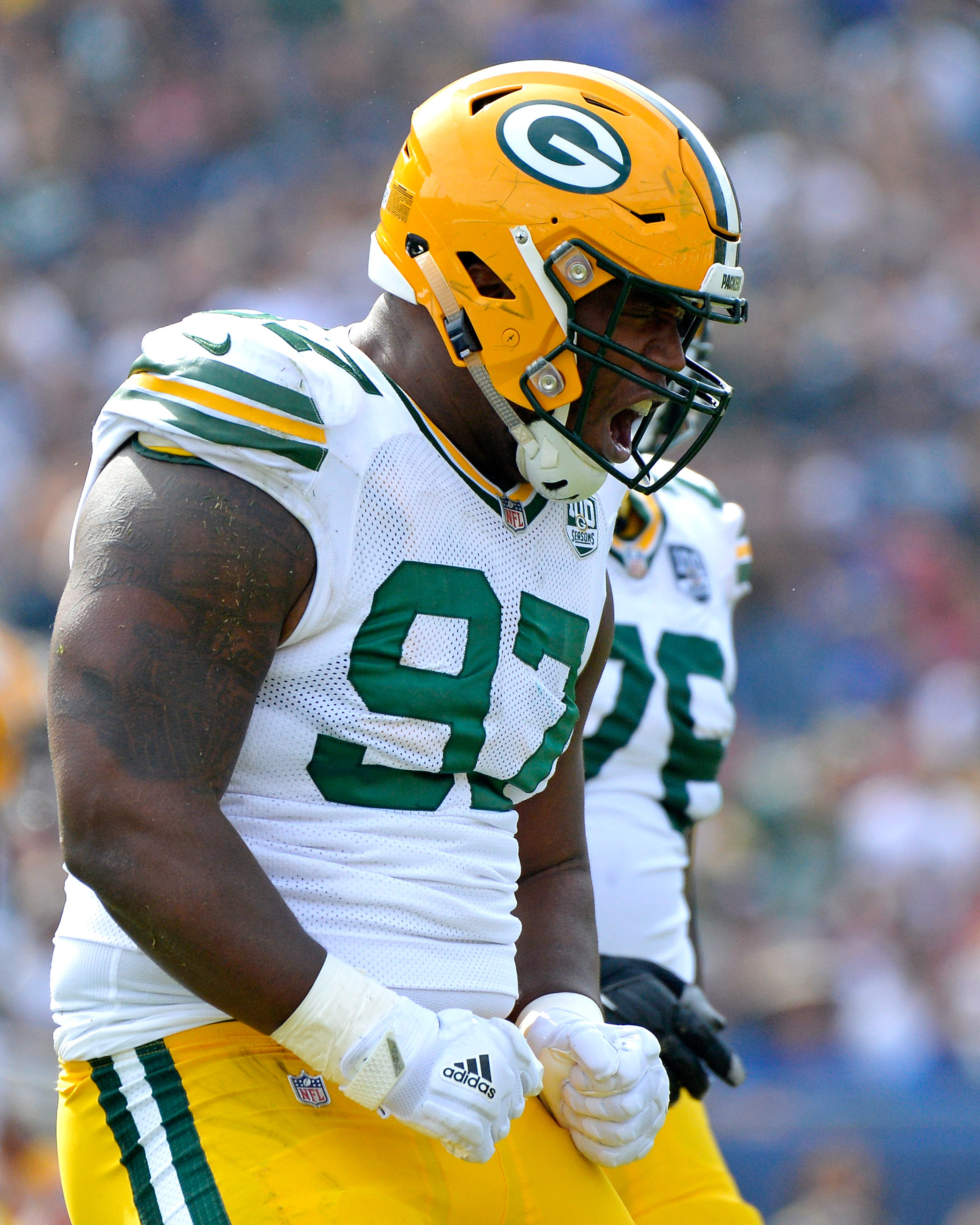 Kenny Clark-Top Ten Nose Tackle
The man that runs the middle of the Packers defensive line is Kenny Clark. He has been a force in the run and pass defenses for many years. He was injured early in the season and it took time for him to get in football shape. By the end of the season, he had regained his Pro Bowl form and was wreaking havoc in the interior of opposing offensive line. In addition, he already signed a long term deal with the Packers and has not even entered his prime. Kenny Clark will be force for the Packers for the seeable future. It would be even better if had more help to him as well.
Jaire Alexander-Top Five Cornerback
The Packers struggled to find a lockdown corner for a long time. They now have found it in Jaire Alexander who is coming into his own. His 2020 season was a dominant one. He has shown that he can definitely take away opposing offenses' best receiver. He earned his first Pro Bowl this past season with the Packers and looks to top that off. Unlike Mike Pettine, hopefully Joe Barry knows how to use Jaire's strength to his advantage to make the defense better. Jaire Alexander will be due for a huge payday if he has another dominant season and rightfully deserves it.
Darnell Savage-Top Ten Free Safety
The Packers have clearly found their best safety since Nick Collins in Darnell Savage. He had a rough start to the 2020 NFL season, but finished on a strong note. By the mid-part until the end of the season, he was becoming a top safety in the NFL. Savage was flying to the ball and had multiple games with a interception. His best game was against the Chicago Bears where he had two interceptions. He is starting trend up and that is really promising for the 2019 first round pick. 2021 is going be the season where Savage can take a bigger step as a player.

Adrian Amos- Top Five Strong Safety
Part of the 2019 free agency signings for the Packers was Adrian Amos. He has become a good player in the backend, something the Packers defense was missing for a while. His play on the field speaks for itself. Has has had two solid seasons for the Packers as he does everything on the defense. He can play well in the box in run support and is really solid in pass coverage, something others said he lacked. Amos was Pro Football Focus' second highest graded safety overall. Clearly the Packers got a steal when they signed Amos and especially to a real solid deal. With a new defensive coordinator, look to Adrian Amos's role to expand on the Packers defense.
In Conclusion: Follow me @CarlosS29143608 and follow us @WISportsHeroics for more great content. Check out our merch page here and use promo code Wisco at check out for $1 off! To read more of our articles and keep up to date on the latest in Wisconsin sports, click here!