The Milwaukee Bucks fell to the Atlanta Hawks on Monday night, 114-121. The Bucks led the entire game until late in the fourth quarter, when the Hawks went on a lopsided run to ultimately seal the victory. Here are three important takeaways from Milwaukee's loss.
#1: Third Quarters Remain Problematic for Milwaukee
No matter how Milwaukee plays for the rest of the game, they always seem to lose third quarters. There is no clear reason for these woes, but it appears to stem from a lack of focus. Even if the Bucks dominate the first half, sloppy ball handling, poor shot selection, and a general lack of urgency let opposing teams back into games in the second half. Although the Bucks typically score just enough to maintain the lead going into the fourth, these sloppy third quarters open them up to late game losses.
In games when the Bucks do start to fall behind in the fourth, their sloppy play intensifies. The lack of urgency in the third quickly turns into panic in the fourth. This panic leads to even more sloppy ball handling, poor shot selection, and overly aggressive defense. Ultimately, the Bucks are showing a disturbing lack of the killer instinct they developed in the playoffs last season.
Tonight was more of the same in this trend. Although the Bucks led by 12 going into halftime, they continually allowed Atlanta to hang around the entire game. This was in spite of Atlanta's consistently poor shooting and plethora of turnovers. The Hawks gave the Bucks every chance to turn this game into a rout, and the Bucks failed to execute.
#2: Khris Middleton Remains a Hawks Killer
Khris Middleton continued his domination of Atlanta tonight, scorching them for 34 points during 35 minutes. At many points, he looked like the same player that led the Bucks to victory in the Eastern Conference Finals after Giannis's injury last year. Despite this, Middleton contributed to tonight's loss in many ways. Between sloppy turnovers and errant passes, Middleton surrendered several possessions at various critical points in this game.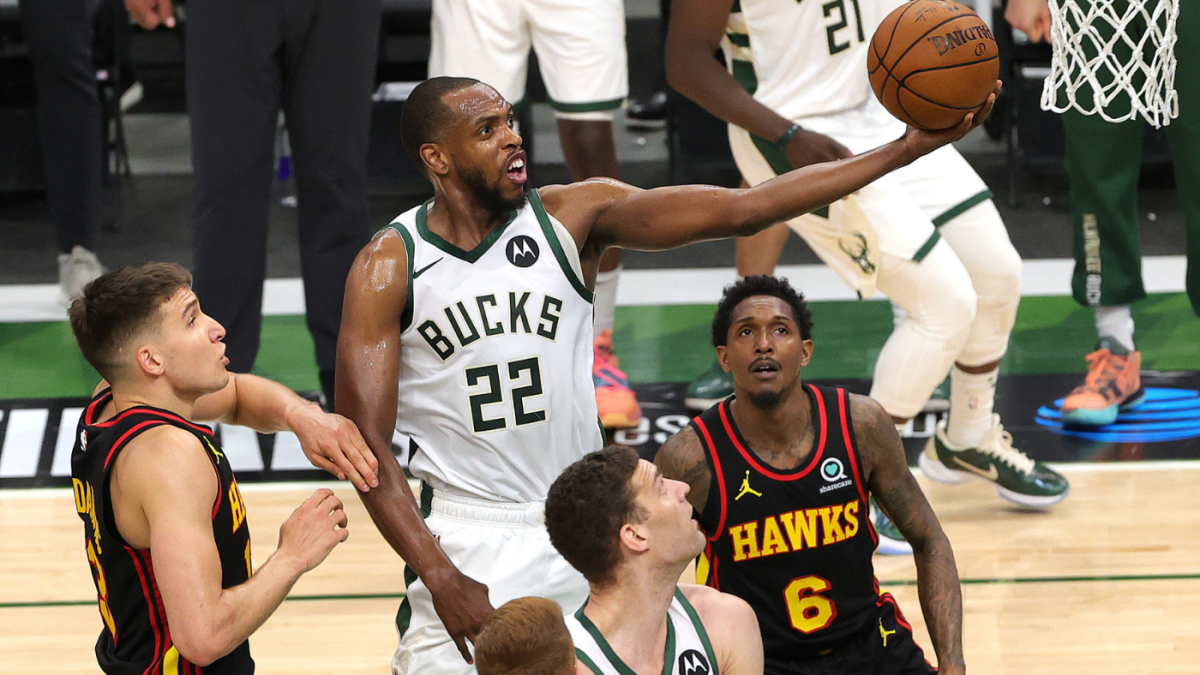 There is plenty of blame to go around for tonight's loss and Middleton's sloppy ball handling is only a small part of the equation. Still, his errors should remind fans there's more to the game than just offense. I still believe Middleton is Mr. Clutch in fourth quarters. Regardless, the Bucks can't afford to have Middleton throwing uncatchable lob passes to Giannis late in close games.
#3: Donte DiVincenzo's Lackluster Return
Although he made several three-point shots tonight, Donte DiVincenzo's return to basketball remains lackluster at best. DiVincenzo's inconsistent (and often sloppy) play is frustrating to watch. Despite that, it's important to remember he hasn't played much at all since May. I am, therefore, inclined to give him the benefit of the doubt. Still, I question whether he's ready to play this many minutes right now.
Although Rodney Hood has been far from impressive this season, he's shown signs of improvement overall. Once Jrue Holiday returns from IR, the Bucks should consider giving Hood more minutes along with Matthews while easing Donte back into the mix. I caution fans against joining the "trade Donte" bandwagon at this point, but the Bucks don't have time to wait for him to shake off the rust.
In Conclusion…
Tonight is just another example of the Bucks blowing games in the second half. There is no good reason for Milwaukee to lose this match, and it shows a worrying trend. Whether it's a championship hangover or a general lack of focus, the Bucks need to do a far better job of maintaining their killer instinct. The NBA is the premier basketball league and home to the world's best players. No lead is ever truly safe. The Bucks have all the tools to beat any team in the NBA… they just need to maintain their focus for all 48 minutes.
For More Great Wisconsin Sports Content
Follow me on Twitter at @BucksinVA and follow us @WiSportsHeroics for more great content.  To read more of our articles and keep up to date on the latest in Wisconsin sports, click here! Also, check out our merch store for some amazing WSH merchandise!