The Green Bay Packers are certainly not in a position that they believed they would be at this point in the season. Prior to the 2022 campaign, various outlets gave the Packers top-ten rankings on both offense and defense. To say that these predictions did not come to fruition would be an understatement. Losers of four straight games, the Packers need to turn it around quickly if they are to have a shot at the playoffs. With nine games remaining, there is certainly still time to make a run. There is also a very small margin for error and games against the Dallas Cowboys and Philadelphia Eagles coming up. The season has been an unpleasant surprise this far, to be sure. However, here are three stats that may surprise fans and give them hope (or not) for the rest of year.
1. Aaron Jones Is the Fifth-Leading Rusher in the NFL
I have gone on record saying that the Packers need to feed Aaron Jones the ball if they want to start winning more football games. While the loss to Buffalo was disappointing, the Packers ran their offense through Jones and AJ Dillon and looked much better than they had in previous weeks. Currently, Jones ranks fifth in the NFL with 575 rushing yards. Amazingly, he has achieved this with FAR less carries (98) than the four running backs ahead of them:
Nick Chubb: 841 yards on 149 carries
Saquon Barkley: 779 yards on 163 carries
Derrick Henry: 755 yards on 166 carries
Josh Jacobs: 676 yards on 121 carries
The fact that Jones is so high with such a small workload in the Packers' losses (aside from Buffalo) is astounding. It is a testament to how dynamic he is and reinforces the belief that the team must feed him the ball if they are to win more games.
Aaron Jones 32 yard run! Beautiful blocking up front #Packers pic.twitter.com/El5yUO8cro

— 𝗙𝗢𝗟𝗟𝗢𝗪 @𝗙𝗧𝗕𝗲𝗮𝗿𝗱𝟳 (@FTBeard7) October 31, 2022
2. Allen Lazard Has the Fourth-Most Touchdown Receptions of Any Wide Receiver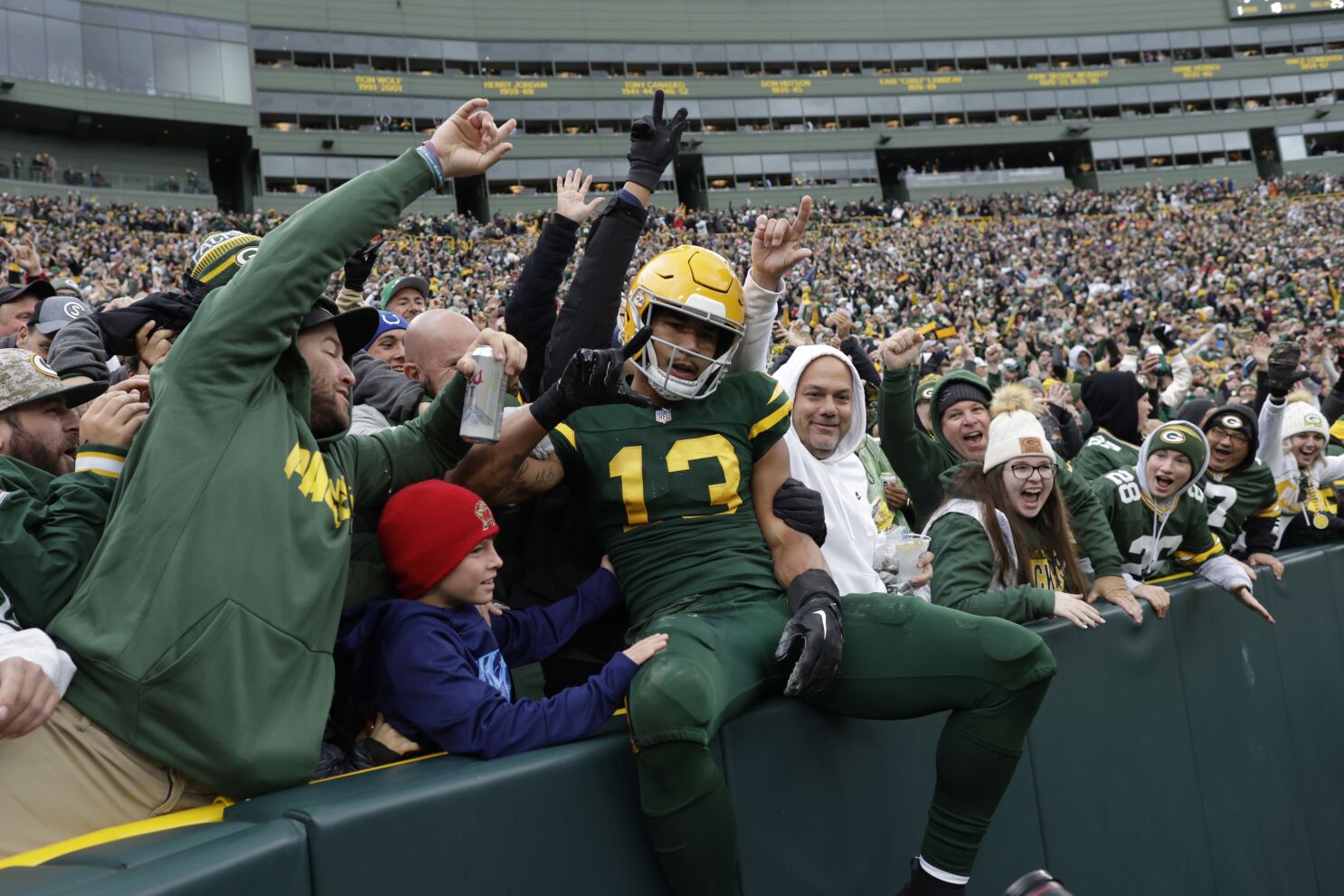 This may be surprising given that Allen Lazard has missed some time with various injuries. He also has not been the target of as many passes as we may have expected going into the season. That being said, Lazard's four touchdown catches are tied for the fourth-most among NFL wide receivers. His receiving yard total thus far (340) is also, by far, the fewest among NFL wide receivers with at least four touchdown receptions.
3. Aaron Jones Has More Receiving Touchdowns than Rushing Touchdowns
Okay, so this stat may not be as surprising. It certainly does not really make anyone anymore hopeful about turning the season around. Yet, it is true: so far in 2022, Jones has just one rushing touchdown. He also has three receiving touchdowns, giving him four total on the season.
However, here is one stat that may surprise many: Jones is also averaging the second-most yards per game in his career. Sounds impossible given the Packers' refusal to give him an adequate amount of touches for almost half of the season thus far, but it is true. So far this season, Jones is averaging 71.9 rushing yards per game. The only season in which he averaged more was 2020. That year, he averaged 78.9 yards per game and made his only career Pro Bowl.
Hopefully his average yards per game continues to climb as the Packers use him more and win more games.
For More Great Wisconsin Sports Content
Follow me on Twitter at @theotherRobin19 and follow us @WiSportsHeroics for more great content. To read more of our articles and keep up to date on the latest in Wisconsin sports, click here! Also, check out our merch store for some amazing WSH merchandise!