Once upon a time there was a coach.  This coach would regularly dominate in the regular season, only to fall in the early rounds of the playoffs.  "Surely this is the year!"  The fans would shout, only before being disappointed again.  Finally, the fans started calling for the coach's firing.  "He can't get it done in the playoffs!"  The fans and media cried.  "They'll never win a championship as long as he's coaching them!"  Then, right when the coach's job was most in jeopardy, he made a breakthrough.  Sure, his team got lucky at points. However, at the end of the day, they claimed victory and brought home the trophy.
Does this story sound familiar?  If you think I'm talking about Bucks' Coach, Mike Budenholzer, you're wrong.  I am talking about former Washington Capitals head coach Barry Trotz.  If you think the story is eerily similar, then you've caught onto the point.  Here are three good reasons to extend Mike Budenholzer.
He's Done Everything Expected of Him
The biggest complaint about Budenholzer since he came to Milwaukee was his steadfast refusal to adjust his game plan.  His offensive scheme became far too predictable. His defense would continue to use drop coverage, even while the opponent torched the Bucks from the three-point line.  This year was different.
Although this season still saw its fair share of classic Bud Ball, Budenholzer would regularly make adjustments from game to game and (less so) quarter to quarter.  The Bucks were not as dominant in the regular season this year.  A big reason for that, though, is Budenholzer treated it like a laboratory for the playoffs.  Despite the frustrating losses, you could see how he was changing things up to make the most out of his roster.  The end result speaks for itself.  Budenholzer's willingness to make changes (along with some heroic efforts from the players) is ultimately responsible for the Bucks turning the tables whenever they were down in a playoff series.
The Players Respect Him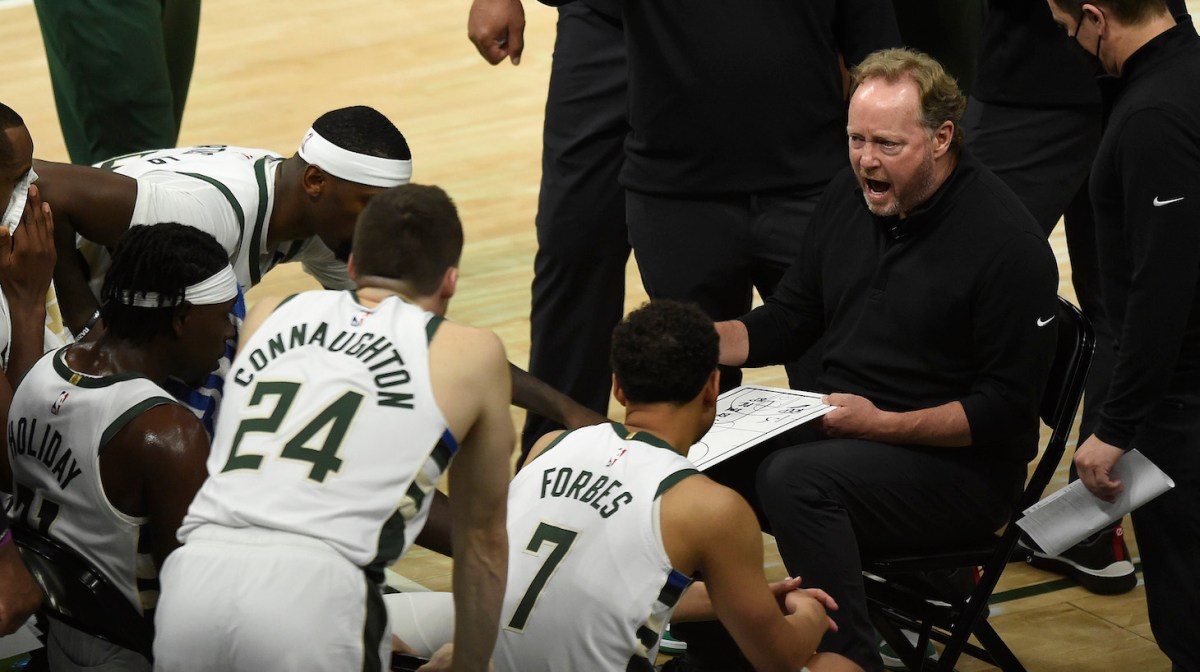 The NBA is very different than college.  College sports are run by a dictatorial coach that has absolute control over X's and O's, rotations, minutes, etc.  The players simply have to accept it.  If a college player is dissatisfied with the way the team is being run, the transfer portal is their only recourse.  Even then, they're just going from one absolute dictatorship to another.  The NBA is a very different story, especially in this current era.  In this time of unprecedented player control over their careers, the main job of a NBA coach is to manage personalities and get a group of highly paid, top tier athletes with massive egos to mesh into a team.
To that end, Budenholzer has done an exceptional job.  Since Budenholzer arrived in 2018, the player chemistry on the Bucks has been exemplary.  Of course, it certainly helps that Milwaukee's superstar, Giannis Antetokounmpo, is a humble, team first individual by nature.  However, Budenholzer deserves a lot of credit for creating a strong locker room atmosphere.
Now, I know what you're thinking.  You're thinking, "Giannis liked Jason Kidd and was opposed to firing him too."  While that's true, that doesn't mean that Kidd did a good job with creating team chemistry.  As he made crystal clear by signing the five-year supermax extension in December, Giannis is a highly loyal individual by nature.  That doesn't mean the rest of his teammates have the same attitude.
You Don't Just Fire a Championship Coach
I'd like to take you back to the story about Barry Trotz.  Although he finally took the Washington Capitals to the promised land, the Capitals did not want to pay him championship coach money and let Trotz walk.  Trotz quickly found a job with the New York Islanders while the Capitals promoted assistant coach Todd Reirden. They hoped that he could replicate Trotz's coaching for less money.  It did not work.  Since the Capitals won the 2018 Stanley Cup, they reverted to their usual form. They regularly lose in the first or second round of the playoffs.  Meanwhile, the Islanders have made steady improvement under Trotz.
Conclusion
The moral of this story is this: be careful what you wish for, because you just might get it.  I understand why people wanted Mike Budenholzer fired. Thankfully, those reasons no longer apply.  Ultimately, winning a championship in three years as a head coach is a great accomplishment. This is especially true considering where the Bucks were in 2018 when Budenholzer was hired.  
Mike Budenholzer was hired to take the Bucks to the next level.  He did just that, and more.  The coaching careers of Mike Budenholzer and Barry Trotz mirror each other to the point where if you remove any reference to names (i.e., the name of the sport, coach, and team), you couldn't tell which of the two is being discussed.  Let's not end the story the same way where ownership decides to get cheap and exchanges a proven champion for mediocrity.
Extend Mike Budenholzer.
[pickup_prop id="9938″]
For More Great Wisconsin Sports Content
Follow me on Twitter at @BucksinVA and follow us @WiscoHeroics1 for more great content. Check out our merch page here and use promo code Wisco at check out for $1 off! To read more of our articles and keep up to date on the latest in Wisconsin sports, click here!