With Major League Baseball's trade deadline coming up in less than two weeks, there are sure to be trade rumors and deals made all over baseball.  The Milwaukee Brewers are in first place in the NL Central, and have a five game lead against the Cincinnati Reds.  Without a doubt, the Brewers will be buyers at the deadline.  Whether it be a corner infielder, starting pitcher, or bullpen depth, the Brewers are in the market for another player who could help them reach the World Series for the first time since 1982.  However, in order to get a player like that, top prospects must be given up.  The Brewers' farm system is the best it has been in years, and there are plenty of good prospects that Milwaukee can use in any given trade.  There are, though, three prospects the Brewers should hold onto at all costs.
Garrett Mitchell- OF
The Milwaukee Brewers were fortunate to have Garrett Mitchell fall all the way to 20th in the 2020 Draft.  A five-tool player, Mitchell has all the potential to be a star in MLB.  He only fell so far because other teams were scared off by the fact he is a diabetic.  Ever since joining the Brewers organization, though, he has proven all those other teams made a huge mistake.
This is Mitchell's first season as a professional player as last year's minor league season was cancelled.  As a Spring Training invitee, Mitchell amazed his teammates and coaches with tremendous bat speed and hitting acumen.  He was assigned to High A Wisconsin Timber Rattlers, where he slashed .359/.504/.620 with five home runs and 20 RBI.  He also had 12 stolen bases in 13 attempts, 33 runs to match his 33 hits, and 27 walks against 30 strikeouts.
Mitchell's level of played earned him a promotion to Double A Biloxi.  If he continues to hit, there is no doubt he will be in the Majors very soon.  Some believe he may even have a shot of being a September call-up as early as this year.  As the Brewers' top prospect, it is unlikely he would be on the block anyway.
Hedbert Perez- OF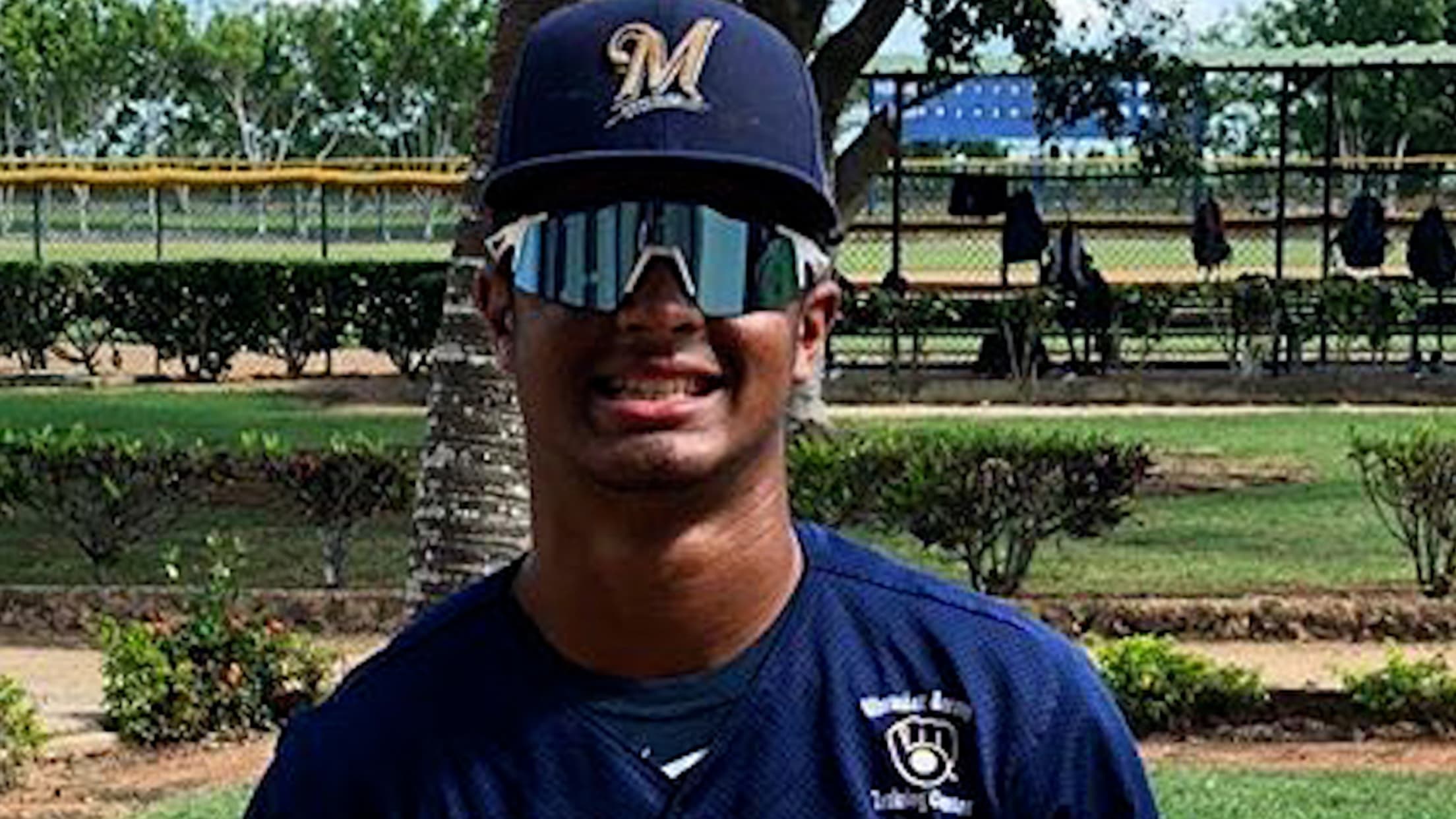 The Brewers' youngest top prospect is 18-year old outfielder Hedbert Perez.  He is currently ranked as the Brewers' number three prospect behind Mitchell and Brice Turang.  He is not expected to be Major League ready until 2024, but scouts love his potential and five-tool talent.
Perez was signed as an international free agent in July of 2019 when he was just 16 years old.  He has just started playing professional ball now with the ACL Brewers Gold team.  In six games, he is slashing .385/.407/.654 with a home run and four RBI.
Due to Perez's youth and how long it will take him to reach the Majors, many believe he could be included in any deadline deal.  However, that would be a costly error for the Brewers down the road.  Hedbert Perez is going to be a stud and should be kept with the organization.
Mario Feliciano- C
The Milwaukee Brewers already have an All-Star catcher behind the plate in Omar Narvaez.  However, with the NL possibly adopting the DH starting next season, it will open the door for more players and prospects to play for NL teams who might have been blocked before.  This may be the case for Mario Feliciano who has a bat that will be too hard to keep out of an everyday lineup.
Like all minor league players, Feliciano missed 2020 because of the cancelled season.  However, in 2019, he was the Carolina League MVP when he hit .273/.324/.477 with 19 home runs and 81 RBI.  He led the Carolina league in home runs, RBI, slugging percentage, and total bases.
Feliciano does strike out a ton, but he is also just 22.  He made his Major League debut earlier this season and scored a run after walking in his only plate appearance.  Who knows?  If things do not work out at first base, perhaps he may be a future option there as well.
[pickup_prop id="4630″]
Follow me on Twitter at @theotherAdams14 and follow us @WiscoHeroics1 for more great content. Check out our merch page here and use promo code Wisco at check out for $1 off! To read more of our articles and keep up to date on the latest in Wisconsin sports, click here!