The Green Bay Packers' upcoming offseason will be one of the more captivating storylines to follow in 2023. Currently, Green Bay's main focus needs to be on their final two games and giving themselves a chance at making the playoffs. However, it's never too early to start thinking about ways to improve the team for next season.
There has been plenty of discussion about what the Packers should do about their quarterback situation. No one knows what the future holds for Aaron Rodgers or Jordan Love. Logic points to both quarterbacks staying put, with Rodgers finishing out his career in Green Bay, and then have Love take over.
Regardless of what unfolds at the QB position in Green Bay, they still need to focus on other positions in free agency to improve their roster.
Packers' Free Agent Situation In 2023
Allen Lazard, Randall Cobb, Yosh Nijman, Robert Tonyan and Mason Crosby are all scheduled to become free agents. It's likely that Lazard and Nijman will be gone next season, simply due to the amount of money other teams can offer them.
The Packers are a fairly young team that may benefit from acquiring a few veterans to assist Rodgers as he closes out his career. There's no doubt that the Packers have a promising young receiving duo in Romeo Doubs and Christian Watson. Although, it wouldn't be a bad idea to sign a more experienced wide receiver if Cobb and Lazard jump ship in 2023.
The Packers won't be able to hand out massive contracts to top-tier free agents this upcoming offseason. However, there are some mid-tier free agents that could provide a spark to the Packers roster.
An article from Bleacher Report gave a list of three free agents that the Packers should target in 2023. Let's take a look at who they listed as potential Packers for next season.
Raiders WR, Mack Hollins
Las Vegas Raiders wide receiver Mack Hollins fits the description of mid-tier free agent. Hollins would serve as a nice complimentary piece to the current young Watson, Doubs duo.
Hollins has great size at 6'4. He's also having the best season of his career. As the No. 2 option behind Davante Adams, Hollins has posted a career high in receiving yards with 635.
At 29, Hollins likely won't land a massive multi-year deal. But, the Packers could sign him to a cheaper two-year deal.
Chiefs OT, Andrew Wylie
If Packers offensive tackle Yosh Nijman does leave next season, Green Bay would clearly be in the market for a new one. Kansas City Chiefs' Andrew Wylie might be an option for the Packers.
Wylie started at right tackle and right guard during his five-year tenure in Kansas City. He was a member of the Chiefs when they won Super Bowl LIV. Wylie might command more money due to the Chiefs' success as a collective unit.
There's always a chance that Nijman re-signs, or the Packers might look to the draft for help on the offensive line. But Wylie should definitely be someone the Packers have on their radar.
Saints TE, Juwan Johnson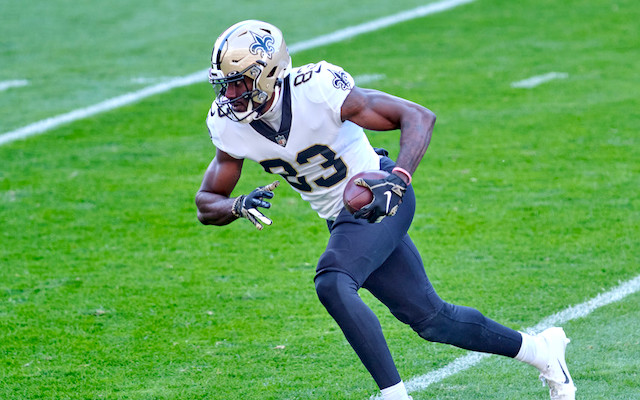 Juwan Johnson has had an outstanding season on a mediocre Saints team in 2022. His 425 receiving yards is a career high. In addition, his seven touchdown catches place him third among tight ends this season.
Tight end will be a big concern for the Packers this upcoming offseason. Mercedes Lewis and Robert Tonyan could be gone next season, leaving Green Bay scrambling for a replacement.  It's also possible that the Packers may target a tight end in the draft. Despite Johnson being a work in progress at tight end, he's proved himself as a legitimate redzone threat.
For More Wisconsin Sports News:
Follow me on Twitter at @alex_ratliff and follow us @WiSportsHeroics for more great content. To read more of our articles and keep up to date on the latest in Wisconsin sports, click here!