The Green Bay Packers travel to Baltimore this week after taking down the Chicago Bears. Their recent victory gave them their sixth straight win over the Bears. Baltimore is still in contention for the AFC North title and Green Bay can clinch the NFC North with a win. There is truly nothing that beats December football, especially with how much is at stake for both teams. The biggest question going into Sunday will Lamar Jackson's availability. If he is available, how mobile will he be? Let's take a look at three things that could happen this Sunday:
Aaron Jones Rushes For Over 100 Yards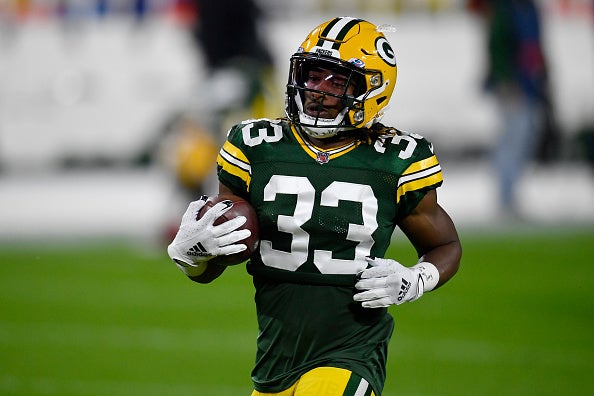 A 100 yard game does not sound like a vey flashy stat line. For Aaron Jones, though, it would be a great comeback game. Since returning from injury, Aaron Jones has not been a huge contributor in the backfield. The argument can definitely be made that over the past four weeks, AJ Dillon has been the Packers lead ball carrier. Baltimore has always held the reputation of being a stingy defense, and are currently ranked as the best run defense in the NFL. This does not concern me all too much as Baltimore has not faced a two-headed monster like Dillon and Jones. The Ravens might be a little more preoccupied containing Aaron Rodgers. If that is the case, there will be more opportunities for Aaron Jones.
Special Teams Allows Another Touchdown
A championship level contender needs to perform well in all three areas of football. Offense, defense, and special teams. The Green Bay Packers have done well in two of those three areas. I would venture to guess a lot of people know what area they have underperformed in. To make it short, what we saw on Sunday night from the Packers' special teams was an absolute embarrassment. Matt LaFleur has said that he is not going to make a coaching change, but would consider putting starters in special teams roles. I am not very confident that that will happen this week. Without an improvement of personnel, it is hard to see any positive results on Sunday.
Packers Clinch The NFC North Division Title
With Minnesota beating Pittsburgh last week, the Packers were unable to clinch the NFC North title. This week, all Green Bay needs to do is win. As I mentioned in my previous article, clinching the division before Christmas would be the most ideal scenario. If the Packers were to win, I would not consider sitting starters due to the fact that home field advantage is in play. Baltimore is still a team that cannot be overlooked. They do possess some great talent such as Mark Andrews and Marquise Brown. I do expect Green Bay to come in fully focused and get the job done come Sunday.
Follow me on Twitter @ChrisBuboltz and follow us @WiSportsHeroics for more great content! To read more of our articles and keep up to date on the latest in Wisconsin sports, click here.