The Milwaukee Brewers have made the playoffs three years in a row.  That is the longest streak in franchise history.  What is astounding about this feat is that they have accomplished it without long-term reliable mainstays at first base and third base.  Recently, we detailed the woeful revolving door of first basemen since Prince Fielder's departure.  Here, we take a look at how the third base position is in danger of following that same trend.
The Last Mainstay at Third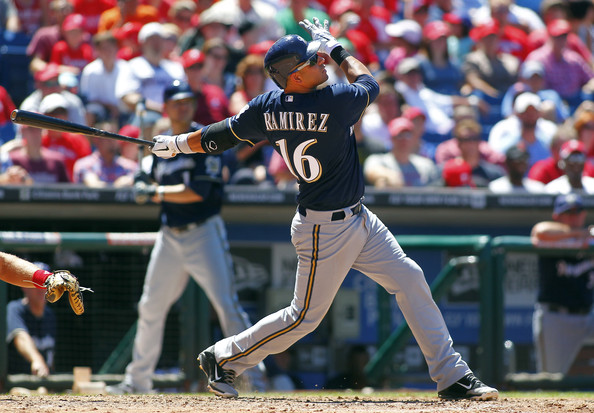 Following their postseason run in 2011, the Milwaukee Brewers made a splash free agent signing (we used to make those once upon a time).  In a surprising development, they were able to sign Aramis Ramirez away from the division rival Cubs.
Ramirez would go on to spend over three seasons with the Brewers.  He hit .300/.360/.540 in his first season with the club.  He led the NL with 50 doubles and finished ninth in MVP voting.  In addition, he added 27 home runs and 105 RBI.  In 2014, Ramirez was named to the NL All-Star team, and finished the year hitting .285/.330/.427 with 15 home runs and 66 RBI.  He struggled the following season, and was traded to the Pittsburgh Pirates.  He retired after the 2015 season, having spent his entire career with NL Central teams.
2016: Hernan Perez & Aaron Hill
Following Ramirez's departure, the Brewers went into 2016 without a clear answer at third base.  As a result, utility man Hernan Perez got the nod to start at the hot corner on Opening Day.  Perez responded to the increased role with, perhaps, his best offensive season.  That year, he hit .272/.302/.428 with 13 home runs, 56 RBI, and 34 stolen bases.  Those 34 stolen bases were not only his career-high, but account for almost half of his career total (69).
However, Perez's value was best seen as a super utility player.  In an effort to best utilize him, the Brewers traded for former All-Star Aaron Hill during the season.  At the time of the trade, Hill was struggling with the Boston Red Sox.  With the Brewers, though, his season resurrected.  In 78 games in Milwaukee, Hill hit .283/.359/.421 with eight home runs and 29 RBI.
Despite the solid production from third base, the Brewers finished 73-89.  Aaron Hill was not retained and the Brewers planned on keeping Perez in his utility role.  As a result, the hot corner job was open once again.
2017-2018: The Mayor of Ding-Dong City
In what was, at the time, one of the steals of the century, the Brewers traded oft-injured Tyler Thornburg to the Red Sox for Travis Shaw.  Shaw came to Milwaukee hoping to bring some stability to the third base position.  For a season, it looked like he was going to.
In 2017, Travis Shaw hit .273/.349/.513 with 31 home runs and 101 RBI. It seemed like the Brewers had found the man who would man third base for years to come.  In 2018, though, Shaw began to struggle.  While he still mashed 32 home runs, his overall production fell off.  He hit just .241/.345/.480 with 86 RBI.  While those numbers are not bad, per say, it was clear Shaw was heading in the wrong direction.  As a result, the Brewers traded for Mike Moustakas, who would hit himself into Brewers' history with his dramatic post-season walk-off.  Shaw, on the other hand, found himself out of Milwaukee midway through the 2019 season.  At the time of his departure, he was hitting .157/.281/.270.
2019: The Moose
Fresh off of his post-season heroics, Mike Moustakas returned to Milwaukee on a one-year deal.  Moustakas had a fantastic season for the Brewers that year and made the NL All-Star team.  He hit .254/.329/.516 with 35 home runs and 87 RBI.  The Brewers, of course, made the post-season for the second-straight season.
Unfortunately for the Brewers and their fans, Moustakas left Milwaukee in free agency after the season.  He signed a lucrative deal with the Reds, which made the sting even worse.  What's more, the Brewers were left with a hole at third with no reliable options with which to fill it.
2020: What a Mess
With no great options to play third base, the Brewers signed a plethora of players whom they hoped would provide a serviceable platoon at the position.  Eric Sogard was given the Opening Day start when newly acquired Luis Urias broke his wrist.
When the season was all said and done, five different players appeared at third base for the Brewers.  While this may not sound so bad in any given season, keep in mind that there were only 60 games in 2020.  Luis Urias ended up appearing in 30 of those games at third.  Brock Holt was released outright after the season started.  Eric Sogard will not be back.  Mark Mathias played well in 2020, but was shuffled between Appleton and Milwaukee, unable to get regular playing time.  Urias, of course, will be back, and Jace Peterson was recently signed to a minor league deal.
Going Forward
Without a doubt, third base a very large question mark for the Milwaukee Brewers.  Luis Urias may turn out to be a great player, but he is also better suited for short stop.  As mentioned, Mark Mathias played very well in his short time with the club, but will he get another prolonged chance?  It does not seem like the Brewers are going to make a big free agent signing to solve the problem, so the answer is going to come from within.  Let's hope it works out.
For More Great Wisconsin Sports Content
Follow me on Twitter at @theotherAdams14 and follow us @WiscoHeroics1for more great content. To read more of our articles and keep up to date on the latest in Wisconsin sports, click here!