The Milwaukee Brewers are celebrating their 50th year of baseball this year. Even though it is still unknown as to when the season will finally start, this is something worth highlighting and celebrating. Over the next few weeks, OTHWisconsin will highlight the top players at each position throughout the Brewers' 50 year history. Here, we take a look at the best relievers in Brewers baseball history.
Note: This is in no particular order!
#5: Josh Hader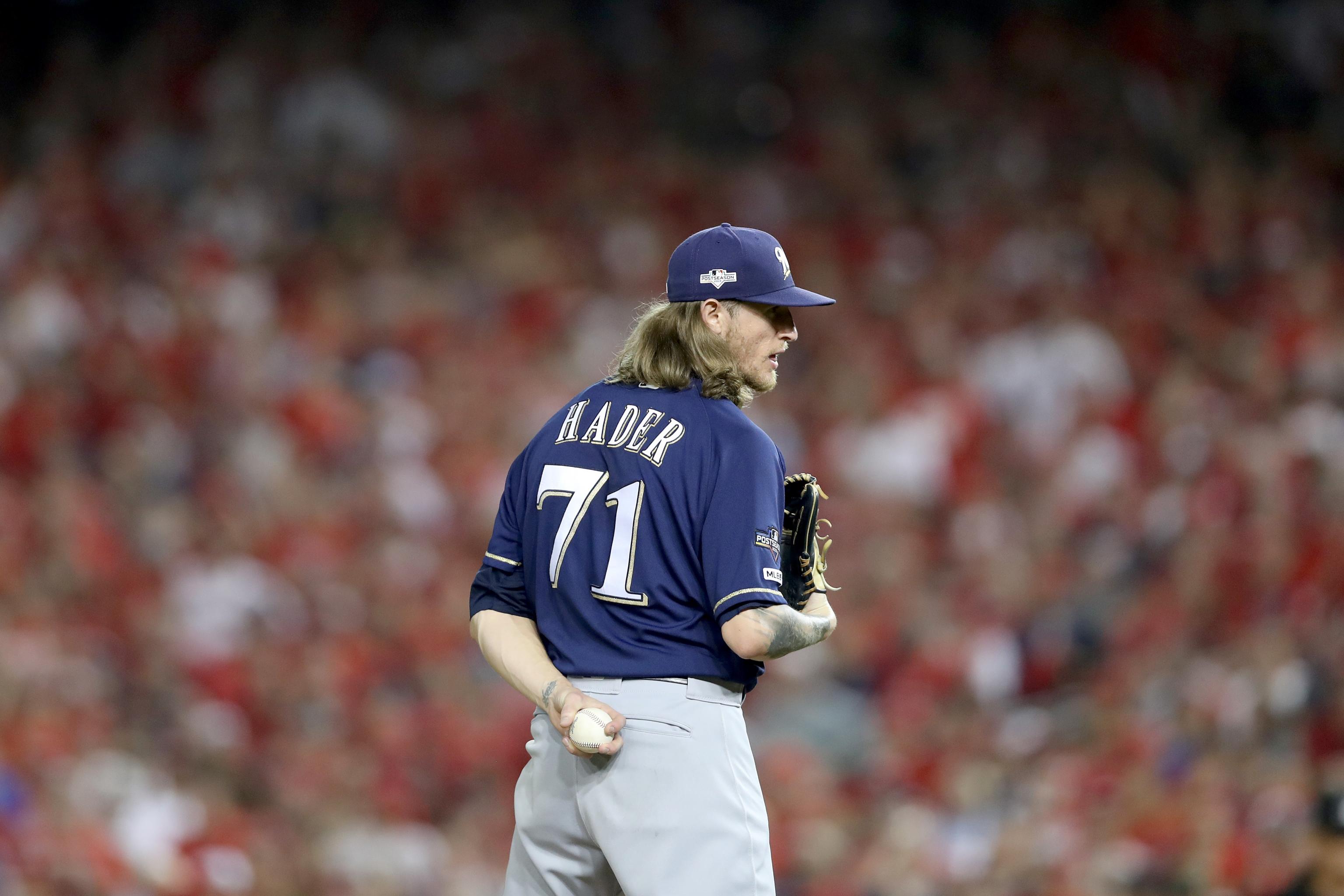 Years with the Brewers: 2017- present
2017: 3.03 FIP, 0.986 WHIP, 2.08 ERA
2018: 2.23 FIP, 0.811 WHIP, 2.43 ERA (All Star)
2019: 3.10 FIP, 0.806 WHIP, 2.62 ERA (All Star)
No surprise here. Ever since he made his debut with the Brewers in 2017, Josh Hader is arguably the best reliever in the National League; He's even got two NL Reliever of the Year awards to prove it.
Having back-to-back All-Star appearances, Josh Hader is easily a fan favorite. Hader has an incredible fastball; Something that gets in the strike zone and teaches batters to be aware when he's at the mound. He really stepped up from being an occasional closer in 2018 to their main closer in 2019. Corey Knebel was out from Tommy John and Jeremy Jeffress never really got back into the role of closing, so it was up to Josh Hader to close out the games. He ended up finishing 46 games this season, it'll be interesting to see what the upcoming season holds.
#4: Jeremy Jeffress
Years with the Brewers: 2010, 2014-2019.
2010: 3.28 FIP, 1.400 WHIP, 2.70 ERA
2014: 2.57 FIP, 1.186 WHIP, 1.88 ERA
2015: 3.22 FIP, 1.265 WHIP, 2.65 ERA
2016: 3.17 FIP, 1.254 WHIP, 2.22 ERA
2017: 4.25 FIP, 1.581 WHIP, 3.65 ERA
2018: 2.78 FIP, 0.991 WHIP, 1.29 ERA
2019: 3.96 FIP, 1.365 WHIP, 5.02 ERA
A first round draft pick in 2006 by the Brewers, Jeremy Jeffress definitely played up to those first round expectations and had an amazing time in Milwaukee. 2018, however, was definitely Jeffress' year; 76.2 IP, 1.29 ERA, 89 K, 27 BB, 15 SV, 0.991 WHIP, 2.38 aWAR. Insane. He stranded 92.9% of the base runners in that year alone, and usually didn't let the opposing team cause any damage to the Brewers when he was on the mound.
His amazing 2018 performance earned him his first and only All-Star appearance, and took over as closer when Corey Knebel injured his arm and was sent to Triple-A. Jeffress is a very consistent player and his time in Milwaukee definitely showed that. Unfortunately, Jeffress was signed by the Cubs for the 2020 season, so we'll see him again, but in Cubs blue.
#3: Francisco Rodriguez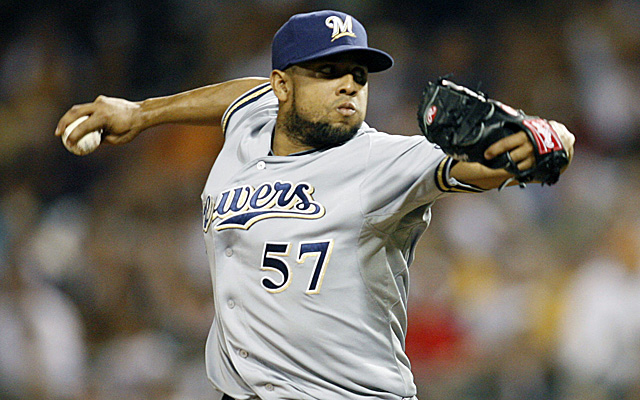 Years with the Brewers: 2011-2012, 2013-2015
2011: 2.23 FIP, 1.138 WHIP, 1.86 ERA
2012: 3.83 FIP, 1.333 WHIP, 4.38 ERA
2013: 3.09 FIP, 1.054 WHIP, 1.09 ERA
2014: 4.50 FIP, 0.985 WHIP, 3.04 ERA (All Star)
2015: 2.91 FIP, 0.860 WHIP, 2.21 ERA (All Star)
Coming from the Mets, the Brewers were looking to increase their chances at a shot in the 2011 World Series, but fell a little short.
Placed as a setup man for John Axford, Rodriguez was not pleased. His 2011 season showed a 1.86 ERA and 1.14 WHIP, and Rodriguez was upset with his role. The Brewers did manage to keep him around for 2012. However, his performance fell where he averaged a 3.83 FIP and 1.33 WHIP in just 72 innings.
Bringing him back on a $2 million minor league deal, K-Rod was pitching well and didn't see a major league performance. But, K-Rod came back in 2014 where he earned the closer role and shined, receiving back-to-back All-Star appearances. Francisco Rodriguez would then be traded in the 2016 off-season when the Brewers acquired Manny Pina from the Detroit Tigers.
#2: Corey Knebel
Years with the Brewers: 2015- present
2015: 4.03 FIP, 1.212 WHIP, 3.22 ERA
2016: 3.57 FIP, 1.469 WHIP, 4.68 ERA
2017: 2.53 FIP, 1.158 WHIP, 1.78 ERA
2018: 3.03 FIP, 1.084 WHIP, 3.58 ERA
This man is one of the best relievers the Brewers have seen in a long while. Prior to having Tommy John surgery, which cost him his 2019 season, Corey Knebel was a force to be reckoned with. He is a dominant addition to the bullpen; an important one, at that. His first two seasons weren't nothing really noting about, but Knebel earned an All-Star position in 2017, which was probably his breakout season.
In 2017, Knebel was on fire. Although he had two struggle months (July and September), when Knebel was on the mound, it was game over for the opposing team. He ended up pitching 76 games in that season where he posted 39 saves. Corey Knebel even set an MLB record for striking out at least one batter in his first 45 relief appearances in the start of his season. He also made franchise history when he was the first to reach the 100+K mark.
Unfortunately, Corey Knebel did have to go through with Tommy John surgery, which made him miss the entire 2019 season. With baseball really being unknown as to when it's going to pick up again, there's hopes that fans will see Knebel on the mound this season as a closer along side Josh Hader.
#1: Rollie Fingers
Years with the Brewers: 1981-1982, 1984-1985
1981: 2.07 FIP, 0.872 WHIP, 1.04 ERA
1982: 2.54 FIP, 1.042 WHIP, 2.60 ERA (MVP, CY YOUNG)
1984: 3.29 FIP, 1.109 WHIP, 1.96 ERA
1985: 4.96 FIP, 1.410 WHIP, 5.04 ERA
You can't talk Brewers relievers without mentioning Rollie Fingers. Rollie Fingers was a face of Brewers baseball for the short time he was in a Brewers uniform. Acquired in a trade with the Cardinals that also included Ted Simmons and Pete Vuckovich, Fingers took Brewers baseball to a whole new level.
1981 was arguably Fingers' best year when he won the Cy Young Award and AL MVP. A 1.04 ERA, 1.042 WHIP, 2.54 FIP, this was the reliever the Brewers were looking for. He helped lead the Brewers to the AL pennant in 1982 and an injury would hinder him from joining them in the World Series that same year. Though, he did have an All-Star appearance in '82 prior to his injury. If he were to have been healthy for the World Series, there's no doubt that the Brewers would've been champions.
Rollie Fingers was inducted into the Baseball Hall of Fame in 1992 and he is one of eight players who have had their numbers retired from more than one team. His number hangs in the rafters at Miller Park for all fans to see.
In Conclusion
As always, follow me on Twitter for more great content at @sarahspooon and follow us @OTHWisconsin for more great content! Discuss this and everything to do with sports at the Overtime Heroics forums! View more content Here!