The Green Bay Packers have a history that is rivaled by few in the NFL.  Throughout their more than 100 years of existence, hundreds of players have taken the field for the Green and Gold.  From time to time, it is enjoyable to reflect and try to label which of them were the greatest to ever do it for the Packers.  Below is a list of our 10 greatest Packers, though undoubtedly, cases could be made for dozens of others.  Please note, the players on this list are not listed in any particular order.
The Ultimate Champion: Bart Starr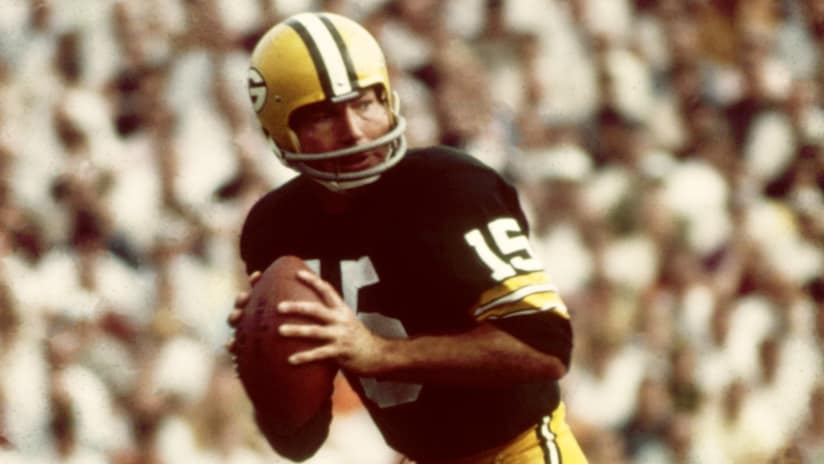 Bart Starr may not be the best quarterback to ever play for the Packers.  He may not even be the second best quarterback to play for the Packers.  However, when it comes to winning championships, no other Packers' quarterback did it better.
The quarterback of Vince Lombardi's Packers, Bart Starr led the Packers to five NFL titles in the span of seven seasons.  These included the first two Super Bowls as well.  Before Joe Montana, Terry Bradshaw, and even Tom Brady, Bart Starr had won more NFL championships than any other quarterback.  Even now with Tom Brady's seventh Super Bowl win, Starr ranks second all time in championships won by a quarterback.
Of course, titles are team accomplishments, not just a quarterback's.  However, Starr was as good as any quarterback of his era, if not the greatest.  Despite his poor coaching record as head coach, his legacy with the Packers is second to none.
Mr. Reliable: Forrest Gregg
While Bart Starr led the Packers' offense down the field, Forrest Gregg protected him and opened holes for the run game.  Even though Gregg has not played in Green Bay for almost 50 years, he is still widely regarded as the best offensive lineman the Packers ever had.
During his 14 years with the Packers, Gregg made the Pro Bowl nine times.  Additionally, he was a seven-time First Team All Pro.  As a lineman, Gregg has no stats or eye-popping records that jump off of a page.  However, as far as greatness goes, few have done it better in NFL history, and arguably none have been greater in Packers history.
The Most Talented Quarterback of All Time: Aaron Rodgers
There are several quarterbacks who are in consideration for being the greatest of all time.  However, the list of quarterbacks in consideration for most talented all time is far shorter.  For many, the most talented quarterback of all time is Aaron Rodgers.
Aaron Rodgers is a three-time MVP Award winner, most recently winning the award in 2020.  He has the best touchdown to interception ratio in NFL history and has the two highest single-season quarterback ratings.  Rodgers has made the Pro Bowl ten times and is a three-time First Team All Pro.
At age 38, Rodgers has shown he is nowhere near done, either.  In 2020, he had arguably the best season of his career.  If he can keep this level of play up for a few more years, hopefully the Packers can help him win that coveted second Super Bowl. His future in Green Bay is uncertain, especially since this past offseason. However, there is no denying that he is one of the greatest players in team history.
The First Great Wide Receiver: Don Hutson
The NFL game today is highlighted by eye-popping passing and receiving numbers.  Over the last 30 years, wide receivers like Jerry Rice, Randy Moss, Terrell Owens, and many others have made their name by putting up ridiculous receiving numbers.  They owe this facet of the NFL's receiving game to Don Hutson, who revolutionized the position.
Don Hutson was the first NFL receiver to have a 1,000 yard season.  He led the NFL in receiving yards, receptions yards per game, and touchdowns eight times each.  Not even Jerry Rice led the NFL in these areas that many times. Additionally, he led the NFL in interceptions as a defensive back once and had 30 career interceptions.
Despite being in the Hall of Fame, Don Hutson is rarely mentioned as one of the best receivers in NFL history.  His career numbers, after all, do not compare much to modern receivers who go over 1,000 yards multiple times.  However, as mentioned, Don Hutson was the first to do it, and made that milestone one worth chasing.
The Minister of Defense: Reggie White
Perhaps the greatest free agent signing in Packers' history, Reggie White just may be the greatest defensive player in Packers' history.  Not only that, he has a case for being the best defensive player in the history of the entire NFL.
After making seven Pro Bowls and six First Team All Pros with the Eagles, White signed with the Green Bay Packers.  His leadership and great play helped make the Packers' defense one of the best in the NFL.
Among his achievements with the Packers is his three-sack performance in Super Bowl XXXI, a NFL record.  He also made six more Pro Bowls and two more First Team All Pros.  Just how great was White?  The Packers famously do not retire many players' numbers.  They retired his 92 in 2005.
The Gunslinger: Brett Favre
If signing Reggie White is the greatest free agent signing in Packers' history, acquiring Brett Favre for a second round pick might be the greatest trade.  Brett Favre may now be a polarizing figure among Packers' nation, but there is no denying that he is one of the greatest players in NFL history, let alone team history.
After decades of mediocrity, Brett Favre was the quarterback who helped the Packers bring the Lombardi Trophy back home to Green Bay.  His iron-man streak of consecutive starts, his three MVP's, and his fun-loving style of play endeared him to Packers' fans for 16 seasons.
For now, Brett Favre is the Packers' all-time leader in touchdown passes.  Even though his time in Green Bay ended in an unfortunate drama, the Packers still honored Favre by retiring his number in 2015.
The Gray Ghost of Gonzaga: Tony Canadeo
Just as Don Hutson revolutionized the wide receiver position, Tony Canadeo was one of the pioneers of the modern NFL running back.  Today, several running backs eclipse 1,000 yards in any given season.  Back in the 1940's, Canadeo was just the third back ever to do it.
Like many players of his era, Canadeo played multiple positions.  For the Packers, he was a tail back, quarterback, receiver, defensive back, and punter.  His prowess as a complete football player made him one of the best of his era.  He was named to the NFL's all decade team for the 1940's and was the second Packers' player to have his number retired (Don Hutson was the first).
The Golden Boy: Paul Hornung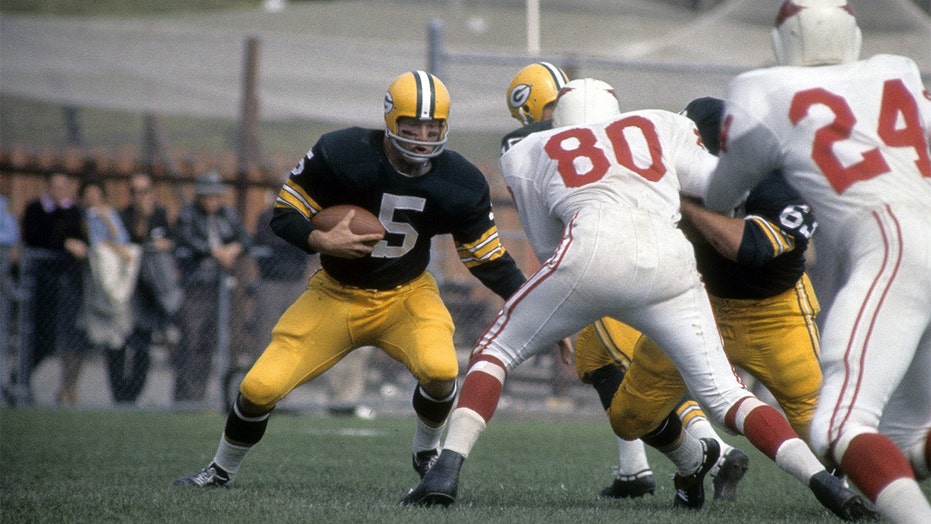 Hall of Fame coach Vince Lombardi coached many Hall of Fame players.  Bart Starr, Forrest Gregg, Jim Taylor, Willie Wood… the list goes on and on.  The greatest of the them all?  Well, as Coach Lombardi said, "Paul Hornung is the greatest player I have ever coached, and the greatest I've ever seen on the football field within the 20-yard line."
A Heisman Trophy winner, Paul Hornung won four NFL titles with the Green Bay Packers, including the first Super Bowl.  He was a two-time Pro Bowler and two-time First Team All Pro.  Additionally, he was named the NFL's MVP in 1961.  The stories surrounding Paul Hornung are the stuff of legend, and the story of the Packers cannot be told without him.
The Anchor of the Defense: Ray Nitschke
Name a NFL Hall of Fame linebacker with five championships.  If given that demand, one would have to say Ray Nitschke because there is no one else to list.  As mentioned earlier, championships are a team stat, but the fact that Nitschke was the defensive anchor on five title teams is a testament to his greatness.  He was even the game MVP of the 1964 NFL Championship, showing that he was not just along for the ride.  Instead, Nitschke was a driving force in the Packers' victories.
Ray Nitschke played his entire 15-year career with with Packers.  Back when he played, tackles and sacks were not recorded stats, but his ability to do both are well documented.  In 1969, the NFL's 50th anniversary, Nitschke was named the greatest linebacker of all time.  25 years later, he was also honored as a member of the NFL's all-time team for its 75th anniversary.  He is the only linebacker on both lists.
The Packers retired Nitschke's number 66 in 1983.  The team did not retire another number until White's 92 in 2005.  An interesting note: Ray Nitschke and Bart Starr are the only Lombardi era players to have their numbers retired by the Packers.
The Disrespected Great: LeRoy Butler
This is, of course, the end of the list.  There are many, many great Packers' players that could be listed in this spot.  However, LeRoy Butler is also very deserving; perhaps the most deserving.
LeRoy Butler spent his entire 12-year career with the Packers.  During that time, he was a four-time Pro Bowl selection and four-time First Team All Pro.  He also was a key contributor to the Packers' return to glory in Super Bowl XXXI.  Butler has even been included on the NFL's All-Decade Team for the 1990's.
Perhaps most memorably, LeRoy Butler is the inventor of the most iconic celebration in sports: the Lambeau Leap.  Ever since his first leap into the stands, children, grown men and men and women, and even other professional players dream of taking that leap into the arms of the Packers' faithful.
This past year, Butler was snubbed once again by the Hall of Fame voters.  The fact that he is not yet in Canton is nothing short of a crime against football.  His stats are far better than John Lynch's, who was inducted this year.  Hopefully he gets the honor he deserves in 2022.
Special Thanks
Inspiration for this article goes to Sampler Pack: A Mostly Wisconsin Sports Podcast.  Follow them on Twitter @SamplerPackWI.
For More Great Wisconsin Sports Content
Follow me on Twitter at @theotherAdams14 and follow us @WiSportsHeroics for more great content. To read more of our articles and keep up to date on the latest in Wisconsin sports, click here!