Without a doubt Aaron Rodgers can play into his forties. Why is this possible for him? Well clearly it is because he is a one of a kind generational talent at the QB position. On the other hand a real good reason is because of the great Packer offensive lines he has had in his career. The Packers, for the most part, have absolutely done a good job making sure that the franchise Aaron Rodgers is protected.  The foundation and tradition built in this offensive line is certainly impressive and cannot be ignored. Here are a list of Packer players who are and were apart of this great tradition.
[pickup_prop id="4629″]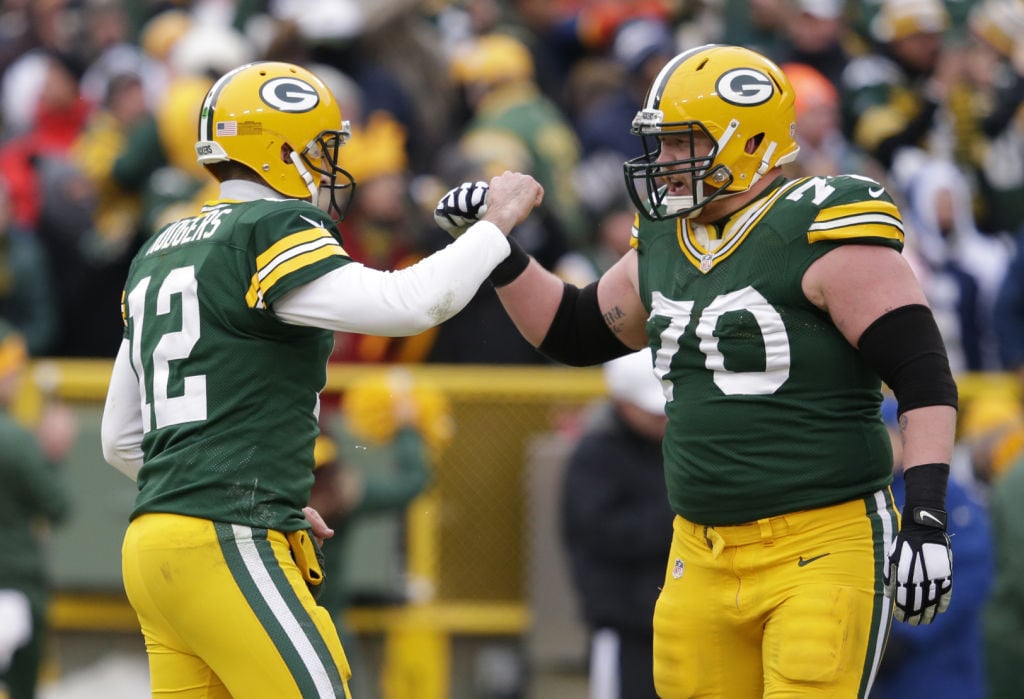 T.J Lang
T.J Lang was a fourth round pick from the 2009 NFL draft. He has been a good player and friend to Aaron Rodgers. He started a couple of games for the Packers Super Bowl run in 2010. Following that year he became a full time starter and was solid in his years with the Packers. T.J was one of the main reasons Rodgers was able to step up in the pocket to avoid outside pressure. Lang went to two Pro Bowls in his career, but no doubt should've been in more. Injuries did plague him late in his career, which caused him to retire after the 2018 season. T.J Lang will definitely be remembered for the good work he did with the Packers in protecting Aaron Rodgers for many years.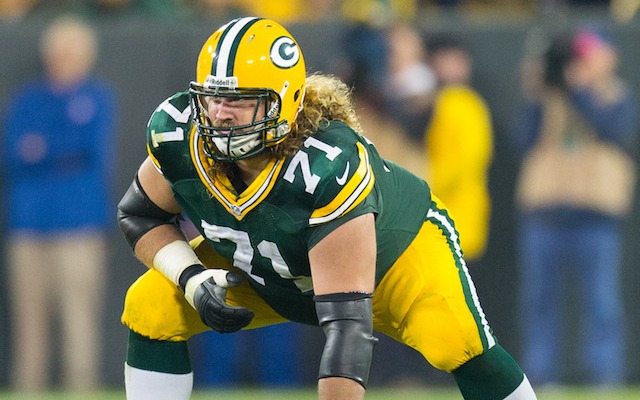 Josh Sitton
In my opinion Josh Sitton clearly has a case for the NFL Hall of Fame. Yes, he was that good and at times overlooked. Josh was a huge late round gem for the Packers as he was one of the most dominant guards of the decade. He was without a question a defensive tackle's worst nightmare. You couldn't beat him with speed as he was quick on his feet in his stance. In addition, you couldn't overpower him as he was a big man. He made sure that interior pressure didn't touch Aaron Rodgers. Sitton was indeed a dominant force on the Packers offensive line for many years. He retired as a Packer which was well deserved as he had a great run with them.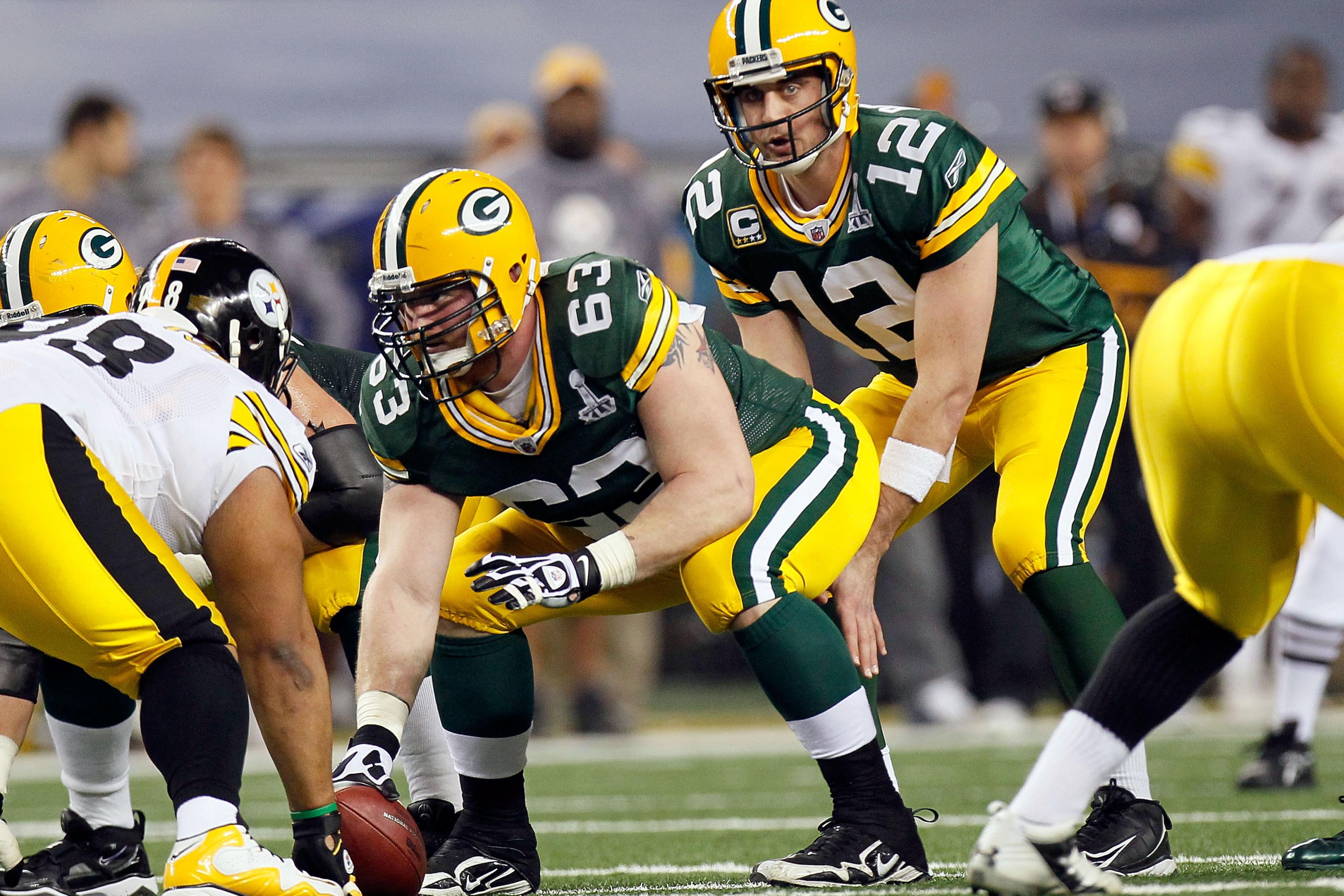 Scott Wells
The centers that have played for the Packers and with Aaron Rodgers were indeed pretty good. Scott Wells was one of those great centers. He has blocked for both Brett Farve and Aaron Rodgers. A seventh round pick in 2004, he became the anchor for the Packers offensive line for years. It is a shame that he only made one Pro Bowl as he was a really good center. Scott played on the Packers 2010 Super Bowl team and had his best year in 2011, then was released a year later. Scott definitely was a good center for the Packers nobody talks about and I'm glad he able to win a ring.
Chad Clifton
Chad Clifton was a underrated eleven-year offensive linemen in the NFL. He was responsible for blocking the blindside of Brett Farve and Aaron Rodgers. Chad was a stud at left tackle as he kept all the pass rushers at bay. It can indeed be an argument that Chad should be a NFL Hall of Famer for the career had, especially with the QBs he blocked for. He played for the Packers his whole career, won a Super Bowl, then retired after the 2011 season. Chad was inducted into the Packers Hall of Fame, clearly a well deserved honor. He will always be known as one of the best offensive linemen in Packer history.

Bryan Bulaga
Bryan Bulaga was the Packers first round pick in 2010. During his ten years with the Packers he was of the best tackles in the game. He kept a lot of elite rushers off Aaron Rodgers, keeping him clean.  It is really questionable that he never made a Pro Bowl in his career. On the other hand, what kept Bulaga from having a Hall of Fame Career was injuries. He had too many injury plagued seasons in his career.  He never played a full sixteen games.  Because of that the Packers unfortunately had to move on after the 2019 season. Bulaga currently plays for the LA Chargers. He signed a three-year thirty million dollar deal prior to the 2020 season. It is a shame he will not finish his career as a Packer, but he will be recognized for his time with the Packers, especially winning a Super Bowl.
JC Tretter
Yes, he plays for the Cleveland Browns currently, but we can't forget where it all began.  JC Tretter was a undrafted free agent in 2013 when the Packers signed him. He was supposed to be the starting center in 2014 until he got injured. Tretter was a real versatile player on the Packers and got his start at center when Corey Linsley got hurt and performed well. His great performances when he played got him a real good contract with the Browns. Tretter currently anchors the Browns offensive line that is one of the best in the NFL. I am happy that he having success, yet we cannot forget how he first got his chance.

Corey Linsley
From the historic 2014 NFL draft in the fifth round, the Packers drafted Corey Linsley. He has been nothing short of spectacular for the Packers. Because of injuries to others, he got to start for the Packers as a rookie and never looked back. He was ranked the second best rookie offensive linemen only behind Zack Martin. Corey has been an underrated, but solid player for the team. He was a First Team All Pro and ranked the best center in the NFL this year. He may not be back in 2021 because of cap reasons. Aaron Rodgers wants him back so hopefully we can keep Corey around.

Elgton Jenkins
It obviously should be known that Elgton Jenkins should have been a first round pick. At the same time, I am glad he fell to the Packers. This was a big one as the Packers passed on DK Metcalf in the 2019 NFL draft to take him. Jenkins is a Pro Bowler for the Packers in his second year in the NFL. He has also stepped up and moved all across the line when the Packers had injuries. His play has been really phenomenal and he is looking like a huge steal from the draft continues to trend upwards. Jenkins can really be on of the best all time when its said and done if he keeps his level of play up.

 David Bakhtiari
To start, Bakhtiari is already a legend for chugging beers at Bucks' games. David Bakhtiari was also the biggest steal from the 2013 NFL draft. He has become an elite left tackle in the game and keeps elevating his play. Clearly Aaron Rodgers loves him, knowing that his blindside is always protected. He can always count on David to erase pass rushers who line up against him. That is why he deserved the huge payday he got this season. It's a shame that he tore his ACL this year and the Packers missed him in the NFC championship. Locking him up was huge and he is now a Packer for life. I hope for a speedy recovery for David as the Packers will need him next season
In Conclusion: Follow me @CarlosS219143608 and follow us @WiscoHeroics1 for more great content. To read our articles and keep with everything Wisconsin sports, click here!