This week has been nothing but good new for the Green Bay Packers.  Getting back Robert Tonyan, Elgton Jenkins, and Christian Watson off the PUP list was huge.  Those three alone are enough reinforcements to make a team happy for one week.  However, that is not all Green Bay added to the practice field.  "The Seeker" is new high tech launching machine that will change the way the Packers can practice.
What Is This New Machine?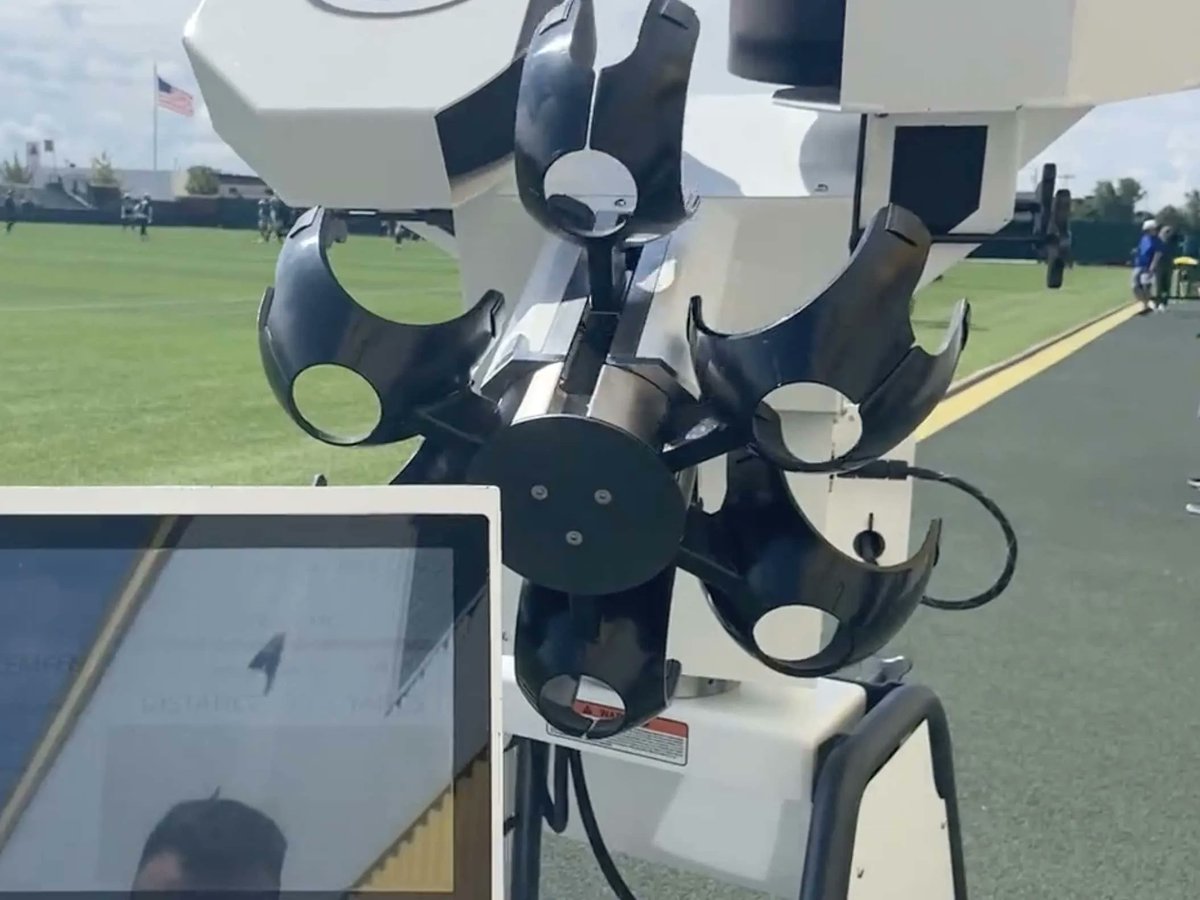 "We're in the market for a new JUGS machine," LaFleur said on August 3rd, following the Packers' struggles with the unit the day prior. "If anyone has one out there, they want to donate, or put whatever price you want on it, I don't care. We have to get a new JUGS machine. I've never seen anything like that. That thing was ridiculous."  It would appear the Packers' head coach got his wish, in a major way.
A pair of mechanical engineering graduates from Northwestern University, created Monarc.  They have units installed at several college football programs as well as in private workout locations for some NFL players. This is the company's first install with an NFL team, however.
What Exactly Can It Do?
A fancy new JUGS machine from @MonarcSport. The Packers are using Monarc on a one-month trial basis and are their first NFL client.

It was just explained to us by a Monarc employee that this computer can release balls for DBs exactly how Kirk Cousins throws them, for example. pic.twitter.com/P6maEWJyG4

— Matt Schneidman (@mattschneidman) August 15, 2022
Brody Miller at The Athletic broke it down back in 2019.
Four years after its founding, Monarc has done it. They've built a hyper-intelligent robotic quarterback, a 300-pound machine that can shoot six footballs in nine seconds at 80 mph and up to 100 yards, that can track and study the speed and quickness of a receiver, know the route and hit the target in stride, that can launch punts to the roof of an indoor practice facility and triple a player's typical special teams reps. It's the revolutionary combination of machine and data that Monarc hopes can change the way the football world practices.

At its core, the mission of the Seeker is to enable players to efficiently gain more reps, and more effective reps at that. Gone are the days of the third-string receiver seeing minimal reps at practice and never developing. Gone are the nights of receivers calling quarterbacks to throw constant and never-ending routes, wearing down their arms. No more slowly feeding one ball at a time into a JUGS machine at a fixed location.
Being Able to Replicate Quarterback Throws Is A Huge Advantage
Rob Demovsky posted a video explaining exactly how this machine can replicate different quarterbacks in the NFL.  The one specifically mentioned in this video?  Kirk Cousins.
When Kirk throws a 30 yard corner ball, he has it out at 44 miles per hour in 3.1 seconds… (Later goes on to say) This machine can replicate that, and get you ready for any quarterback you are preparing to play.
The Green Bay Packers are using science to get a leg up on the competition, and it's incredible to see it in action.
For More Wisconsin Sports:
Follow me on Twitter at @mcquadewarnold, follow us @WiSportsHeroics, and listen to our Podcast The Cheese Dads!  To read more of our articles and keep up to date on the latest in ALL of Wisconsin sports, click here!