Brewers RHP Corbin Burnes was named the recipient of the 2021 National League Cy Young Award. He is Milwaukee's first recipient of the honor since Pete Vuckovich won it in 1982. He is also the first Brewers player to win the award since the franchise switched leagues in 1998.
Corbin Burnes is known now as a dominant front line starter, but he hasn't always been that way. His tenure with the Brewers has been an up and down experience, with the lowest of lows in 2019 followed by the highest of highs as of late. Today, we will discuss his rise to stardom with the Brewers and where his career may go from here.
Early Career/Minor Leagues
Burnes was selected in the fourth round of the 2016 MLB Draft out of St. Mary's College. He began his professional career with the Rookie League Brewers of the Arizona Complex League. After quickly working his way up the Brewers' Minor League system, by 2018 he was on the Brewers' Major League Roster at just 23 years old.
Burnes' career began primarily in the bullpen, and he was a solid late game option in the 2018 playoffs. He was even accredited with the win in game three of the NLCS and got the final six outs in the pivotal game six.
In spring training 2019, it was announced that Burnes would be in the starting rotation the upcoming season. This was met with much anticipation, as he was one of the wild cards on a very talented team. If he surpassed expectations, then the team could be very dangerous. Unfortunately, his 2019 season was rather underwhelming. 
2019 – High Expectations
8.82 – Remember that number, as it will be important later on.
As mentioned above, Corbin Burnes did not meet the expectations of the baseball world in 2019. As a result, he only made a handful of starts before being sent back to the bullpen early in the season.
Burnes famously struggled with his four seam fastball because although it had decent velocity (~95 mph), it did not have enough movement to make it a number one option. Unfortunately, he had no other go-to pitch, so it was used as such for that season. Burnes needed to make an adjustment to his pitch arsenal if he wanted to keep his major league dreams alive, and he needed to make it quick. In other words, if he struggled in 2020, he may never see the big leagues again.
As you can imagine, that's quite a bit of pressure resting on the shoulders of a player who, at that point, was just under 25 years old. Luckily enough, he responded well to that pressure.
2020 – Much to Prove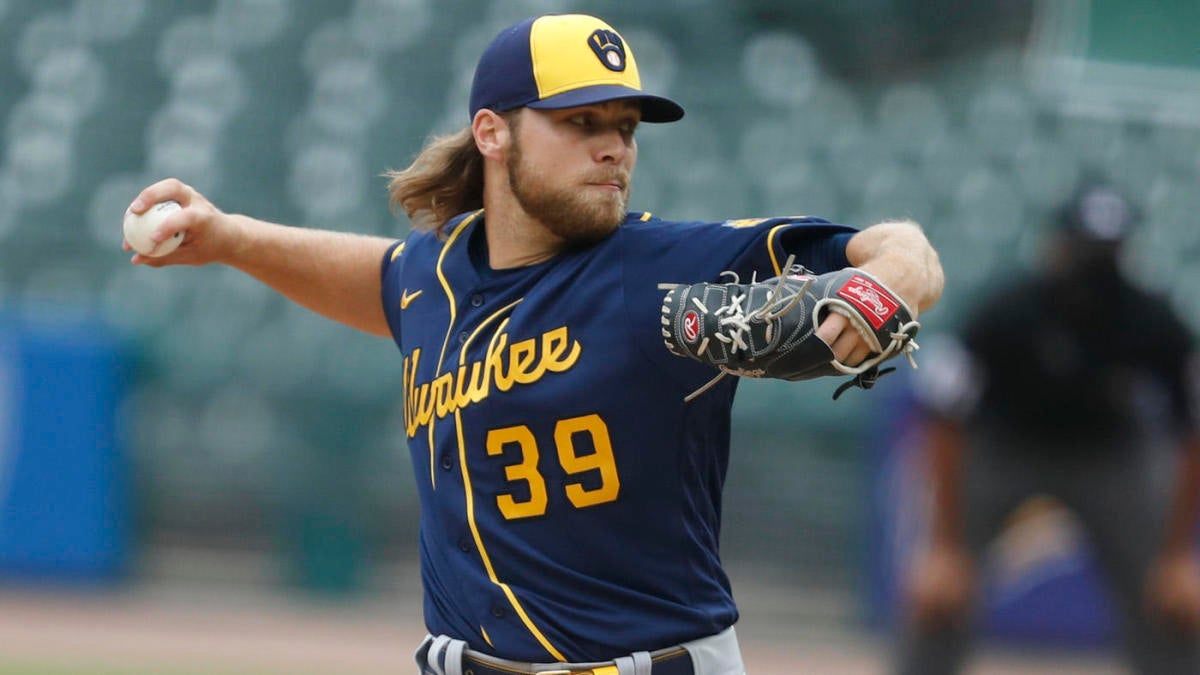 In 2020, Corbin Burnes ditched his four seamer and went all in on a cutter. He made that his go to pitch, and it paid off. Burnes' cutter went from an experiment to the hottest pitch in baseball. Pair that with a devastating curveball, and you've got magic on your hands. He finished the 2020 season with an earned run average of 2.11 in 59 innings of a shortened 60 game season.
Despite that dominance, Burnes was injured for the postseason and the Brewers were swept in the wild card series (not like they were going anywhere, anyway).
His 2020 was great, but Burnes would have to prove his dominance the next season in the full 162 game marathon. We thought he was dominant in 2020, but we had no idea what would come next.
2021 – Cy Burnes
Corbin Burnes absolutely dominated 2021. With a stacked Brewers rotation, along with fellow All-Stars Brandon Woodruff and Freddy Peralta, he all but willed Milwaukee and their lackluster offense to the postseason for a franchise record fourth consecutive time.
Burnes had one of the best single seasons in Brewers history, with an ERA of 2.43 in 167 innings. He averaged 12.4 strikeouts per game, and won the National League ERA title. In November, he was named the National League Cy Young Award Recipient. Burnes was in a tight race over other dominant starters like Zack Wheeler and Max Scherzer.
Just like that, the man who was sent to AAA Colorado Springs in 2019 won arguably the most prestigious award in baseball – rivaled only by the MVP Award – along with the NL ERA title. Pretty solid season, if you ask me.
Looking Ahead
You know how I told you earlier to remember the number 8.82? That was Corbin Burnes' earned run average in 2019. He went from a fallen prospect with a problematic fastball and no other go-to pitch to one of the most dominant pitchers in the game in only two years. That is a transformation that you just do not see at the major league level.
Burnes is under contract with the Brewers through the 2025 season, and he looks to be Milwaukee's ace for years to come. All in all, Corbin Burnes did what some may say is impossible. He rose through the Brewers' farm system to the major leagues by the young age of 23. Despite that early success, his career was left in a state of limbo after struggling during the 2019 season. Consequently, he was even sent down to AAA for a time. Such an assignment can be a death sentence for a major league career. However, in just over two years, he won the National League ERA title and the NL Cy Young Award.
Burnes' 2021 season will go down in Brewers history as one of the greatest single seasons ever had by a pitcher. That is an outcome that was almost unfathomable just two years ago.
Follow For More
Follow me on Twitter at @hlmaes1 and follow us @WiSportsHeroics for more great content. To read more of our articles and keep up to date on the latest in Wisconsin sports, click here! Also, check out our merch store for some amazing WSH merchandise!