PFF (Pro Football Focus) released its college grades for this year's rookie running backs and two of the names might seem familiar for Wisconsinites. Tied for first at 91.3 is Packers draft pick, former Boston College running back AJ Dillon. Solely in third, with a grade of 91.1, is former Wisconsin back and current Wisconsin Badger legend Jonathan Taylor. Drafted on opposite ends of the second round, both highly touted backs have a chance to make a real impact this year.
Taylor beside Mack: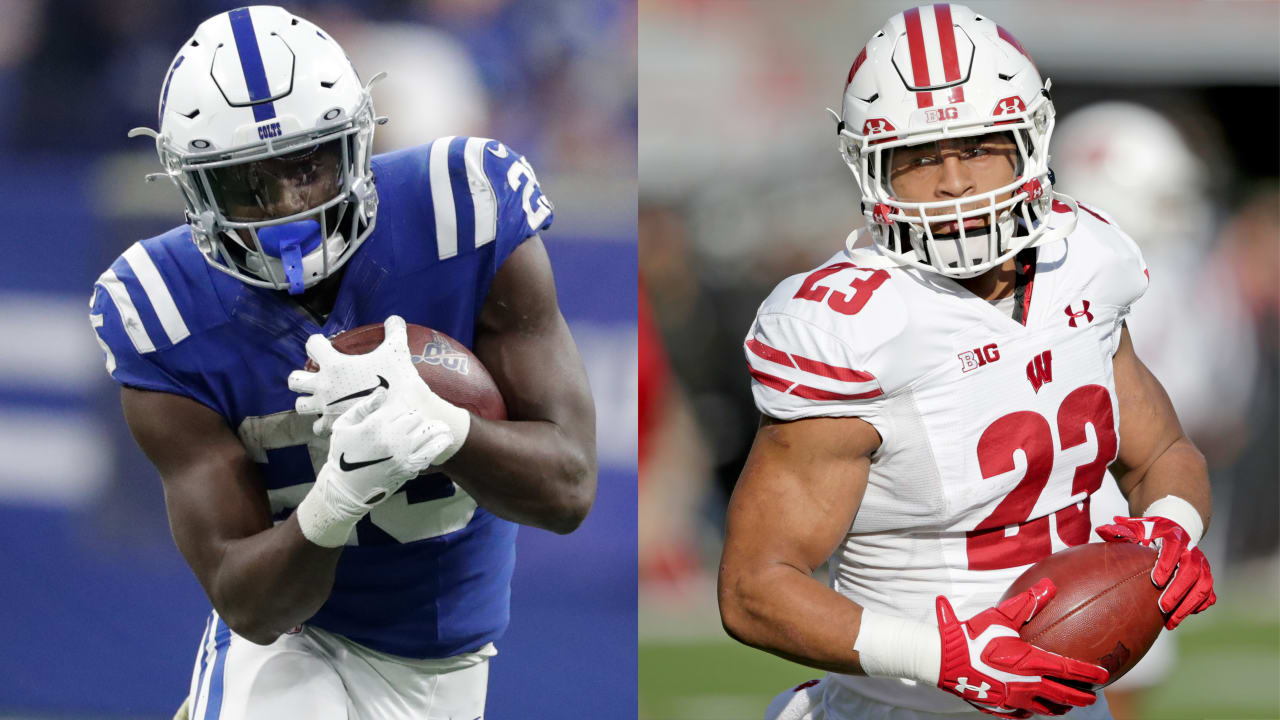 Jonathan Taylor, well known as a skilled college running back, was drafted by the Indianapolis Colts to take part in a backfield with breakout rusher Marlon Mack. A 1,000-yard rusher from 2019 will be paired up with the #6 All-Time rusher in NCAA history. With a veteran quarterback in Phillip Rivers, both Mack and Taylor have a real shot to excel in a varied and dynamic backfield that propels the Colts offense. While Rivers is still a skilled field general, he is no longer an elite quarterback whipping the ball around the park. It was no different at Wisconsin for Taylor. With Alex Hornibrook and an inexperienced Jack Coan behind center, Taylor was the main offense for the Badgers team. As a sub 4.4 (40 time) back, Taylor brings an element that 4.5 Mack doesn't. The 1-2 punch of Mack and Taylor adds a level of dynamism to an offense lacking established play makers outside of veteran wide receiver T.Y Hilton.
Dillon behind Jones:
Dillon has a chance to have a similar effect on the Packers offense. The bruising running back, much like Taylor, was pretty much the entire offense for Boston College. Both have over 800 career college carries (Dillon has 845 and Taylor has 926). Therefore, a team like the Packers is a perfect situation for Dillon. With an established and explosive starter like Aaron Jones in front of him, and a change-up runner like Jamaal Williams, Dillon can learn the offense and extend his shelf life. In his rookie year, he can slowly take the souped up Jamaal Williams-esque role before Williams' contract runs out at the end of this year.
Additionally, the power back possesses a lot of shiftiness in his game. It is similar to Williams style but he weighs 45 pounds more. At Lambeau Field, as the weather gets cold and every hit starts to sting more, a bruiser like Dillon can be as effective as Aaron Jones or more. Even at 247 pounds, Dillon can cut and shake defenders out of their shoes with the best of them. This gives the rookie rusher a large tool chest with which to attack defenses. AJ Dillion has just scratched the surface of his potential. It is no surprise PFF has him graded as the number one rookie running back.
Conclusion:
Taylor and Dillon come from remarkably similar situations. They are two of the most heavily used backs in college football who played behind solid, if not elite, offensive lines. Both are now second-round picks drafted by teams with explosive 1,000-yard backs. The creativity they allow for, especially under LaFleur and Reich, could lead to an uptick in offensive output. The highly graded runners now aim to prove that Wisconsin running backs are the premier backs in the game.
Follow me on Twitter at @MGoynatsky and follow us @WiscoHeroics1 for more great content! To read more of our articles and keep up to date on the latest in Wisconsin sports, click here.