The Packers had their joint practice with the New Orleans Saints on Tuesday and Wednesday. They will also play them in their second preseason game. As a football team they took some steps forward with their joint practices against them.  Yet they do also indeed still have things they need to improve on as well. Here are the takeaways from the Packers joint practice.
Defense Dominated Both Joint Practices
One thing that we learned from these joint practices is that the Packers defense is for real. They made it very hard for the New Orleans Saints offense to move the ball on them. This defense was constantly putting pressure on quarterbacks Andy Dalton and Ian Book. They would've had a lot of sacks if it was a real game. It seems that the Packers will look to have one of or even the best defense in the NFL this season.  They should be fun to watch this year.
Malik Taylor and Dominique Dafney Were Released
The Packers in the last two days have released two players in Malik Taylor and Dominique Dafney. Unfortunately both of these players were victims of crowded positions at wide receiver and tight end. These two did contribute for the Packers offense over the past two years. It was very classy of the Packers to release these guys early knowing they would not make the team in order to give them both a chance to catch on to another team. Wish Malik Taylor and Dominique Dafney the best in their futures. We also thank them for what they did for the Packers the last two years.
 Tyler Davis Stock Is Plummeting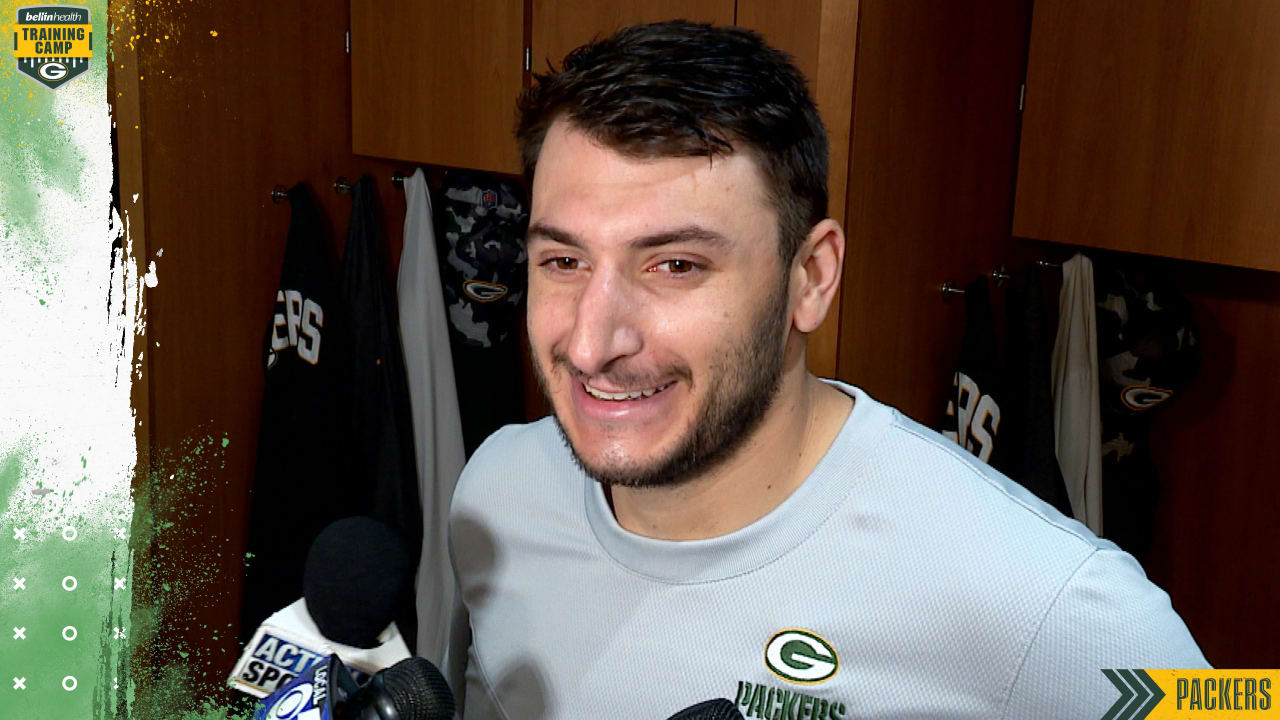 One player who stock is dropping is Tyler Davis. He has been hyped up to be a major part of the Packers offense. But, he has been very disappointing and has not been playing well. Against the San Francisco 49ers he caused a ball thrown to him to be bounced up in the air resulting in a interception. In his two joint practices against the New Orleans Saints, he did not perform well. He has not been good in run blocking and has had numerous false start penalties. Tyler Davis still has a high chance of making the team but however right now he needs to improve as he might play himself off the final 53-man roster.
Jordan Love Showed Improvement 
Jordan Love was not all great on day one of joint practice. On day two, however, he was very good as he was picking apart the New Orleans Saints defense, especially in the red zone. Jordan Love keeps showing improvement this year and he showed it on Wednesday. In his third year you can really see the growth of Jordan Love as a quarterback and it is very good see. Another test comes for Jordan Love as he will face the Saints again in the Packers second preseason game.
The Jake Hanson Experiment Might Be Over Soon
Jake Hanson has not been good recently for the Packers. He did not perform well against the San Francisco 49ers and also has not been good in both joint practices.  Despite him getting time with the starters in training camp he still might not make the roster with his poor play as of late. The Packers do have other players to take his place making him very expendable. Do not be surprised if Jake Hanson does not make the final 53-man roster.
The Packers Offense As A Whole Is A Work In Progress   
The Packers offense in both joint practices have looked very sluggish for the most part.  The New Orleans Saints defense really got after the Packers offense and gave them trouble. Even Aaron Rodgers was off as the Saints defense even intercepted him. Rodgers did express the growing pains the offense will go through especially with the new young wide receivers. Overall the offense will be fine and going against the Saints defense who are one of the best in the NFL is a good test.  Additionally, facing their own defense everyday in practice will make them better as well. The Packers might struggle in the beginning but they should be more efficient in the regular season this year.
For More…
Follow me on Twitter at @CarlosS29143608 and follow us at @WiSportsHeroics for more content. To keep up on all of your favorite sports in Wisconsin, click here! Also, check out our merch store for some amazing WSH merchandise!