The Packers re-signing Aaron Jones was certainly a surprise. Jones signed a four-year, $48 million deal, meaning the Packers basically have a core player locked up. Of course the saying is, "do not pay running backs," and I do agree with that. Aaron Jones, on the other hand, is viewed as a valuable player to the Packers, especially on offense. Here are all of the takeaways from the re-signing.
Aaron Jones Wanted to Be a Packer For Life
This is where you have to love Aaron Jones. He clearly could've gotten a bigger and better deal in free agency. Yet despite all of that, he decided he wanted to come back to the Packers on a team friendly deal. Teams like the Miami Dolphins were going to give Jones a huge payday. He knew the Packers were the best team for him and good chance for him to win a ring. Now he got paid and now is with the Packers for years to come.
This Moves Makes One Important Person Happy: Aaron Rodgers
Aaron Rodgers stated that he wanted to have Jones back as he was important to the offense. Also Rodgers' said he was one of the best teammates he has ever had. That is a real big compliment coming from someone like Aaron Rodgers. The Packers granted his wish as he part of the Packers for the long run. Making Rodgers happy with this move is a big accomplishment for the Packers.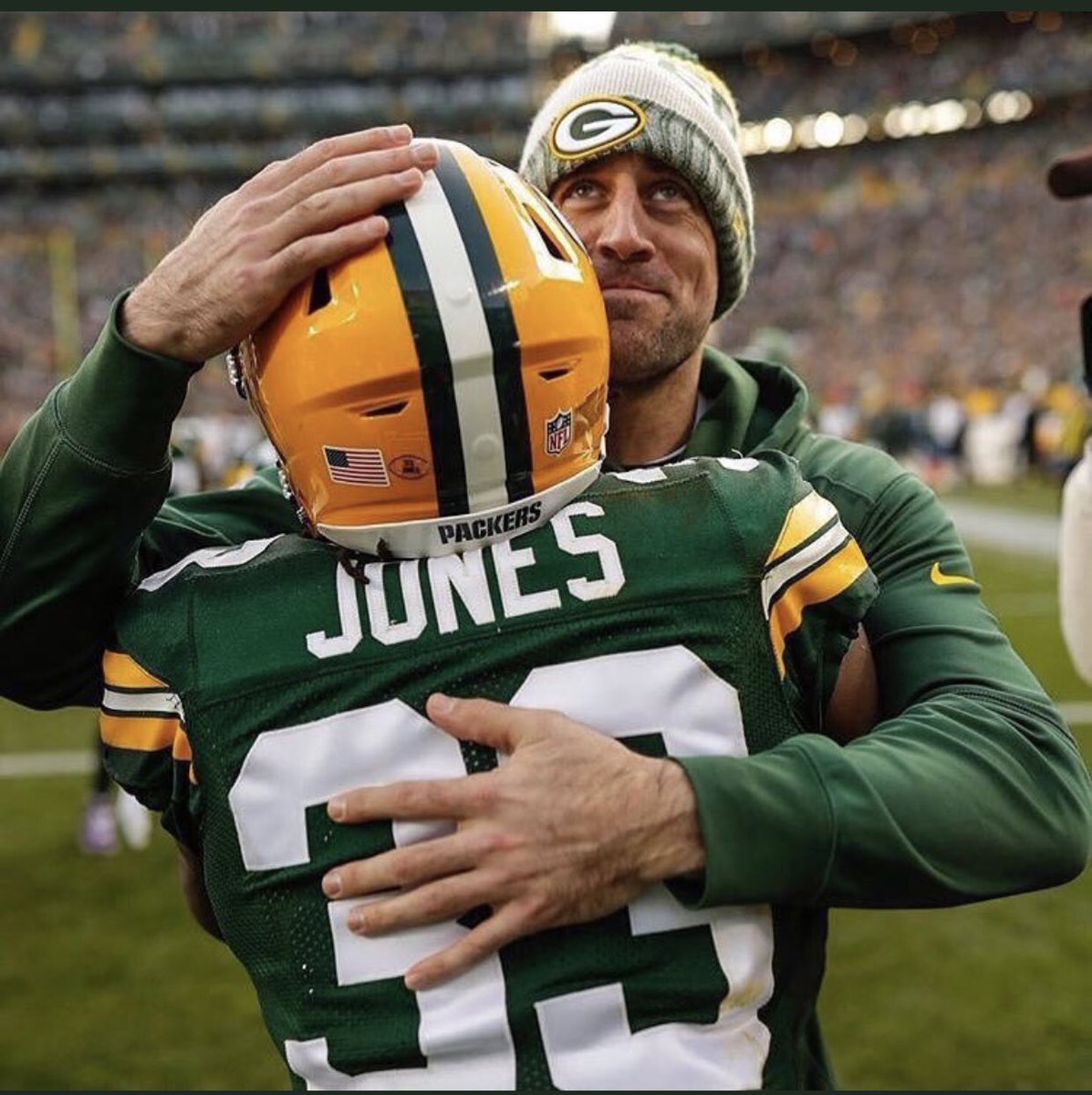 Brain Gutekunst and Russ Ball Know What They Are Doing
Brian Gutekunst and Russ Ball are doing their jobs well as of right now. Both front office executives indeed have a plan for this team even though nothing is certain because free agency is still ongoing. They clearly know more than anybody else doing work behind the scenes. Also, they are doing a good job managing the salary cap and making sure the Packers are staying afloat. This, so far, is saying that Gute and Russ are establishing the winning tradition and culture with the Packers.
Keeping the Core Established On Offense
The Packers are making sure the core of this team is kept for the foreseeable future. That is huge in trying to build a foundation for a franchise of any sport. The core, especially on offense, is locked up with the trio of Davante Adams, Aaron Rodgers, and Aaron Jones. That group was the main reason the Packers had the number one scoring offense. Now, if the Packers can add a few more pieces to the trio, the offense might be unstoppable. We will see what other moves they make this week in free agency.
In Conclusion:
Follow me @CarlosS29143608 and follow us @WiscoHeroics1 for more great content. Check out our merch page. Use the promo code WISCO at checkout for 1$ off! For more articles and to keep up on all of your favorite sports Wisconsin click here!
[pickup_prop id="4942″]