In the first couple weeks of training camp, many young players have been coming up big. More than any other season, the Packers are relying on rookies and second year players to make huge contributions to the team. How are these players developing so quickly? Leadership. Strong leadership is helping the Packers young players.
Rashan Gary
Rashan Gary is primed for a huge season. He has been pressuring the quarterback throughout the first couple weeks of training camp. However, his leadership is also growing. On one day of practice, he jumped into the second team defense huddle and gave an passionate speech to fire them up. This is training camp. Whether the defense "won" or not, it ultimately doesn't matter. But there Gary was. Firing up the guys to go out there and win the day. This kind of energy rubs off on other players. This causes players to practice harder and focus on honing their skills. If the defense is going to match Gary's energy, it will be a scary defense on the field this season for the Packers. This is the type of strong leadership the Packers want to see on defense.
Aaron Rodgers and Mercedes Lewis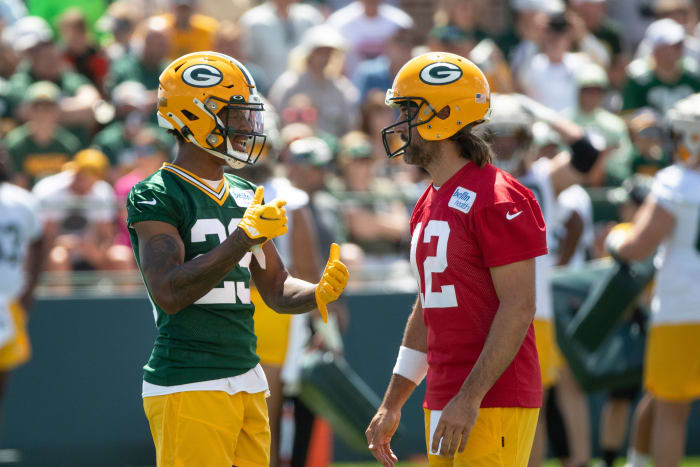 There has been a narrative that Rodgers does not work well with rookies. Regardless of whether you think this narrative is true or not, this year, he has to work with young players. Romeo Doubs has received high praise from Rodgers and injured rookie Christian Watson has also spent time picking Rodgers brain. It isn't just the offensive players either. Rodgers has been talking with his secondary to better understand how to coach his rookie wideouts and understand defensive concepts.
Mercedes Lewis had a veteran rest day on Tuesday. While he is well within his right to relax and rest his body, he was out on the practice field. He was coaching the young tight ends on blocking schemes something that Lewis excels at. The running game will be a huge part of the Packers offense this season and this will only improve it. This is the kind of strong leadership that the Packers like to see.
Matt LaFleur
Ultimately, strong leadership comes from the top and Matt LaFleur has proven to be a great leader. Listen to any of his press conferences after a loss. He places the blame on himself and says that he needed to game plan better. This has caused a perfect 9-0 regular season record after a loss. He also listens to players and takes their suggestions into account. It is clear he has instilled a culture where players like Rodgers, Lewis and Gary feel comfortable jumping in, giving advice or pumping up the team.
Young players are going to have to make a big impact on both sides of the ball this season. In the future, the Packers will have to be led by the young talent of today. The strong leadership the Packers have will help them build a great team for this season and beyond.