In the middle of the current playoff run, the only remaining coach that might be on the hot seat is Mike Budenholzer.  While Milwaukee is currently in the Eastern Conference Finals, many fans still wonder if they could be even better.  The most recent loss to the Atlanta Hawks is just one of many examples why some would like him gone next year.  Let's dive into the pro's and con's of the polarizing coach.
Budenholzer Turned the Bucks Around
No matter what anyone says about him, one thing that's indisputable is that he has turned Milwaukee into yearly contenders.  Under the previous regime of Jason Kidd, Milwaukee was lucky to get to the first round of the playoffs.  Budenholzer took over with relatively the same roster and lead Milwaukee to the #1 seed in the Eastern Conference.  He pulled off the same feat in year two and the Bucks have the third seed this year.
We should all acknowledge how much he has done for Milwaukee.  He was the coach who built the offense around Giannis' strengths and made them much more efficient.  Additionally, Milwaukee has been above average to great on defense under him by the numbers in the regular season.  Just about everything that needed to be improved after Jason Kidd left did improve statistically.  Budenholzer's impact was immediately felt throughout the organization from day one.  The Bucks have been on the cusp of a championship for the last few years, and this year might be the year.  If so, we all should give Budenholzer the respect he deserves.
Is Budenholzer Holding Them Back?
Now that we've gotten the praise out of the way, let's address the issues many people see.  While Milwaukee did make a huge jump with Bud as coach, it also coincides with the growth of players like Giannis and Middleton.  It is likely that had anyone else been hired after Kidd that there would've at least been marginal improvement simply because Milwaukee was still a young team.  Along with that, John Horst has since added some huge pieces Kidd didn't have like Lopez, Jrue, and anyone not named Giannis or Middleton.  So the Bucks no doubt would've improved over time.  This current roster is built for a title run.
Bud's Refusal To Adjust
Bud's biggest weakness though is the inability to adjust come playoff time.  Dating back to his time as the Hawks' coach.  His teams are known for being excellent in the regular season but falling apart in the postseason.  This is largely because when opponents have a long time to prepare for Milwaukee they are able to find the schematic weaknesses. When the opponents take advantage of these weaknesses Budenholzer has no counter.  He will simply stick to his plan no matter what is happening in the current game.
For example, if a team is having a hot shooting night from the three point line, Budenholzer will have Milwaukee continue to unnecessarily help in the paint and allow open threes.  His argument would be something to the tune of, "well it works most of the time", which in a computer simulation is probably true.  The issue is that players are human, some nights they will be better than they are other nights.  If the Bucks aren't shooting well from three, the offense usually falls apart.  When the team needs to win, a great coach will be able to adapt to the current game being played, and often times he doesn't.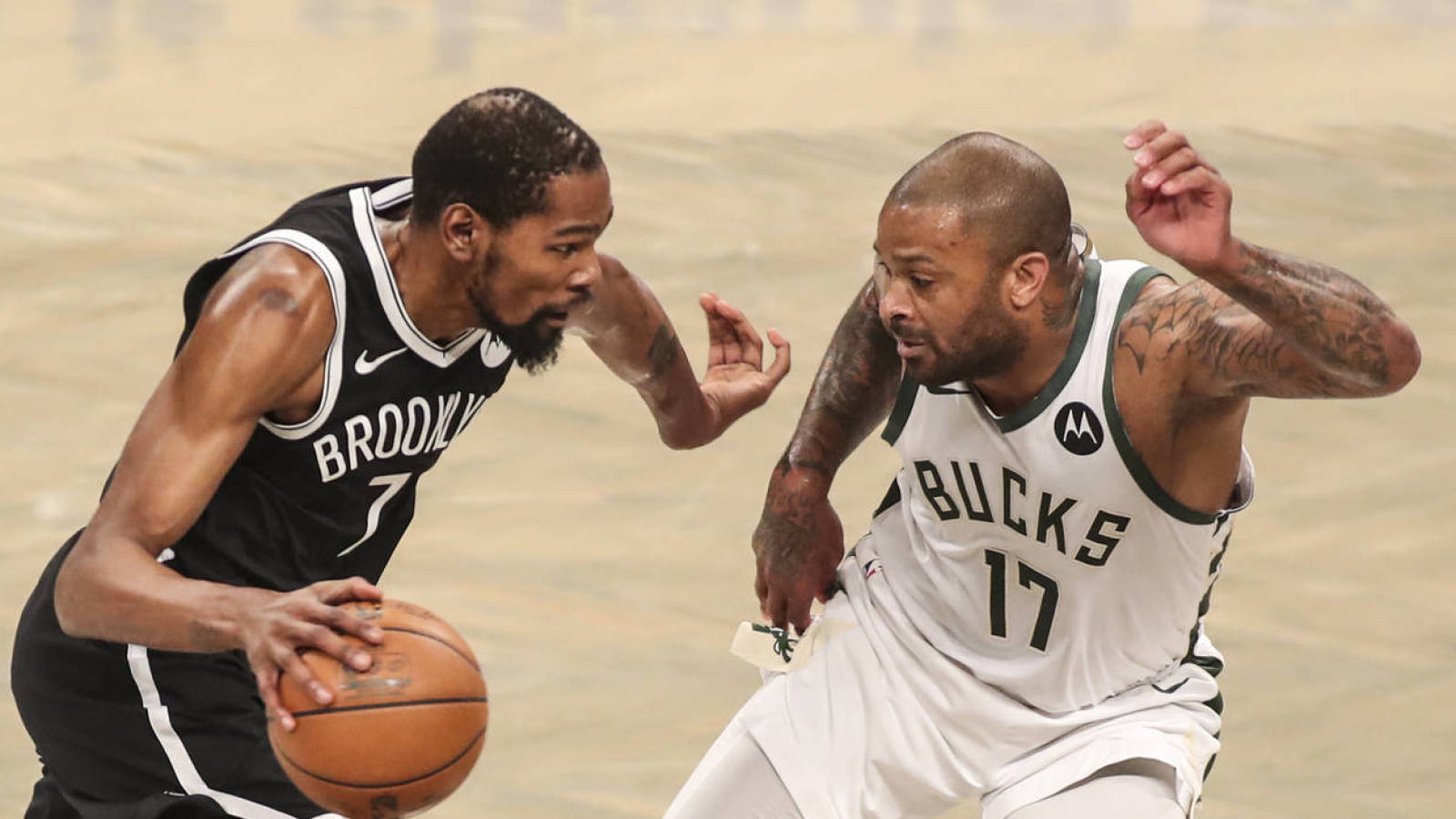 Issues in 2021 Playoffs
Prior to the Nets series, on paper I would've told you that Milwaukee had a chance to win in six or seven games even if the Nets' superstars were all healthy.  Boy was I wrong.  Luckily Milwaukee was able to escape with the win in seven games after injuries to both Irving and Harden.  With no Harden available the Bucks were able to split the first four games (Kyrie got hurt in the middle of Game Four).  When Irving went down we all knew there should be no reason the Bucks lose Game Six considering Harden could barely jog.  Leading by 17 in the third quarter all looked to be well, but they fell apart lost anyways.
It was obvious to everyone watching that game that the entire Nets' offense was being run by Kevin Durant.  However Bud continued to keep PJ Tucker on him in single coverage almost all game.  Tucker is a great defender but when Durant is six inches taller and in a zone, it just doesn't matter.  The obvious call would've been to double him (especially late in the game) or put Giannis on him.  Giannis is the reigning DPOY and can match the size and athleticism of Durant like nobody else can, yet rarely did we see this matchup.  The series was potentially on the line but Budenholzer chose to stick to his guns, costing them the game.
Where was Bobby Portis?
Possibly the weirdest part of the Nets series was that Bobby Portis didn't see the floor for the final three games.  Budenholzer claimed it was a matter of giving the starters more minutes.  Which would've made sense, except in two of those games he gave Elijah Bryant meaningful minutes.  Bryant only received a few garbage time minutes late in the regular season before being thrown into the midst of a crazy playoff series.  He was clearly unprepared for the moment and didn't do much of anything in his time on the court.  I would consider Bryant as one of the three worst players on our roster.  The fact that he was able to play but the third best three point shooter in the league couldn't is absurd.
[pickup_prop id="8624″]
Final Thoughts on Budenholzer
I could go on and on about the problems with Coach Bud.  From his lack of using his challenges in close games on obvious missed calls. To him refusing to get in the officials' faces and defend his players on such calls.  Budenholzer just seems to be lost when in the moment of close games and gets outcoached nearly every playoff game.  Is there a better candidate out there the Bucks could realistically hire next year?  That's hard to say.  But with this current roster, it just seems like the Bucks just are not playing to their full potential.  If Milwaukee doesn't make it to the finals I wouldn't be surprised if he is let go.
For More Great Content
Follow me on Twitter @IAmMitchLang and follow us @WiSportsHeroics for more articles like this!  Check out our merch page here and use promo code WISCO at check out to receive $1 off your order!  As always, to keep up with everything in WI sports, click here.