Whether Allen Lazard likes it or not, there aren't too many players on the Packers roster who has more pressure on their shoulders than him.  In an off-season that saw three of the Packers top six wide receivers leave, Lazard finds himself thrust into the number one role.  Lazard has not shied away from the opportunity.  He has been vocal about wanting to be the number one wide receiver in Green Bay and how excited he is.  Early into Training Camp Allen Lazard has drawn the praise of two Packers veterans.  Aaron Rodgers and Randall Cobb.
Aaron Rodgers and Randall Cobb's Comments: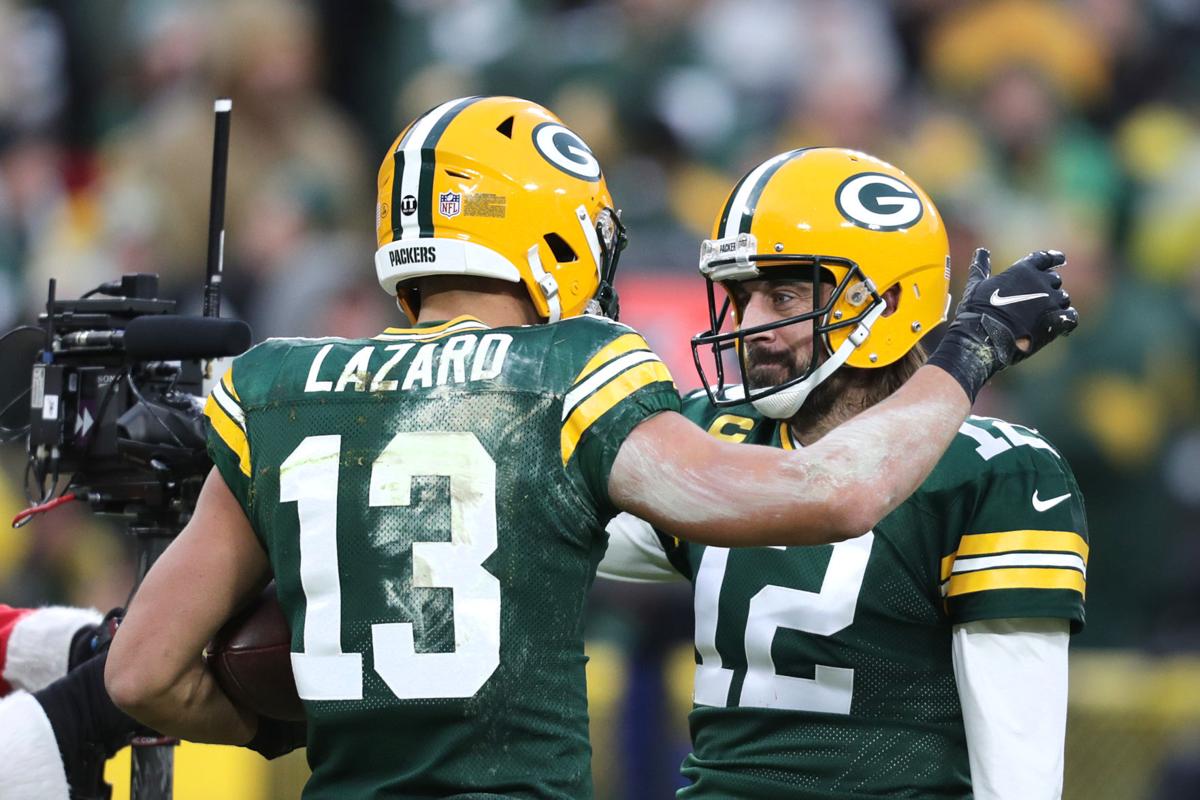 Rodgers on Lazard:
"It's going to be a transition," Rodgers told reporters from camp. "But he's capable of a lot. And the way things have gone with the reps and the guys that we've had here and the targets that we've doled out, he hasn't had a ton of opportunities. But he's, since his first day here, turned heads. So it's not surprising for him to go out and have a really consistent day today. But he's been working hard. He has a lot to prove, I think, to himself and other people — maybe to the team as well. So I like a hungry Allen Lazard, and it'll be an adjustment for us, but I'm happy with Day 1."
Cobb on Lazard:
"You see a difference in him from last year to this year from his weight, his speed off the ball, the way he's moving around," said Cobb, via PackerReport. "That's what we expect to see is continued growth for him. There's a lot of noise on the outside, but my job is to make sure that [the younger receivers] understand that noise doesn't matter. Whoever's setting the depth chart right now doesn't matter. It's about the work you put in and the opportunities that you have and the importance of each opportunity."
Allen Lazard will be vital to the Packers' offense:
Since taking over as the starting quarterback in 2008, Aaron Rodgers has always had an established No. 1 wide receiver. From Donald Driver, Greg Jennings, James Jones, Jordy Nelson, Randall Cobb, and Davante Adams, Rodgers has always had "that guy."  This season Allen Lazard will be asked to be "that guy."  Allen Lazard ended 2021 with 40 receptions, 513 yards, and 8 touchdowns.  This was only on 60 targets.  Davante Adams had 169 targets in 2021.  Inflating Lazard's targets to even 70% of what Adams had, should result in an extremely productive season for the new number one wide receiver.
For More Wisconsin Sports News…
Follow me on Twitter at @mcquadewarnold and follow us @WiSportsHeroics for more great content.  To read more of our articles and keep up to date on the latest in Wisconsin sports, click here!