Going into the 2020 NFL season, the Packers had three tight ends they expected to be contributing factors to the team's success.  Marcedes Lewis was expected to repeat his role as a bonus blocker.  Jace Sternberger, one of the lone bright spots in the Packers' loss to the 49ers, was expected to break out.  Josiah Deguara, their third-round draft pick, was expected to have a roll as well.  Almost forgotten about was the former undrafted free agent, Robert Tonyan.
As it turned out, Lewis did reprise his role as a supporting blocker and occasional touchdown pass recipient.  Sternberger once again battled injuries and did not play very often.  Deguara tore his ACL in just the second game of the season.  This all set the stage for Tonyan to finally break out and become the receiving tight end threat the Packers have needed for years.
The Best Threat Since Jermichael Finley
Jermichael Finley was the last tight end that the Packers had who was a consistent receiving threat from year to year.  In his six seasons with the Packers, Finely had three seasons in which he record 55 or more receptions and over 600 yards.  His best season was the 2011 season in which he recorded 55 receptions for 767 yards and eight touchdowns.  The following year, he had another stellar year with 61 receptions, 667 yards, and two touchdowns.  Notably, his catch percentage in 2012 was 70.1%, over 10 percentage points better than his 2011 rate.  Unfortunately, it was not to last.  Finley suffered a career-ending neck injuring in 2013, ending what could have been a great career.  For the Packers, it started them on a long journey to find their next great receiving tight end.
A Revolving Door at Tight End
Since 2013, the Green Bay Packers had five different tight ends in their starting rotation to begin their seasons.  This does not include Jared Cook, who may have been the next great receiving tight end in Green Bay if not for a couple of factors.  For one, he only played for the Packers for one season, departing in free agency after his one-year deal was up.  Secondly, he was injured for a large portion of the year that he did spend in Green Bay.  He ended up with only 30 receptions for 377 yards and a lone touchdown in the regular season.
Aside from Cook, the Packers started Andrew Quarless, Richard Rodgers, Martellus Bennett, Jimmy Graham, and Marcedes Lewis.  Lewis, of course, is still with the Packers but has never been a consistent threat in the passing game.  Quarless and Rodgers were average at best, and Jimmy Graham never regained his vintage form with the Packers.  Martellus Bennett, a rare big-name free agent signing, ended up being one of the worst signings in recent Packers' history.  He last just seven games before being waived due to poor production and even poorer locker room chemistry.
The Emergence of Robert Tonyan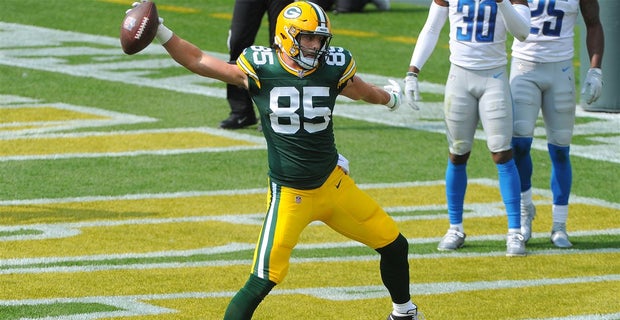 In 2017, the same season in which the Packers signed Martellus Bennett, Robert Tonyan was added to the Packers' practice squad.  2018 saw the Packers sign Jimmy Graham, but also saw Tonyan's first season on a NFL roster.  In very limited playing time, Tonyan recorded four receptions for 77 yards and his first touchdown.  Tonyan saw more playing time in 2019, but still was very low on the depth chart.  Nothing on his stat sheet indicated that he would break out in 2020.
Break out he did, though.  With Deguara and Sternberger injured, Tonyan became the Packers' first real receiving threat at tight end since 2013.  He ended the season with 52 receptions, 586 yards, and 11 touchdowns.  In addition, he had zero dropped passes and an incredible 88.1% catch percentage.  His 586 receiving yards ranked third on the team this year, behind just Davante Adams and Marquez Valdes-Scantling.  The 11 touchdown receptions tied the Packers' franchise record for touchdowns by a tight end.
Unfortunately, Tonyan did not get the recognition from Pro Bowl voters and is, perhaps, the most obvious snub on the offensive side of the ball.  However, one thing is certain: the Packers have a Pro Bowl-caliber tight end for the first time in years and he will be a big part of the team going forward.
For More Great Wisconsin Sports Content
Follow me on Twitter at @theotherAdams14 and follow us @WiscoHeroics1for more great content. To read more of our articles and keep up to date on the latest in Wisconsin sports, click here!