With the early signing period under way, the Badgers have picked up a huge commitment. In-state four star defensive lineman Isaac Hamm is staying home.
A composite four star player according to 24/7 sports, Hamm ranks as the 28th best defensive lineman in the country. The Sun Prairie native also ranks as the 205th best player in the 2022 class. Following his commitment, Hamm is the second highest rated player in the 2022 class behind four star offensive lineman Joe Brunner.
Despite missing three games this season, Hamm has quite an impressive stat line. Along with being a state runner-up, the senior has 73 tackles (18 for a loss), nine sacks, and two forced fumbles. The 6'5 260 pound Wisconsin native is the Badgers 14th commit in the 2022 class.
Along with Wisconsin, Hamm was recruited heavily by top Power Five programs. With offers from the likes of Ohio State, Penn State, Notre Dame, Iowa, Nebraska and more, the talented edge rusher is staying in Madison.
What Wisconsin is Getting
Following his stellar high school career, Hamm will fill in nicely into Wisconsin's defense. The coaches at Wisconsin have recruited Hamm to play outside linebacker in Jim Leonhard's defense. Although it will be a transition, the talented edge rusher should have no issues making an impact.
One of Hamm's greatest traits as a player is his speed. At 6'5, 260 pounds, it's impressive to see how Hamm is able to get after the quarterback or disrupt the run game. Although he'll need work in coverage, it's something that can only get better over time. Compared to other OLB, Hamm is much bigger than most players at the position. However, given Leonhard's ability as a coordinator, he should have no issue maximizing Hamm's potential.
Including Hamm's impressive speed, his strength is what makes him really stand out. He battled through multiple injuries throughout his senior year but still posted an incredible stat line. Before reclassifying, freshman RB Braelon Allen had a social media lifting competition between Hamm and himself. If you didn't know already, Allen is a freak in the weight room. If Allen was going toe to toe with Hamm, it's clear how powerful the edge rusher really is.
What's Next for Wisconsin Recruiting?
Following Hamm's commitment, Wisconsin isn't done filling out their class. The Badgers still have four star running back Jaydn Ott, four star interior offensive lineman Carson Hinzman, and three star athlete Koen Entringer on the board. If Wisconsin is able to grab all three players, their class will take a huge jump. At the moment, Wisconsin is the favorite still for Hinzman with Ott and Entringer having mixed predictions.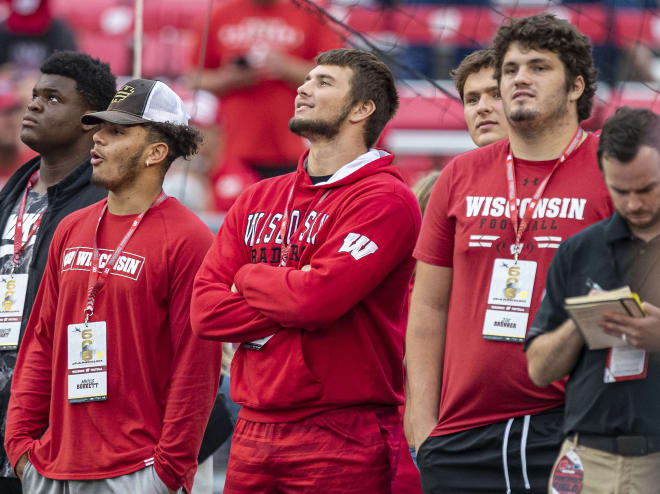 Although the Badgers lost out on four-star offensive lineman Billy Schrauth, adding both Hamm and Hinzman would keep four of the top six players in the state. Even though Wisconsin is known for keeping top in-state players home, it's a small wrinkle in the process. However, don't get too worried Badger fans. The process is coming together. After Paul Chyrst's recent recruiting questions, it's clear there's a plan for recruiting in place for the future. It's a much needed step and something that can only benefit Wisconsin moving forward.
For More Great Wisconsin Sports Content
Follow me on Twitter at @bennyboy615 and follow us @WiSportsHeroics for more great content. To read more of our articles and keep up to date on the latest in Wisconsin sports, click here!