The Milwaukee Bucks entered the last day of the NBA's 2021-2022 regular season a little short-handed as they took on the Cleveland Cavaliers in a rather ugly loss on Sunday. Jrue Holiday, a regular starter, only saw eight seconds of play; Committing a foul after Cleveland won the tip-off and was quickly subbed out. However, with Holiday taking one step on the court, he earned a big pay out of $306,000 for playing/appearing in 67 games and averaging more than 3.15 rebounds. 
Jrue Holiday started for the Bucks today so he could reach 67 games played and secure a $306,000 bonus 💰

Holiday played eight seconds before committing a foul and heading to the bench pic.twitter.com/131ivz1q6l

— Bleacher Report (@BleacherReport) April 10, 2022
However, Holiday would be the Bucks' only 'regular' starter that would be in the lineup. Eight players were ruled out: Grayson Allen (Hip), George Hill (Abdominal), Luca Vildoza, Giannis Antetokounmpo (Knee), Brook Lopez (Back), Khris Middleton (Wrist), and Bobby Portis (Shoulder).
Essentially, the Bucks resulted to playing their young players and the Cavaliers took advantage of that. Unable to really keep a lead, the Bucks were 0-for-4 in the opening minutes. Cleveland took off running, gaining a 14 point lead from the beginning. Lindell Wigginton would be Milwaukee's first bucket with 8:57 left to make it a mere 16-3. Making 10 3-point shots, the Cavs held a 28 point lead in the first quarter, eventually leading by 33 at the half.
After the first quarter, Cleveland led 46-20. Kevin Love scored 32 points, 18 being on 5-of-6 shooting. Darius Garland tacked on an additional 11 on 3-of-4 shooting behind the three. Evan Mobley, a rookie, tacked on 18 points and 10 rebounds for Cleveland.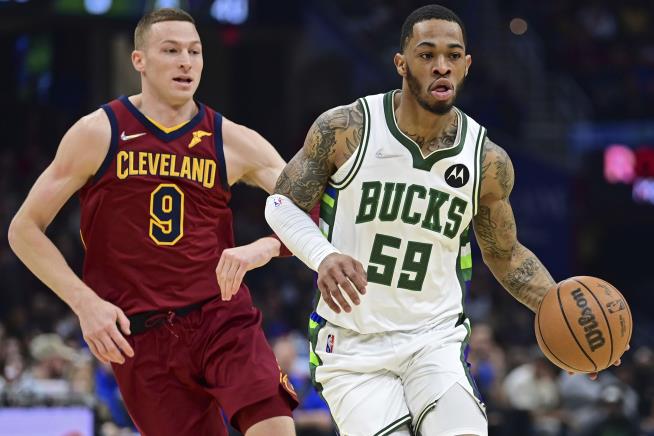 Rayjon Tucker, who saw his first game against the Pistons, took a significant role against Cleveland. Off the bench, he scored an impressive 15 points on 5-of-7 shooting, 3-of-3 from behind the three. He was intense on both ends of the court, dishing out four assists, four rebounds, and two steals in 39 minutes of play. Tucker spent time in Denver and Utah on 10-day contracts; But the Bucks were looking to fill their open roster spot and Rayjon Tucker was the right decision. Tucker is showing a ton of potential and could be a huge contributor in the playoffs.
Sandro Mamukelashvili had two career highs in scoring (28 points) and rebounds (13) in 43 minutes of play. Jordan Nwora had 24 points and 10 rebounds in 44 minutes of play.
Typically, fans see Thanasis Antetokounmpo as an off-the-bench guy, but being a starter, he dominated the court. Arguably his best game in his career, he was able to notch up 27 points, 9-of-14 shooting from the FG, even sinking a three as he attacked the net against the Cavs. In his 41 minutes of play, Thanasis also dished out two assists and five rebounds.
With Sunday's loss, the Milwaukee Bucks will face the Chicago Bulls in the first round of the playoffs. Schedule for the playoffs is coming soon.
Follow me on Twitter at @sarahspooon and follow us at @WiSportsHeroics! For all things Wisconsin sports, click here!