Earlier today on the NFL Network, Ian Rapoport discussed the uncertain future for Packers' quarterback Aaron Rodgers. Recently, Rodgers has chosen to take some time off from football and away from the team. The star quarterback has chosen to do this the last few seasons as he contemplates whether or not he should step away from the game entirely. Rapoport's comments earlier, however, suggest that Rodgers might be back fairly soon.
Rapoport: Aaron Rodgers is under 'multi-year' commitment
Aaron Rodgers has been battered and bruised over the last few years. Since 2017 when Rodgers was held to seven games due to injury, he has been sacked 167 times. Rodgers also recorded 12 interceptions in 2022, which nearly tied his career-high of 13. The quarterback has taken a beating over the years, and constantly having different offensive line combinations due to injuries certainly hurt him as well.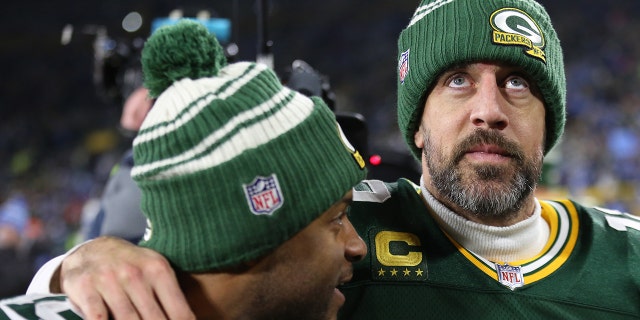 Despite the beating and age, Aaron Rodgers agreed to a three-year commitment when he signed his most recent contract. As mentioned by Ian Rapoport, a one-year deal wasn't signed, but rather a multi-year commitment to the Packers.
"…When the massive contract extension was signed this off-season, it was a two or three-year commitment to the Packers. He is going to take some time to think about it, but I would be surprised based on what was committed to if it was one and done." – Ian Rapoport 
Packers' General Manager Brian Gutekunst made comments earlier today regarding Aaron Rodgers. His comments reflected the same as Rapoport, suggesting that they will wait out the situation like years past. The financial incentive may be enough to bring him back onto the field since the quarterback is fully guaranteed $59.465 million by the Packers.
For more:
Follow us @WiSportsHeroics for more great content. To read more of our articles and keep up to date on the latest in Wisconsin sports, click here! Check out 97.3 The Game on iHeart Radio!