The #6 Wisconsin Badgers travel to Happy Valley at take on the Penn State Nittany Lions on Sunday morning. Tip time is 11 AM CST on Big Ten Network. Wisconsin is coming off a New Years Eve win over rival Minnesota 71-59. The Badgers are 9-2 overall and 3-1 in Big Ten play. Penn State is looking to rebound after an 87-85 OT loss to Indiana on December 30. The Nittany Lions are 3-4 overall and 0-3 in Big Ten play. Below are the keys to a Badger win!
Defense Matters
Defense is going to be a major key in this game. The Badgers and Nittany Lions both score over 76 points per game (76.2 for UW and 78.4 for PSU). While both teams can score, defense is a different story. The Badgers give up on average 60.5 points a game while Penn State give up 76.3 points a game. The Badgers will have an opportunity to score a lot of points tomorrow, but don't necessarily want to make this a shoot out.
Slow starts have been a trend recently for Wisconsin, especially in first halves. The one thing that Wisconsin has been able to to rely on during slow starts is their defense. They have managed to stay in ball games despite poor shooting because of their defense. While offense may not always travel on the road, defense tends to travel. Wisconsin will need to be up to the task as the Nittany Lions have four players that average over 12 points a game.
Take Care Of The Ball
Wisconsin is always one of the best teams in the county in taking care of the ball. The Badgers are averaging only 8.3 turnovers a game. I bring this this up because Penn State is averaging 8.3 steals a game. Penn State's Sam Sessions, Jamari Wheeler, and Myreon Jones are all in the top 5 in steals per game. Sessions averages 1.9 steals while Wheeler and Jones average 1.6 steals.
Penn State will start four upper classmen while the Badgers will start five upper classmen. These are experienced rosters who rely on taking care of the call or make a habit of taking the ball. I would expect Penn State to put constant pressure on Wisconsin early in the shot clock to see if they can force some easy turnovers and buckets. If Wisconsin can take care of the ball, I think it could be a very nice day for the Badgers offensively.
Early Season Wins Matter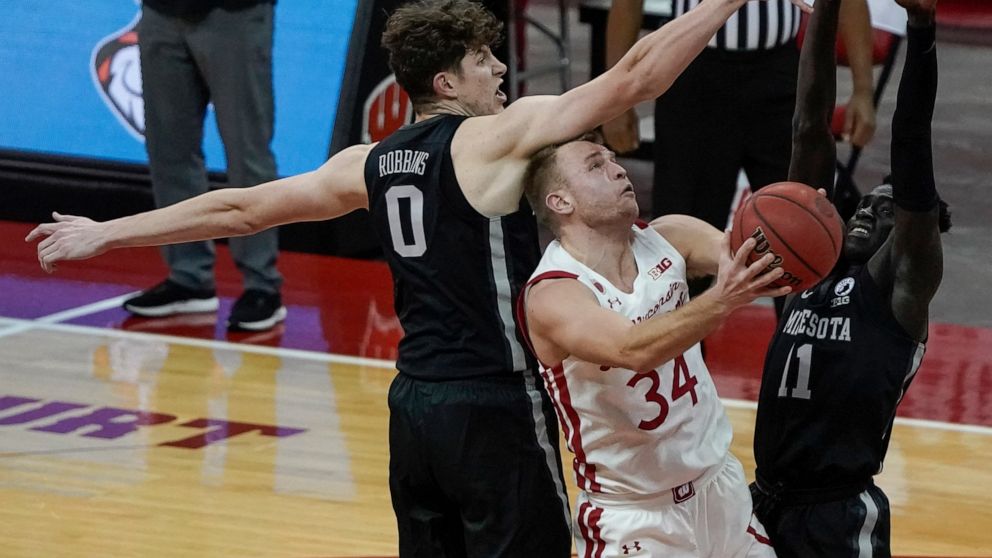 There is no guarantee win in the Big Ten this season. Wisconsin found that out the hard way Monday night against Maryland. With Penn State another team that's winless in the conference, they'll be looking to give Wisconsin everything they have. You don't want to start 0-4 in conference play if you're Penn State. Wisconsin has a chance to start 4-1 in the Big Ten. This can't be overlook either. Beginning 4-1 in the most balanced conference in the country should not be taken for granted.
Wisconsin also has a difficult stretch in their conference schedule. After they battle Indiana following Penn State, the Badgers face Michigan, Rutgers, Ohio State, and Northwestern, all teams ranked in the top 25. The schedule will get harder so these games are crucial to win if you want to set yourself up nicely in the Big Ten.
Prediction
In my opinion, defense is the key to this game. Wisconsin and Penn State are very similar in points, rebounds, assists, and shooting. The outlier here is points given up. There is almost a 16 point per game difference.
Penn State has player some difficult teams such as Virginia Tech, Michigan, Seton Hall, and Illinois already this season. With the exception of Michigan, Penn State has allowed at least 75 points to those remaining teams.
Penn State hasn't proven they can stop teams defenses consistently this season. If Wisconsin starts slow again, I would expect a team that prides themselves on defense and handling the ball well to guide them through tough stretches. I don't believe this game is a blowout, but I do expect some points to be scored.
Wisconsin 72 Penn State 64
Follow me on Twitter at @DylanBuboltz and follow us @WiscoHeroics1 for more great content! To read more of our articles and keep up to date on the latest in Wisconsin sports, click here!