As we approach the college football season, the Wisconsin Badgers are looked at by a majority of writers as the favorite in the Big Ten West. The Badgers will have competition to get through in the West if they want to make it to Indianapolis. Let's take a look at how I believe the Big Ten West will shape out this season.
7. Illinois
This seems like a certainty and almost a guarantee. The Badgers took Illinois to the woodshed last season 45-7 in Madison. The Illini do have veteran quarterback Brandon Peters back under center. However, he doesn't always pose a threat to opposing defenses.
Illinois also welcomes former Badger Head Coach Bret Bielema as their first year head coach. It's unclear what Illinois will look like in the future, but this will be a multi-year rebuild in Champaign.
6. Nebraska
It's puzzling at best when any fan thinks about Nebraska. The Cornhuskers have a veteran quarterback in Adrian Martinez, who was receiving consideration for the Heisman only a few years ago. Nebraska has also lost some key pieces to the transfer portal and talent could be an issue this season.
When the Cornhuskers hired Scott Frost as head coach, the college football world automatically assumed Nebraska was back. That has been the complete opposite to this point. Could Scott Frost be on the hot seat? It's a possibility.
5. Purdue
Purdue could very well be a solid team in the West this year. There is just a lot of questions marks surrounding team and consistency is one of them. The Boilermakers have one of the best receivers in the conference in David Bell, but who will be the quarterback? Will it be Aidan O'Connell or Jack Plummer?
Coach Jeff Brohm has done a really good job in his tenure. He's the right man for the job and the offense has the ability to put up a ton of points. Can their defense get stops will play a huge factor in how Purdue ends the season.
4. Minnesota
The Golden Gophers don't lack confidence. Coach PJ Fleck will always install confidence in his group. This group will always come out to play as well and won't be out-worked. Minnesota returns quarterback Tanner Morgan and running back Mohamed Ibrahim. This should be be one of the best quarterback-running back duos in the conference.
However, Morgan has had the luxury of having NFL receivers Tyler Johnson and Rashod Bateman. He will have a lot of new targets and the offense will be put on his shoulders. Can Morgan handle that load and can they score enough points? This will determine where the Golden Gophers finish in the Big Ten West.
3. Northwestern
I can see Northwestern near the top of the standings of the Big Ten West. However, I can see the Wildcats finishing a lot lower than third. We know the Wildcats are not flashy and offense, but great on defense. Any game 14-10 in the 4th quarter is where Pat Fitzgerald and his crew want to be.
It's tough to rank the Wildcats any higher because we don't know how they will look on offense. In order to get over the top in this division, a team will need to rely on their quarterback. It's tough to say that about Northwestern.
2. Iowa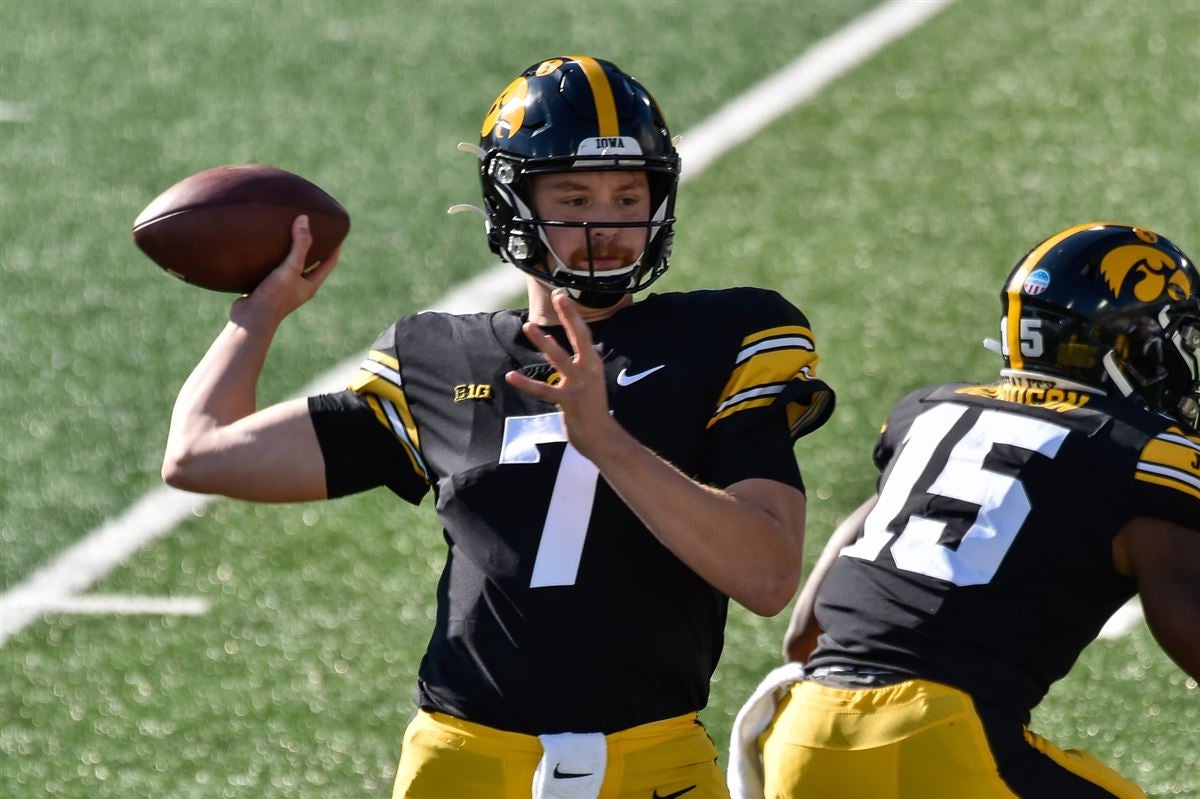 Iowa and Wisconsin are the clear top two teams in the Big Ten West. That won't be debated by many fans and insiders. Just like Northwestern, we know Iowa values the ball and time of possession. They are stingy on defense and usually make life miserable for opposing offenses. Iowa is physical and has great offensive lines. They also have a good running back in Tyler Goodsen. He he be relied on at any part of the game.
Iowa will go as far as Spencer Petras takes them. We saw flashes of greatness last season, but also a lot of head scratching plays. He has a great arm but doesn't always make the best decisions. If Iowa is going to beat Wisconsin in Madison, Petras will need to play great.
1. Wisconsin
A lot of insiders and myself are high on the Wisconsin Badgers. They'll have a great defense, solid offensive line, and their top two receivers returning after they missed a majority of last season with injuries.
Just like Spencer Petras, Graham Mertz had an up and down season in 2020. There is no doubt he needs to be better and I believe he will. I will take Mertz over Petras and give the Badgers the slight edge coming into the season.
[pickup_prop id="9150″]
Follow me on Twitter @DylanBuboltz! Check out our merch page as well. Use promo code WISCO at checkout for $1 off! To read more of our articles and keep up to date on the latest in Wisconsin sports, click here!