On January 25th, 2018, a move was made that will live on in Milwaukee Brewers history forever. The Brewers traded four prospects to the Miami Marlins for former gold glove award winning center fielder Christian Yelich.
The move is considered now to be one of the most pivotal trades in Brewers history. It is up there with the Sabathia trade in '08 and the Rollie Fingers deal of 1980.
In all, the Brewers sent OF Lewis Brinson, OF Monte Harrison, 2B Isan Diaz and RHP Jordan Yamamoto to the Marlins in exchange for Yelich.
The price was steep, but the payoff was absolutely worth it. Despite a recent falloff, most fans and experts alike believe that the Brewers absolutely won the Christian Yelich trade. Yelich would go on to win the 2018 National League Most Valuable Player award and come in second place for the award in 2019.
In my mind, he should've won both but that's a story for another time.
Many talk about the Brewers side of the trade – for good reason – but the Marlins' side of the deal is often neglected by the general baseball audience.
The Marlins received four prospects in the deal. All of these players have made their major league debut at some point. They are all older than twenty five now, and their prospect status has been mostly removed. It is around this time of a career that you can tell what most players can offer. Of course there are outliers such as Justin Turner, but the vast majority of players have a good sense of what they are going to become by this point.
So with that said, today we will look at each player that the Brewers traded away in the Christian Yelich trade, and see where they are now.
Monte Harrison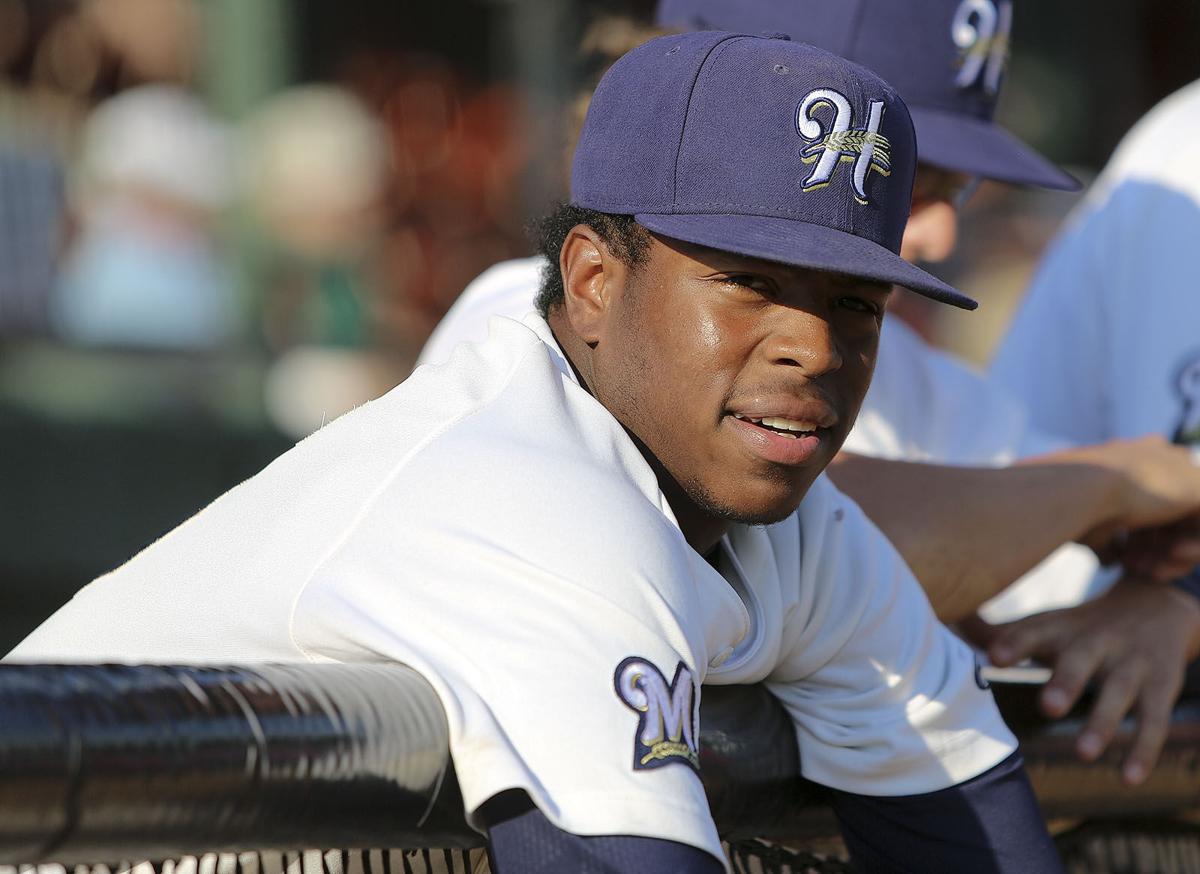 Likely the least spoken of piece of this trade, Monte Harrison was drafted in the second round of the 2014 MLB draft out of High School by the Brewers.
Harrison was a gifted athlete, who was a three star athlete in high school, and excelled in all three. He was actually graded as a low four, high three star wide receiver out of high school. He even was committed to play football at Nebraska before being drafted by the Brewers in 2014.
Unfortunately, his baseball talents were yet to really show themselves by the time the Brewers traded him. By then, he had not advanced farther than high A Carolina, as he was still rather young and had some injury problems.
Despite those challenges, he was only 22 when he got traded. He continued to show promise through the Marlins minor league system.
He was ranked as high as the third best prospect in the Marlins system. His talent was valued enough that he was selected to play in the 2019 All Star Futures game. Unfortunately, he missed the game due to a wrist injury.
Harrison was called up the the Major Leagues on August 3rd, 2020. He's spent very limited time there since, with most of his games being played in AAA.
He is twenty six years old now, and is considered to have a decent amount of potential yet, but the door is closing rapidly.
Isan Diaz
Diaz was also drafted in the second round of the 2014 MLB Draft, however he was chosen by the Arizona Diamondbacks. He forewent his commitment to play baseball at Vanderbilt and signed with the Diamondbacks.
Diaz only played one season in the Diamondbacks system. He absolutely tore it up in the Pioneer League that year, slashing .360/.436/.640 (AVG/OBP/SLG) in 68 games.)
In following the 2016 season, Diaz was traded to the Brewers. He was sent in the deal that sent former All Star Second Baseman Jean Segura to Arizona in exchange for a few prospects as a part of the Brewers rebuild that year.
Much like Harrison, Diaz was was in High A Carolina at the end of the 2017 season. Diaz was listed as the number five prospect in the Brewers system in 2017 by Baseball America.
After being dealt to the Marlins, Diaz continued his rapid rise through the minor leagues. He finished the 2018 season in AAA.
Diaz's potential did not go unnoticed, as he was also selected to play in the 2019 All Star Futures Game. He started at second and went 0-3 with a walk. He was called up to the big leagues just under a month later on August 5th, 2019, and made his major league debut that same day
Fun fact: his first MLB RBI was a home run off of Jacob deGrom.
Diaz opted out of the 2020 season before coming back for a hadful of games before being put on the 60 day IL with a groin strain.
Diaz has bounced between AAA and MLB since then, slashing only .193/.293/.282 with the Marlins in 2021.
Although his original hype hasn't been met, Diaz is still only twenty five years old and has plenty of hope and potential left in him.
Lewis Brinson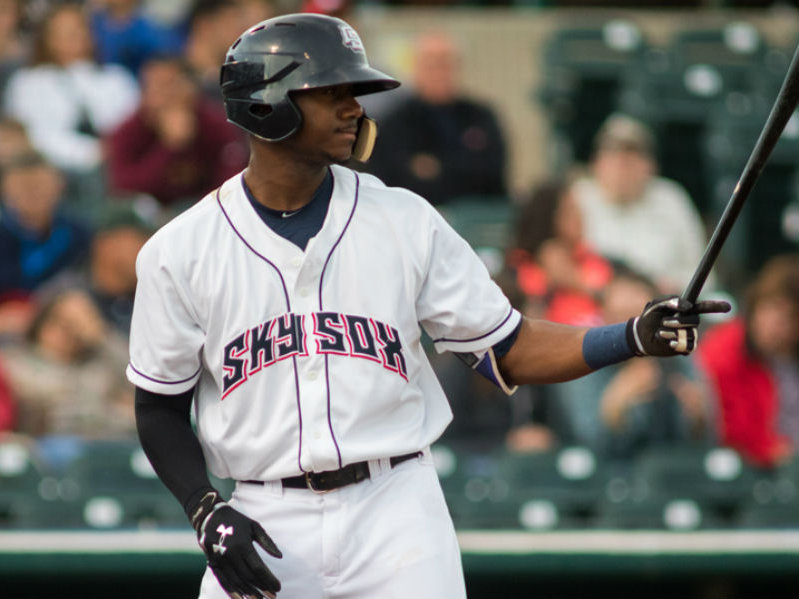 Lewis Brinson was considered by many to be the headlining prospect of this deal. He was formerly the Brewers top prospect, and already had some major League experience under his belt.
He was drafted in the first round of the 2012 MLB Draft by the Texas Rangers. Before being drafted, Brinson was considered one of the top high school prospects available, and forewent his commitment to the University of Florida to play baseball to sign with the Rangers.
Brinson was immediately a high prospect in the Rangers system. He made it as high as AAA by his age 21 season.
On August 1, 2015, Brinson was shipped to Milwaukee. He was a part of the deal that sent former all star catcher Jonathan Lucroy and future All Star relief pitcher Jeremy Jefferess to the Lone Star state in exchange of prospects.
Upon arrival in Milwaukee, Brinson was assigned to AAA Colorado Springs. He would remain there until being called up to the Brewers on June 10, 2017.
Brinson would be a decent contributor to the 2017 playoff push that saw the Brewers fall one game short of the postseason.
He looked to be a solid contributor to the Brewers' playoff push in 2018, but was traded before Spring Training.
Upon arrival in Miami, Brinson was immediately considered the Marlins number one prospect.
He made the Marlins Opening Day Roster, but wound up bouncing between AAA and MLB in 2018.
Brinson has continued to show solid progress in his time with the Marlins. However, he has been an average MLB outfielder since first making the big leagues five years ago. Luckily enough, he has a spot in the Marlins outfield locked up for the foreseeable future, and he is still on the right side of 30.
Jordan Yamamoto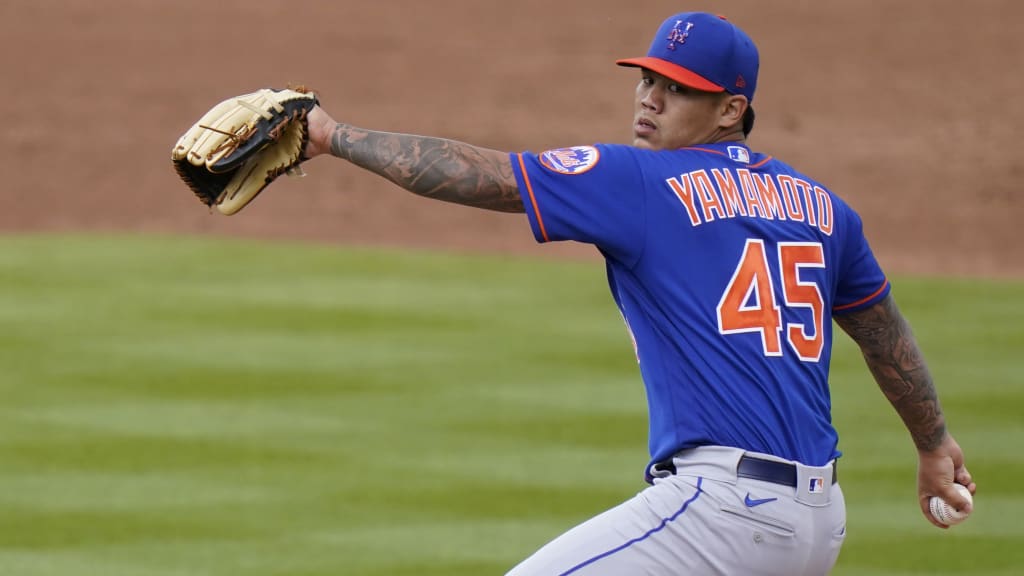 Yamamoto was drafted in the twelfth round of the 2014 MLB Draft. He was drafted out of high school, and forewent a scholarship to play baseball at the University of Arizona to sign with the Brewers.
He was making decent progress through the Brewers farm system, being in High A Carolina by his age 21 season.
Yamamoto was unranked (outside of the top 30) in MLB.com's Brewers prospect rankings for 2017, but was ranked as the Marlins number twenty three prospect in 2018.
Yamamoto was called up to the Marlins in September of 2019. He threw 78.2 innings with an ERA of 4.46 in 2019. He actually started his career with fourteen scoreless innings, the most by any Marlins player ever.
Despite the solid start to his career, Yamamoto was only able to scrape together 11.1 innings in the shortened 2020 season. He was designated for assignment in January of 2021, later being traded to the Mets.
Yamamoto only threw 6.2 innings for the Mets in 2021 as he went on the sixty day injured list with a shoulder injury.
He looks to return to the Mets lineup in 2022 as a depth starter at first. He's only twenty six, so he's still got some hope to live up to his potential.
Conclusion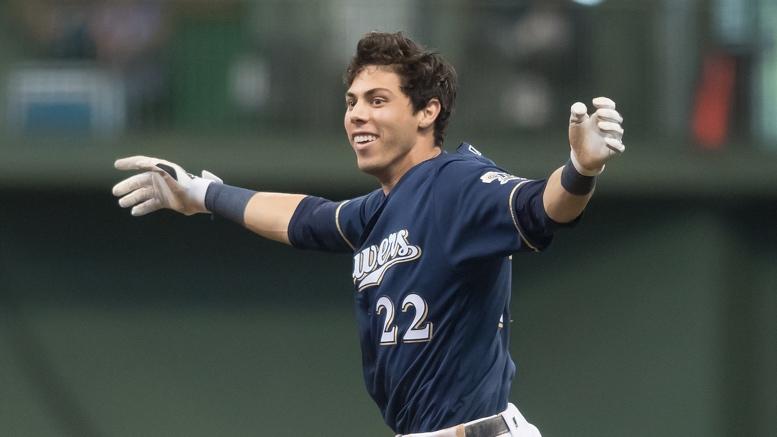 Trades are always difficult to analyze, even years afterwards. Many trades that looked like a steal at the time turn out to be fairer than initially thought. Some even turn out to lopsided towards the team that looked like they got fleeced.
…Cough, Willy Adames Cough.
The prospects that were traded seem to have a common theme among them: They are all young players who still have decent potential, but their windows are closing.
They are at the age where they are no longer considered prospects. That is usually not a great sign for the hopes of being a mainstay in the major leagues for a player on the bubble between the Major Leagues and AAA.
The players traded to the Marlins who are still in the organization are still in their 20s. Players occasionally break out even as late as thirty. Dodgers All Star third baseman Justin Turner is a great example of this.
Turner was mainly a bench bat for the Mets until his age 29 season where he became a face of MLB with the Dodgers, slashing .340/.404/.493 on 322 plate appearances.
It appears that the consensus is that the Brewers won this trade. Even if Yelich never gets back to his 2018 form, he led the Brewers to the closest they've been to a World Series in 40 years. Possibly more importantly, he gave the organization a face for the post-Ryan Braun era of Brewers Baseball. He also gave the Brewers someone to build around for years to come.
All in all, this trade seems to be somewhat mutually beneficial to both franchises. However, the Brewers gained far more than the Marlins did in this trade.
Follow For More
Follow me on Twitter at @hlmaes1 and follow us @WiSportsHeroics for more great content. To read more of our articles and keep up to date on the latest in Wisconsin sports, click here!