New Wisconsin Offensive Coordinator Phil Longo has only been on the job a few weeks. To say he's been incredible so far is an understatement. A big reason why is the explosive offense Longo is bringing from North Carolina and the transfers it's bringing with it. It's an offense that benefits the receivers and the quarterback, something that has hindered the Badgers since Russell Wilson. It also allows for a ton of points be scored. However, Wisconsin's run game benefits just as much as the receiving game.
Easier On The Running Backs
You could argue Wisconsin running back Braelon Allen is the biggest fan of the "Air Raid" offense. Allen is a very good running back for the Badgers and one of the Big Ten's best backs. However, he has had to spend the majority of his first two seasons with a crowded box at the line of scrimmage.
Braelon Allen: 847 rush yards against 8+ man boxes this season

Led ALL Running Backs💪 pic.twitter.com/95jESVQRuO

— PFF College (@PFF_College) January 17, 2023
No teams respected Wisconsin's ability to throw the ball the last two seasons. And why would they? The Badgers rarely took shots down the field and were a run-first offense for years. What's nice about the Phil Ongo offense is that it forces defenses to respect the pass, and they have to account for each receiver.
Not gonna miss those 9 man boxes ✌🏾

— Braelon Allen (@BraelonAllen) January 12, 2023
Of course, Wisconsin has to be able to execute it, but assuming they do, it could be a really good year running the ball for Braelon Allen and Chez Mellusi. If Allen could put up back-to-back 1,000-yard seasons in a crowded box, imagine what he can do when it opens up.
Balanced Workloads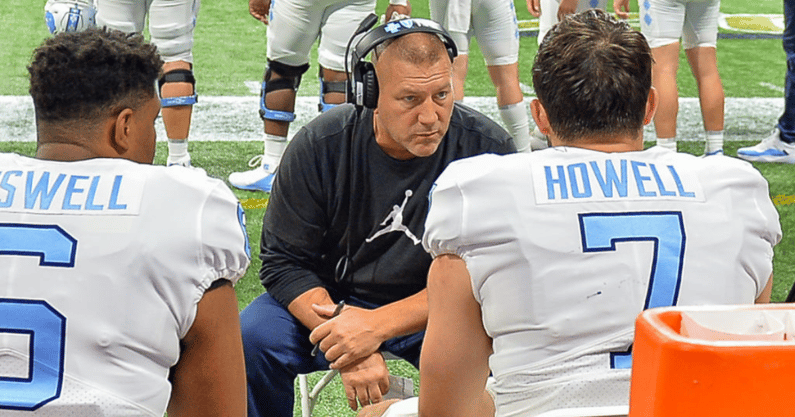 It's fair to say we could see Wisconsin become a pass-first offense starting in 2023 under Phil Longo. I don't think that's a bad thing, either. However, the fear of being a pass-first offense, especially at the college level, could be leaving the running game to dry. For the Badgers, this isn't necessarily the case.
In 2020, while North Carolina threw for a ton of yards, the Phil Longo offense produced two 1,000-yard rushers; Michael Carter ran for 1,245 yards, while Javonte Williams ran for 1,140 years. Both players are in the NFL today.
Not only that, but under Phil Longo in 2022, North Carolina ran 526 passes and ran the ball 508 times. In 2021, they passed the ball 382 times and ran 513 times.
It could take the running game a little time to get going, but this explosive offense Phil Longo wants to run also benefits the running game too. It could be even better for the Wisconsin running backs in 2023.
Follow me on Twitter @DylanBuboltz and follow us @WiSportsHeroics for more great content. To read more of our articles and keep up to date on the latest in Wisconsin sports, click here! Also, check out our merch store for some amazing WSH merchandise!