The GreenBay Packers will host the Chicago Bears at Lambeau Field on primetime this Sunday on NBC. Sunday night's game will be the 204th matchup in the NFL's oldest rivalry. Including the postseason, the Packers have won 20 of the last 23 meetings, including each of the last five.With a Minnesota Viking victory on Thursday, the 9-3 Packers cannot clinch the division just yet, but a victory over the 4-8 Bears will bring them that much closer to a third straight division title.With that, let's take a closer look at this matchup.


One Sided Rivalry
"All my [bleeping] life, I own you. I own you. I still own you."

Well, he's not wrong.

Green Bay has won 11 of the last 13 meetings against the Bears at Lambeau Field, and with Aaron Rodgers as the starting quarterback, Green Bay is 22-5 (including playoffs) against the Bears, with one loss coming in 2013 after Rodgers left the game with an injury after the first series. That is just pure dominance. Rodgers has thrown for 6,208 yards and 57 touchdowns in those games, and that includes a three touchdown performance against them earlier this year. Not to mention,Rodgers has registered passer ratings of 128.0, 132.2 and 147.9 against the Bears in his last three outings. With the Packers offense starting to come together in the past two weeks, expect that to continue on Sunday night.

Coaching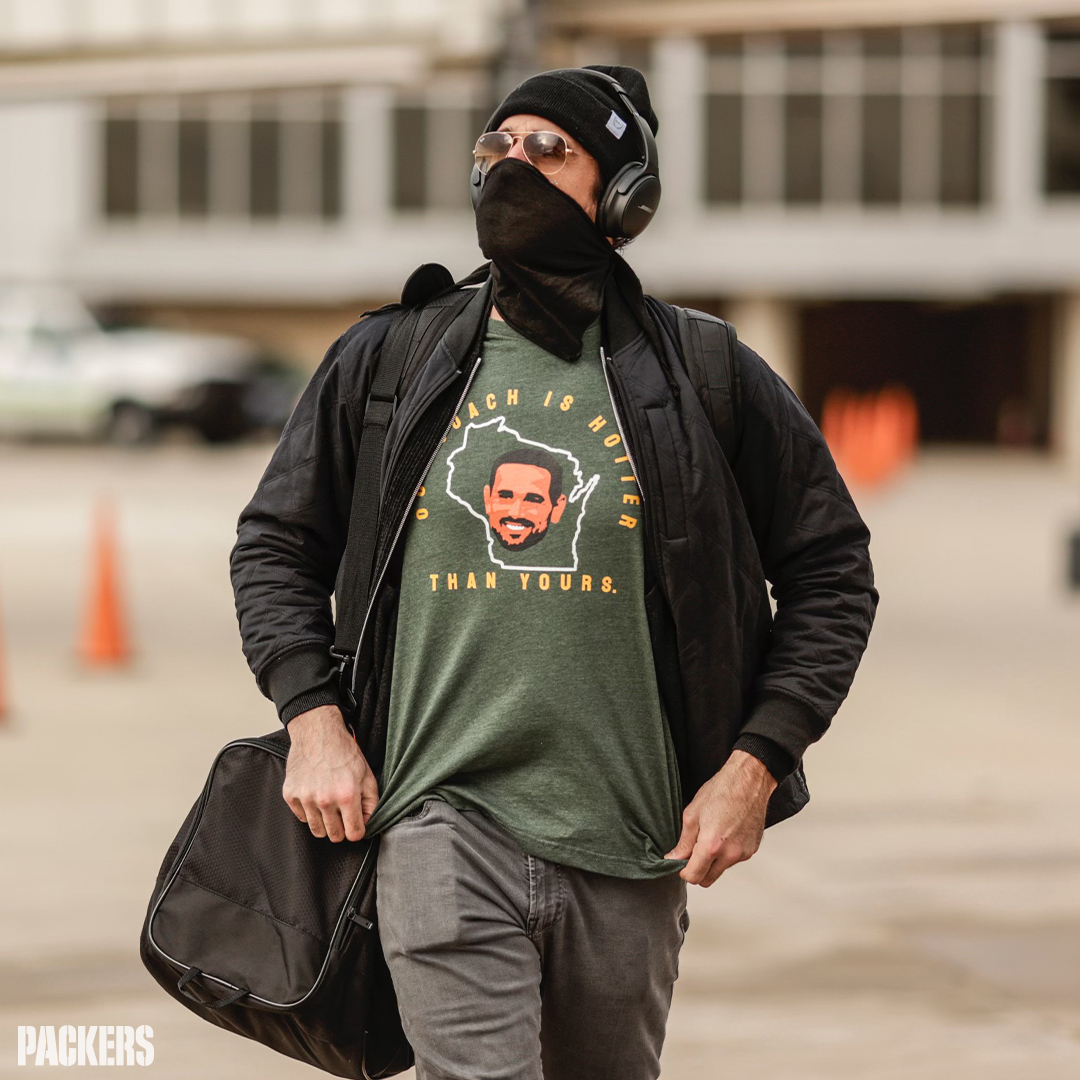 What an absolutely incredible shirt. Rodgers isn't wrong about this fact either.
Unfortunately for Matt Nagy, there is speculation this will be his last season with Chicago. His numbers against Green Bay in particular are not good. Nagy is 1-6 against the Packers and the Bears offense has scored just 11 offensive touchdowns against Green Bay in seven games. Overall, Chicago has also lost six of their last seven games.
Meanwhile Matt LaFleur is 5-0 against Chicago. He has continued to impress as a head coach, and his 35-9 records is third in NFL history for most wins by a head coach in three seasons.LaFleur's 19-2 record at home in the regular season is the best from 2019-21. The Packers are also only one of two teams left to be undefeated at home.


Packers Defense
Slowing down rookie QB Justin Fields will be the priority in this game. Fields went 16 of 27 for 174 yards with a touchdown and interception, while adding 34 yards on the ground. However, this Green Bay Packers defense just continues to impress. The Packers are ranked fifth in points allowed and sixth in yards allowed, their best marks since the 2010 season.
In place of Jaire Alexander, Eric Stokes has been a huge addition at cornerback. According to PFF, Stokes has allowed a allowed a reception percentage of 51.5 despite being the most targeted rookie corner this season. Meanwhile,Rasul Douglas was named Defensive Player of the Week for his performance against the Los Angeles Rams. Rasul made the huge interception to win the game against Arizona in Week 8, and he followed that up with four pass defenses and an interception for a touchdown against LA. He was the first Packers corner to win since Charles Woodson in 2010.
Injuries
Another game, another Packer player out. It's just been that kind of season unfortunately. This time, it's fan favorite Randall Cobb who suffered a core injury, and had surgery during the bye week. He's out indefinitely.
However, in some slightly positive news, Jaire Alexander is back at practice!
https://twitter.com/packers/status/1468667511096987653
In his defense, it's almost always cold in Wisconsin. Jaire may not play this weekend, but, with an improving defense getting their best player back, that's something to be excited about.
On Chicago's side, the Bears will continue to be without All-Pro Khalil Mack, which should help the offensive line protect Aaron Rodgers and keep his fractured toe healthy.




AJ Dillon and Aaron Jones
For weeks we continue to highlight what an absolute beast AJ Dillon is, and he continues to impress. Dillon has five straight games with at least 75 total yards, and he leads all running backs in success rate per Football Outsiders. He's also averaging 3.2 yards after contact, with 23 forced missed tackles on 128 attempts. Between Dillon and Aaron Jones, they are the only running back tandem in the league to both have 800 plus yards from scrimmage this season, and Jones should be close to 100 percent after his knee injury. Green Bay took him off the injury report completely, so the bye week should have helped both running backs get ready for an eventful December and January.



It's Lambeau Field in Primetime. Doesn't get much better than that. Hoping we get a repeat of this.
For More Wisconsin Sports Content:
Follow me on Twitter at @tylerrehm and follow us @WiSportsHeroics for more great content.
To read more of our articles and keep up to date on the latest in Wisconsin sports, click here!