The Green Bay Packers fell to the San Francisco 49ers 13-10 in the NFC Divisional round. It goes without question that this was a truly disappointing end to the 2021 season. Regardless how the season would have panned out, there were going to be a lot of questions needing answers this offseason. An early playoff loss does not make those answers any easier. Let's break down each side of the game and try to make sense of what happened:
Offense
After Green Bay's first offensive drive, the Packers looked like they were on a mission. Unfortunately, that was the best we saw for the rest of the game. Davante Adams and Aaron Jones both had nine receptions, but only one Packer caught a pass after that. Marcedes Lewis had a bad fumble in the first half. Also, Josiah Degaura dropped a very critical pass to keep Green Bay's best drive going in the second half. The difference in this game for the offense was that Allen Lazard and Randall Cobb were both only targeted once. If any team wants to beat a defense like the 49ers, they have to be kept on their toes at all times. It is unclear whether or not the play calling was designed to not target Cobb and Lazard. Regardless, if you are not going to utilize your weapons, winning becomes that much tougher.
Defense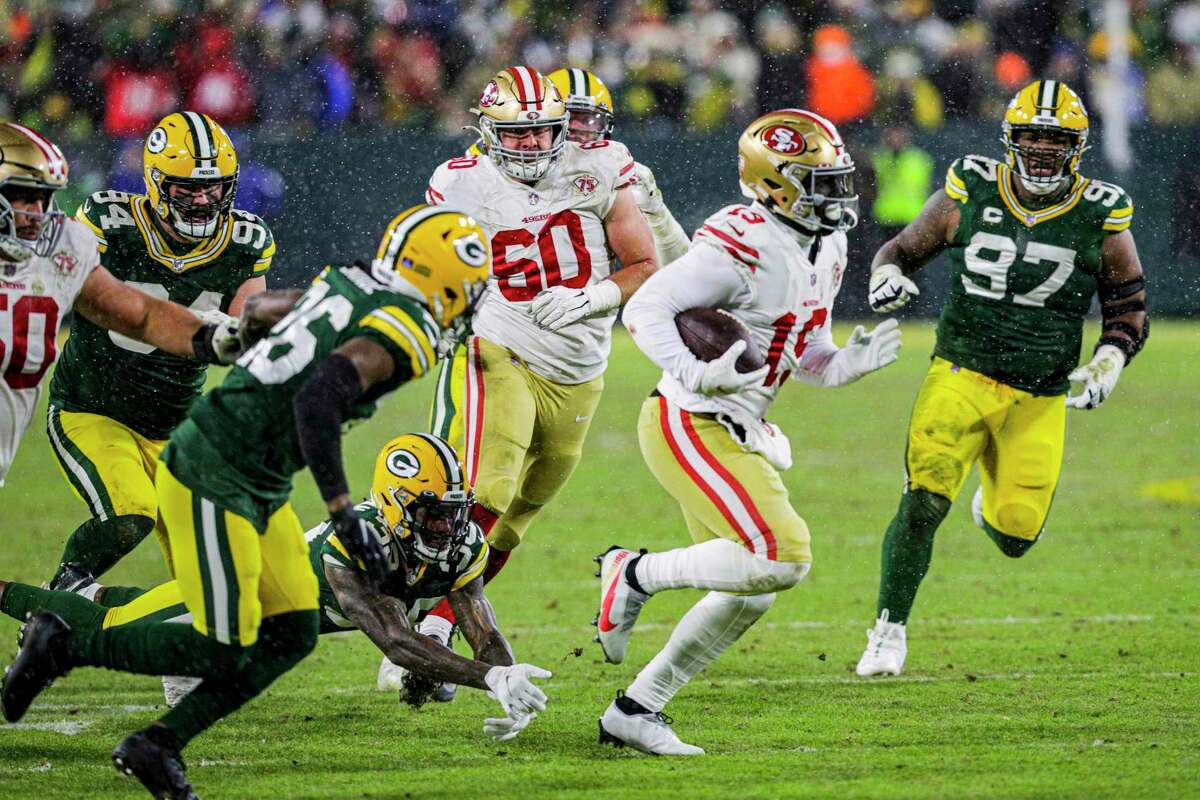 If there is one good takeaway from last night, it is that the defense did what they had to do to win against the 49ers. Deebo Samuel was held in check, despite an injury. Jimmy Garoppolo had pressure almost all night. Elijah Mitchell was held to under 60 yards rushing. However, that can also be the most frustrating part. There was a lot of worries coming into last night and how the defense had been playing the past few months. A lot of credit has to be given to Joe Barry and his staff. For the past 10 years, Green Bay has been lacking a defensive coordinator who could turn things around. There was certainly heat with Barry's hire, but it turns out he is the right person to lead this Packer defense.
Special Teams
Not much can really be said about the Packers' special teams this season, at least positively. Time and time again, this unit failed miserably to put Green Bay in position to win. Unfortunately, things just never got better. Two returns of over 30 yards. One blocked kick. One blocked punt. At the end of the day, it is not fair to put all the blame on Maurice Drayton and his staff. There was more that happened on both sides of the ball that contributed to this loss. However, a very good chunk of blame should be put on this unit. Green Bay has been plagued with bad defenses since 2011 and if there is no immediate changes to the special teams staff, we could be looking at the same thing for another 10 years.
Follow me on Twitter @ChrisBuboltz and follow us @WiSportsHeroics for more great content! To read more of our articles and keep up to date on the latest in Wisconsin sports, click here.