The Green Bay Packers are set to face the San Francisco 49ers on Saturday night (1/22) in the divisional round of the NFL playoffs. The teams are tied at four wins apiece in eight playoff games to date. However, Aaron Rodgers is 0-3 in his playoff appearances against the 49ers. There is some speculation out there that San Francisco is the quarterback's "kryptonite." Still, this is a different 49ers team than the previous three that Rodgers has faced in the past. Perhaps most importantly, this is a vastly different Green Bay team that Rodgers is leading.
With that being said, here are a few key matchups to watch in Saturday's game.
Packers' Defensive Line vs. 49ers' Run Game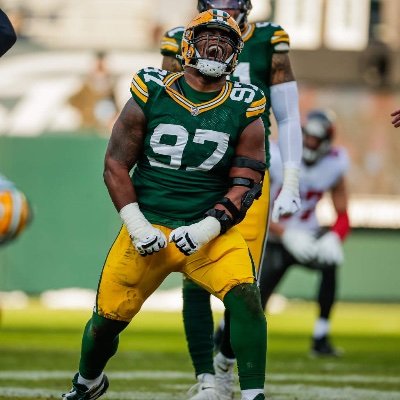 The temperature on Saturday night in Green Bay is supposed to get down to just two degrees Fahrenheit. The wind will reportedly be blowing at around 5-10 mph. These weather conditions are likely to lead to a run-heavy script for both teams. This season's Green Bay defense is one of the best that Aaron Rodgers has played with during his 16-year tenure with the Packers on paper. There are still a few question marks surrounding the defense, however, primarily in their ability to stop the run.

The 49ers have a qualified stable of running backs, led by electrifying rookie Elijah Mitchell. Green Bay's defense will have the best chance of success if the defensive line can dominate the line of scrimmage and stop the run. The big question is if Joe Barry will keep a light box versus the run as he did in the last matchup, or if he will commit additional defenders to the cause.

Forcing 49ers quarterback Jimmy Garoppolo to have to win this game through the air is the best case scenario for the Packers. Jimmy is playing on the road, in the cold, and with an injured throwing shoulder and thumb on his throwing hand. Whitney Mercilus will be joining Rashan Gary and Preston Smith to make Jimmy G's job an even taller order. Za'Darius Smith could be joining the trio of pass rushers, as well.
Slot Corner vs. Deebo Samuel


The Packers have kept quiet about how they intend to deploy their cornerbacks now that All-Pro Jaire Alexander will be re-joining the lineup. The prevailing theory is that Alexander will fill the slot/" star" role. This would make sense, because Alexander is not only great in coverage, but he is also a dependable tackler who can shed blocks.
Whoever gets the start at the slot position is going to have a busy night. Deebo Samuel has become a legitimate superstar for the 49ers. Samuel is a YAC monster who does most of his damage out of the slot. The receiver has also seen an increased role coming out of the backfield this season. Deebo is a skilled runner who can carve up defenses catching screen/swing passes from the RB position. The slot corner is going to have to be tracking Samuel all game. Hopefully, Joe Barry is preaching the importance of swarming to the ball this week because Deebo is an absolute nightmare to bring down.
Allen Lazard vs. Single Coverage


Davante Adams had 12 catches for 132 yards and a score in the 49ers' Week 3 loss to the Packers. DeMeco Ryans is going to have to devote more manpower to try to keep Adams in check this time around. If he succeeds in this task, Rodgers is going to need a secondary or tertiary option to win downfield against their man and catch some clutch passes in Davante's stead.

Allen Lazard is the obvious choice right now. Lazard has been a big contributor in the passing game after getting off to a rough start in the regular season. The receiver has showed up in clutch situations. Allen has had eight touchdown receptions, and more than a few key 3rd down conversions on the season thus far. Lazard caught two touchdowns in his last outing. Building off that momentum could lead to a big game against the 49ers.

Randall Cobb is an honorable mention here. If Cobb is good to go and sees significant playing time, he could steal the spotlight from Lazard. However, as of the publication of this article, Cobb's game time status is still up in the air.


Only time will tell if the 49ers really are Aaron Rodgers' "kryptonite." It is worthy of note that Rodgers has referred to this season as the "last dance". San Francisco was Aaron Rodgers' favorite team growing up, and they ended up drafting Alex Smith instead of him. Rodgers has carried that chip on his shoulder throughout his entire career. Beating the 49ers to pave the way toward his second Super Bowl win would be a poetic side note to add some drama to Aaron Rodgers' potential last dance.
For More Great Wisconsin Sports Content:
Follow me on Twitter @bradschafer and follow us @WiSportsHeroics for more great content! For the latest in Wisconsin sports, click here. Also, check out our merch store for some amazing WSH merchandise!