The Green Bay Packers had the NFL's highest scoring offense in 2020.  Despite the feeling among many fans that they needed a wide receiver in the previous draft, the Packers entered last season with their same receiving core as in 2019.  They did well, however it was clear that a slot receiver could make the offense even better.  Indeed, if they had had a good option in that role (besides Davante Adams), the NFC Championship game may have ended differently.  One intriguing slot receiver on the market this offseason is Sammy Watkins, who of course has a history of success in that role on a championship level.
Sammy Watkins in Buffalo
Sammy Watkins began his career with the Buffalo Bills.  The Bills drafted Watkins with the 23rd overall pick in the 2014 NFL Draft.  Watkins made an immediate impact, racking up 65 receptions for 982 yards and six touchdowns.  He was even better the next season.  In 2015, Watkins had 60 receptions for 1,047 yards and nine scores in just 13 games.  However, he only played in eight games in 2016, his last season in Buffalo.
One Year with the Rams
In August of 2017, the Bills trade Watkins and a sixth round pick to the Rams for defensive back E.J. Gaines and a second round pick.  In one season with the Rams, Watkins had 39 receptions for 593 yards and eight touchdowns.
Sammy Watkins with the Kansas City Chiefs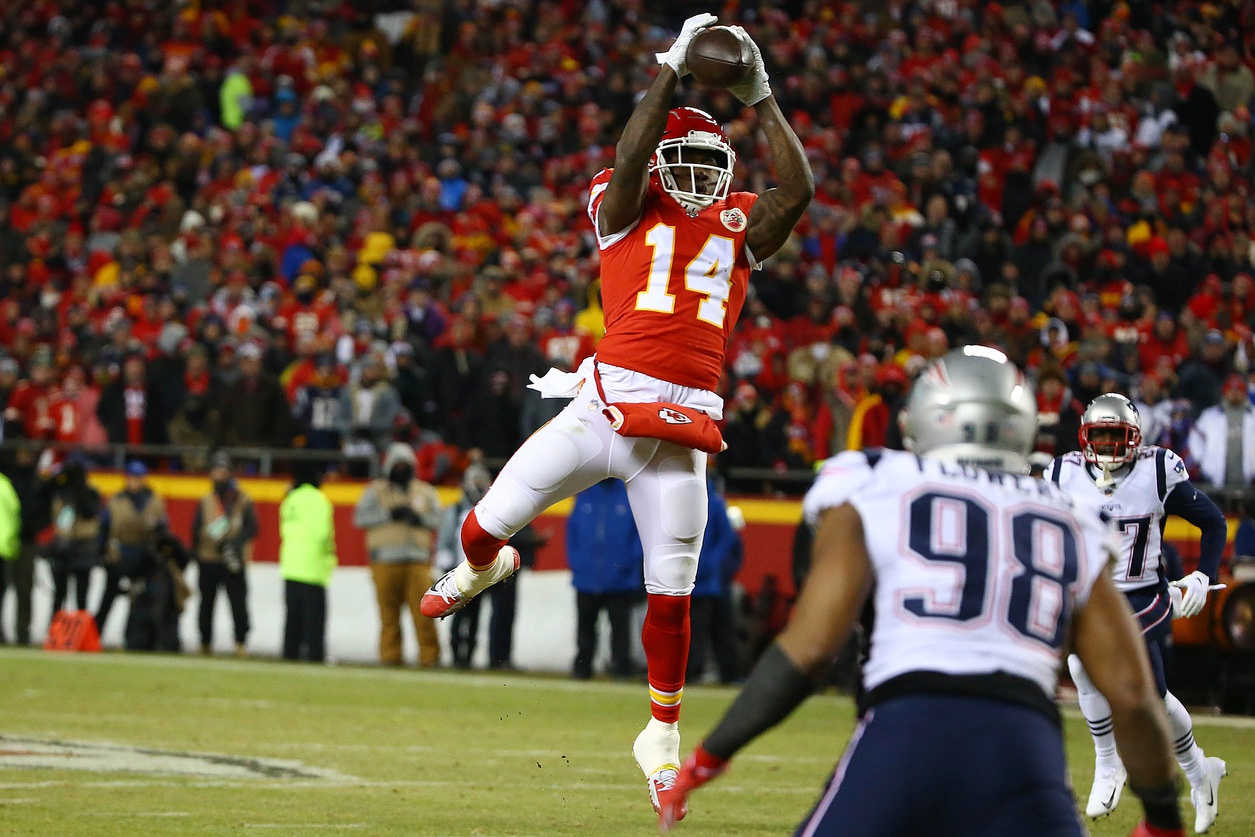 Following his productive (and healthy) season in Los Angeles, Watkins signed a three-year $48 million contract with the Kansas City Chiefs.  Despite the Chiefs' plethora of receiving options, Watkins was able to stand out.  That is, when he was on the field.  Unfortunately, his time with the Chiefs has been marred with multiple injuries and missed games.
In 2018, Watkins had 40 receptions for 519 yards and three touchdowns in just 10 games played.  The next season, the Chiefs' Super Bowl winning year, he put together his best season in years.  Watkins had 52 receptions for 673 yards and three touchdowns during the regular season.  He was even better in the playoffs, racking up 14 receptions (on 18 targets) for 288 yards and a touchdown in three playoff games.
Last season, however, saw the injury bug bite Watkins once again.  He had his least productive season, catching 37 receptions for 421 yards and two touchdowns.  All were career lows.  He missed the majority of the Chiefs' playoff run due to his injuries, but did record a reception for 13 yards in the Super Bowl.
How Watkins Could Fit with the Packers
As mentioned previously, Sammy Watkins would be a great slot receiver for the Green Bay Packers.  Davante Adams did lineup in the slot a lot in 2020, but he is best if he can take snaps inside and outside.  The Packers lack a true slot receiving specialist.  Watkins could fill this role.
Of course, the question is whether or not the Packers could even afford Sammy Watkins.  After all, they still need to get under the 2021 cap and have enough money left over to sign their draft picks.  However, that is the case for most teams and it is expected that many free agents will be signed to short-term deals in hopes the cap rises in 2022.
The Packers could offer Watkins a one-year deal for around $7-9 million.  He made $9 million in 2020, and could be expected to make less due to his injury history.  If this is the case, and if he does not return to Kansas City, he could make this Packers' offense an even greater threat in 2021.
More Trade/Free Agent Targets
[pickup_prop id="4363″]
For More Great Wisconsin Sports Content
Follow me on Twitter at @theotherAdams14 and follow us @WiscoHeroics1for more great content. To read more of our articles and keep up to date on the latest in Wisconsin sports, click here!