The 2020 season was one for the record books for the Packers. They had the number one seed in the playoffs, were the number one ranked offense, and Rodgers won his third MVP. Unfortunately, their defense was inconsistent, and eventually shredded by Tom Brady and the Tampa Bay Buccaneers in the conference championship game in Lambeau Field. This marks the fourth consecutive conference championship loss in Aaron Rodger's career. Arguably, their defense is the main reason why they can't make the leap to the super bowl. The last time they had a top ten overall defense was their super bowl run in 2010. The team needs to make some decisions regarding free agency and their cap situation. Alternatively, they could actively trade for a defensive back, such as Patriots CB Stephon Gilmore.
Veteran Experience
With Kevin King set to hit free agency, the Packers will look to bring in a high caliber player to pair with Jaire Alexander. Stephon Gilmore would bring that veteran experience, and stability in that secondary. The 2019 defensive player of the year only played eleven games this year, but he was the 61st ranked cornerback according to pro football focus. He posted one interception, three passes defended, one forced fumble, and 37 combined tackles. The tenth overall pick in 2012 can still play at a high level.
Most passes defended since 2018 with incompletions: Possibly available in the offseason this year. #NFL #Patriots Stephon Gilmore – 43#Saints Janoris Jenkins – 43#Steelers Joe Haden – 41#Washington Ronald Darby – 39 pic.twitter.com/bwAL634H7U

— NFL Rumors (@nflrums) February 25, 2021
Playing in Green Bay's Defense
The thirty year old corner allowed a 64% completion rate when targeted. Out of 42 targets, only 2 of those resulted in touchdowns. With that, Gilmore hasn't missed a step. Why would he fit in the Packers defense? Gilmore played 81% of his snaps out on the perimeter, compared to King's 86%. Overall, Gilmore ended with a NFL Passer Rating against of 96.7. Comparing that to Kevin King's 106.5, Gilmore would be a tremendous upgrade from Kevin King. Not only that, but Gilmore is a much better tackler, and can cover anywhere on the field.
Along with his stats, Gilmore has that finesse, agility, and ability to be a more possession corner. The Packers need a catch contesting corner opposite of Jaire to stop the potent pass attacks in the NFC. In the case they land a free agent such as Gilmore this offseason, the Packers defense would rank top ten overall hands down.
What Would It Cost?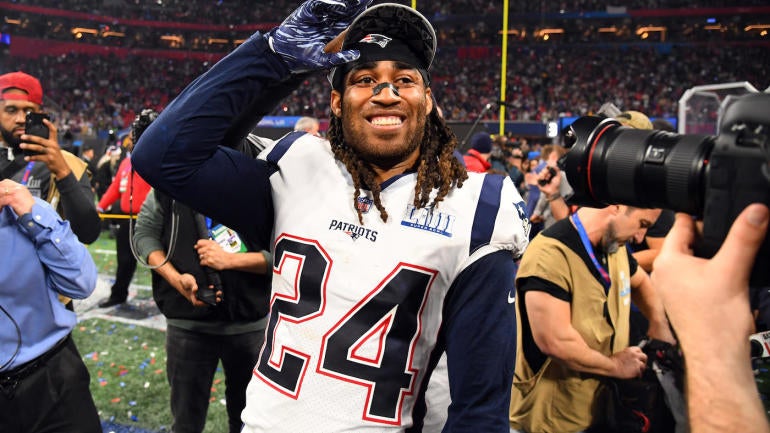 Patriots head coach Bill Belichick would be willing to trade Gilmore this offseason, but for the right price. The Patriots were decimated this year with injuries and players who opted out before the season began. In addition, J.C. Jackson is blooming on the other side of Gilmore, and could potentially take Gilmore's spot as the team's number one corner. These two reasons alone are enough for Belichick to trade him. He's set to make $7M in 2021, and is a free agent in 2022. If the Packers can offer a package deal, that includes some draft picks and a wide receiver, Gilmore will be playing for green bay next year.
Of course, Gilmore would be a short term fix to green bay's secondary, while the Packers still tend to draft a cornerback in this year's draft. They've had virtual meetings with a few draft prospects already such as Greg Newsome (Northwestern) and Asante Samuel Jr. (Florida State). They still need to fix their cap situation, and make some room to even be active this offseason. They are a super bowl contending team, and a move like this would substantially improve their chances of making it to Super Bowl 56.
[pickup_prop id="4363″]
Want More Great Content?
Follow me on Twitter at @PackerEddyFF and follow us at @WiscoHeroics1 for more great content! To read more of our articles and keep up to date on the latest in Wisconsin sports, click here.