The Green Bay Packers' offense was, once again, among the best in the NFL in 2021. The unit finished 10th in total yards per game with 365.6 yards per game. The Packers also finished eighth in passing yards per game (253.8) and 18th in rushing yards per game (111.8). Additionally, Green Bay finished 10th in points scored per game with 26.5. Many of these numbers were down for 2020 for a variety of reasons. Injuries and COVID kept many key contributors off the field at various points in the season. However, as the season progressed, the offense gelled more and more. Here, we take a look at three studs and duds from the Packers' 2021 season.
Three Studs
Aaron Rodgers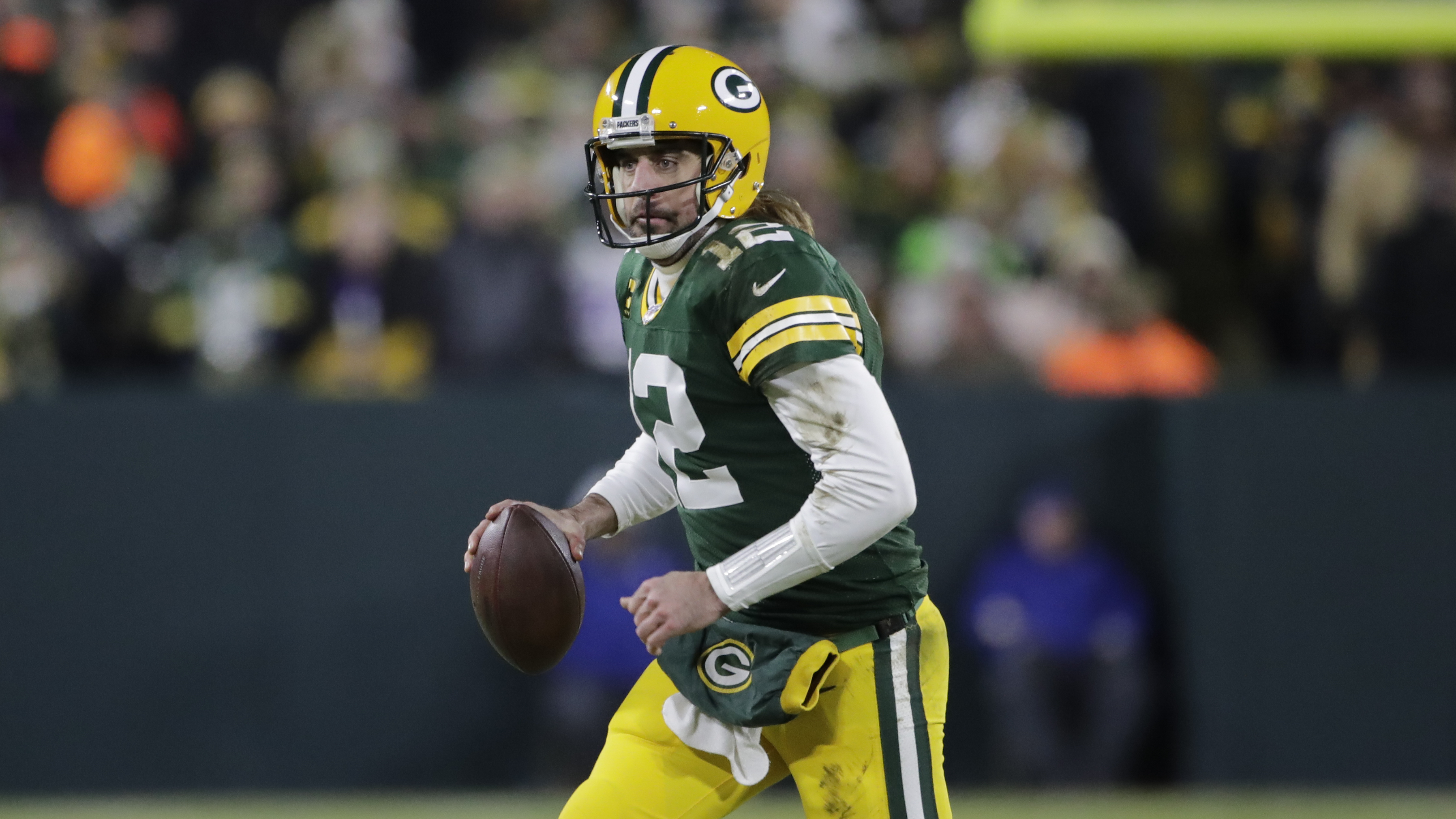 Throughout the season, I have tried to highlight other players, besides Aaron Rodgers, in our weekly studs and duds articles. The reason for this is because Aaron Rodgers is a stud every week. I wanted to spread the wealth, as it were, since everyone (aside from Hub Arkush) knows how valuable Aaron Rodgers is to the Green Bay Packers. That being said, here at the end of the season, it is only right to highlight the incredible season that Aaron Rodgers had.
Aaron Rodgers once again led the NFL with a 111.9 quarterback rating, 68.8 QBR, 7.0% touchdown percentage, and 0.8% interception percentage. Rodgers now owns the six lowest interception percentage seasons in NFL history. The only years in which he had a lower interception percentage than this year were 2018 and 2019.
In addition to these stats, Rodgers threw 37 touchdowns, just four interceptions, and had 4,115 yards passing. It was the fourth consecutive year in which he eclipsed 4,000 passing yards, and the 10th time in his career he went over that mark. Rodgers is just the sixth quarterback ever to have 10 seasons with 4,000+ yards passing. Without a doubt, Aaron Rodgers should be the NFL MVP again this season.
Davante Adams
Of course, the huge question lingering over Davante Adams is whether or not the Green Bay Packers will be able to afford him next season. While a deal may get done, it does not seem likely. The Packers could use the franchise tag, but that would be out of the norm for Green Bay. The Packers have not used the franchise tag since 2010 when they placed it on Ryan Pickett. Green Bay is the only team that did not use the tag in any season from 2011-2021.
Contract questions aside, Davante Adams put up one of the best, if not THE best, seasons by a wide receiver in Packers history. After becoming a First-Team All-Pro in 2020, Adams followed it up by breaking franchise records again in 2021. Adams broke his record for receptions in a season (previously 115) with 123 this season. Additionally, Adams broke Jordy Nelson's franchise record for receiving yards in a season with 1,553. He also added 11 touchdowns. This was the third season in Adams' career in which he had 100+ catches, 1,300+ yards, and 10+ touchdowns.
Additionally, this season, Adams became the sixth player in NFL history with 600+ receptions, 8,000+ yards, and 70+ touchdowns in his first eight seasons. The others on the list are: Jerry Rice, Randy Moss, Marvin Harrison, Larry Fitzgerald, and Calvin Johnson.
If Davante Adams and the Packers are, somehow, able to come to a contract agreement, there is no doubt he will hold every single Packers receiving record by the time he is done playing.
Royce Newman and Lucas Patrick
There were multiple players who had stud-worthy seasons for the Green Bay Packers in 2021. However, I only feel that it is right to highlight the efforts of Royce Newman and Lucas Patrick. Of all the players who took snaps on the offensive line this season, Newman and Patrick were the only ones to play all 17 games.
The Green Bay Packers were, of course, without David Bakhtiari for the entire season (minus the one half he played in Week 18). Starting center Josh Myers was hurt and needed surgery on his knee. Billy Turner and Elgton Jenkins both suffered injuries as well.
Patrick, who made the team as a reserve guard, slid into the position and was as good of a pass blocker as anyone could have asked. Just take a look at this play from the Vikings' game:
Royce Newman, too, played in all 17 games. He started the Packers' first 16 games, but came off of the bench in Week 18 with David Bakhtiari and Josh Myers returning from their inquires. He did not have a good game against the Lions, but he had an overall solid season. As the season progressed, Newman just got better and better.
With David Bakhtiari and Josh Myers back for the playoff run, it is likely that Newman will be relegated to the bench. However, we would be remiss if we did not point out that he helped anchor the offensive line all season while others were falling around him.
Three Duds
Robert Tonyan
It may not seem fair to put Robert Tonyan on this list given that he was limited to less than half of the season with a torn ACL. However, up until that point, Tonyan regressed from his breakout 2020 season. Most notably, Tonyan's catch percentage went from 88.1% in 2020 to 62.1% in 2021. He had no dropped passes, so the drop in percentage was a result of poor route running or inaccurate passes. Regardless of whether it was Tonyan's routes or Rodgers' accuracy, there was a clear drop off in their chemistry this season. Hopefully Tonyan can rehab back to full strength and pick up in 2022 where his 2020 season ended.
Amari Rodgers
When the Green Bay Packers took Amari Rodgers in the third round, he was hailed as the second coming of Randall Cobb. After all, Rodgers' own father had been Cobb's position coach during Cobb's college days. Unfortunately, Rodgers did not have as good of a year as many would have liked to see.
Amari Rodgers finished the season with four receptions for 45 yards. He also served as the team's punt and kick returner for a while, but had to be replaced for poor play.
This is not to say that Amari Rodgers will not be a good player. He certainly can be. After all, it took Davante Adams nearly two years to develop into the reliable target that he is today. Rodgers will undoubtedly learn from this season and continue to improve. With an increased role next year, we could see a jump in his production.
Juwann Winfree
This may be another player whose presence on this list is not really warrented. Winfree did only play in seven games, and in those games was on the field for just 31% of the offense's snaps. However, the Packers' offense was so efficient this season that it is hard to not get nitpicky when choosing "duds."
That, unfortunately, leads us to Juwann Winfree, who was not the most productive in the snaps that he did get. Winfree ended the season with eight receptions for 58 yards. It will be interesting to see what his role on the team will be next year, if he is brought back at all. Winfree spent the majority of the season on the Packers' practice squad.
For More Great Wisconsin Sports Content
Follow me on Twitter at @theotherAdams14 and follow us @WiSportsHeroics for more great content. To read more of our articles and keep up to date on the latest in Wisconsin sports, click here!