The Green Bay Packers have restructured the contract of David Bakhtiari. That move freed up about $9.2 million in cap savings. So far this offseason, the Packers have restructured the deals of Bakhtiari, Kenny Clark, and Aaron Jones. All told, these restructures have saved about $23 million, but there is still much work to be done. Unfortunately, all the other players who are under contract next season are either not eligible for a restructure or are entering the final year of their deals. As such, the only way the Packers can free up the cap space they need is through contract extensions or cutting players. Here, I present three players I believe should be extended and three players that, unfortunately, need to be cut.
Three Extensions
Aaron Rodgers
The contract extension that would save the Packers the most salary cap space in 2022 would be that of Aaron Rodgers. Rodgers is due to have a cap hit north of $46 million in 2022, over 25% of the entire team's salary cap. A contract extension would not only lower the cap number, but also ensure Rodgers is the Packers' quarterback for the foreseeable future.
There are, of course, a couple of variables in this situation. The first is that Aaron Rodgers has yet to announce his decision to return, retire, or request a trade. The Packers' front office is hopeful he will return, but that is far from certain. The other is Aaron Rodgers' reported salary demand. According to reports, Rodgers is seeking a three-year deal that will pay him roughly $50 million per season. Pat McAfee, however, stated that he reached out to Rodgers regarding the salary reports. According to him, Rodgers stated that they were "categorically false."
Narratives have gone unchecked for a very LONG time.. I reached AHT to @AaronRodgers12 this morning & asked if he wants to be the highest paid NFL player by a large margin…

"categorically false" was his response#PMSLive pic.twitter.com/OkjJPpoKew

— Pat McAfee (@PatMcAfeeShow) February 25, 2022
That all being said, there is a way that the Packers could give Rodgers a $50 million per season deal and STILL save cap space this year. If the Packers were to give Rodgers a four-year $210 million contract, they could make $75 million of it a signing bonus. This would make Rodgers' cap hit for 2022 $35 million, saving the Packers about $11 million on this season's salary cap. That being said, it would be an even more enormous cap hit in the future. However, Green Bay has already shown it is willing to kick the can down the road.
Jaire Alexander
One of the most anticipated extensions is that of Jaire Alexander. The former first round pick has emerged as one of the best cornerbacks in the NFL. Despite missing most of 2021 with a shoulder injury, the Packers would be wise to ensure he is back with the Packers long-term.
Green Bay has already picked up Jaire Alexander's fifth year option for 2022. This year, Alexander is due to make $13.294 million. This is entirely guaranteed and all of it counts towards the salary cap. In order to create cap space, the Packers should give Alexander a contract extension. Not only will this give the team needed cap space in 2022, but also ensure that one of the brightest rising stars in the NFL remains in Green Bay.
According to Daire Carragher at Lombardi Avenue, Jaire Alexander could become the highest paid cornerback in the NFL. This would mean that the Packers would be paying him roughly $20 million per season. To save on cap space, the Green Bay would spread his cap hit out over the course of the contract. In other words, they would kick the can down the road to years where the cap is expected to be higher.
This is a deal that should get done. Jaire Alexander, along with Eric Stokes, would be among the best defensive back duos in the NFL. If Green Bay can reach a deal with Rasul Douglas, too, the Packers' secondary would be very difficult to throw against.
[pickup_prop id="19699″]
Randall Cobb
This choice for a potential extension may be controversial and unpopular. After all, Cobb is far removed from his prime. Additionally, the Packers could save about $7 million by just cutting him. However, as I outline here, there are many other benefits to extending Cobb rather than releasing him.
Aside from wanting to keep one of Aaron Rodgers' best friends on the team as a way to entice Rodgers to return, Randall Cobb on the Packers roster in 2022 makes a lot of sense. For one thing, Green Bay does not have many wide receivers under contract for 2022. Davante Adams, Allen Lazard, and Marques Valdez-Scantling are all free agents. So too are Malik Taylor and Equanimenous St. Brown. The Packers' wide receiving room is going to look a lot different in 2022. Having a veteran like Randall Cobb will be very beneficial to everyone.
Three Roster Cuts
Za'Darius Smith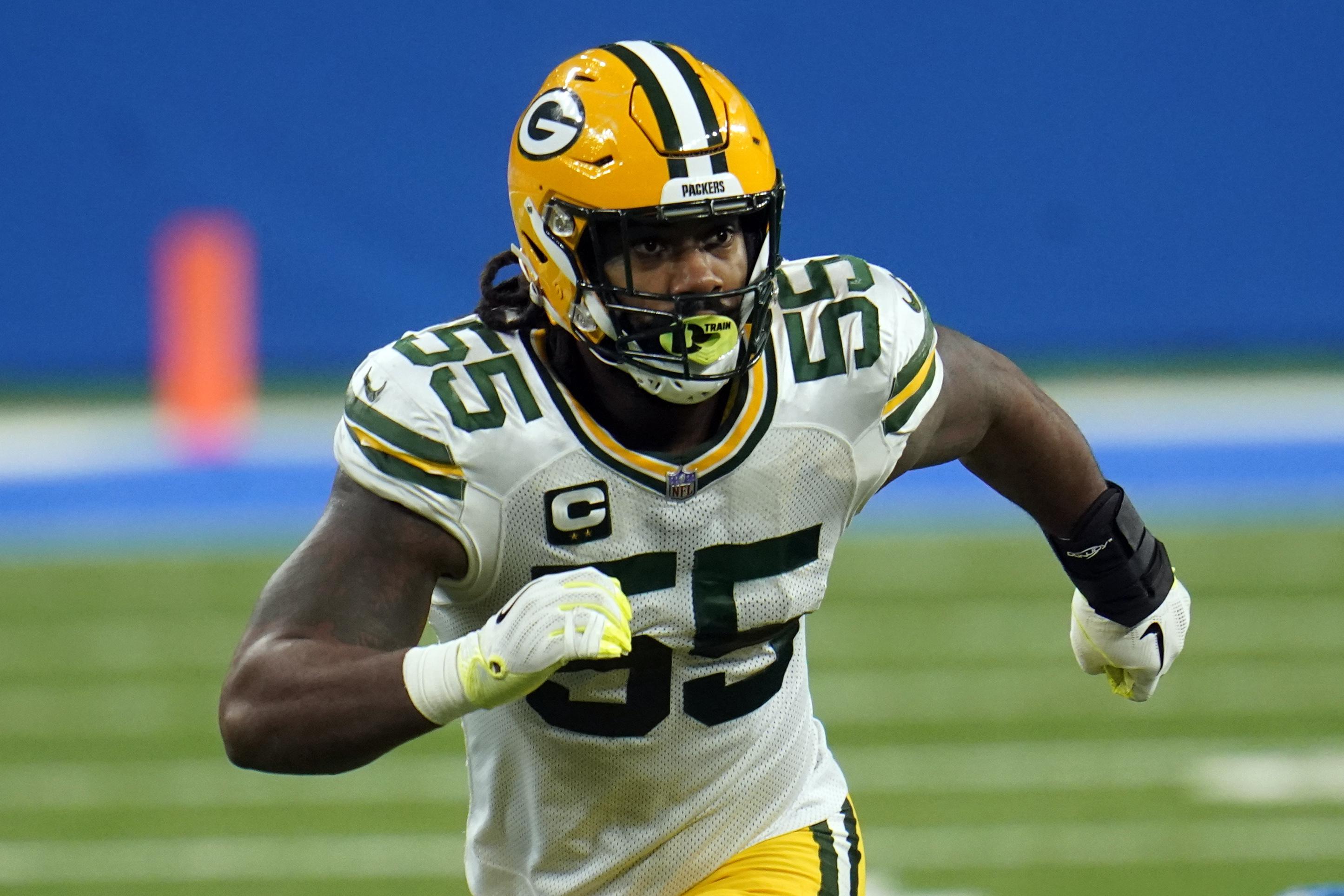 As I outline here earlier this month, it already appears as if the Packers are planning to cut ties with Za'Darius Smith. Smith has already erased all evidence of the Packers from his social media accounts and has posted several cryptic tweets on Twitter.
👀

— Za'Darius Smith (@zadariussmith) February 21, 2022
As far as Smith's salary  in 2022, he is due to have a cap hit north of $27 million. If the Packers were to release him, they would only have a $12.4 million dead cap hit count against them in 2022. This is a savings of about $15 million, and would go a long way to helping solve their 2022 salary cap woes.
Of course, the decision to cut Za'Darius Smith would not be an easy one. Yes, Smith missed all but one game in 2021, but in the first two years of his contract recorded 26 sacks. He did return for the Packers' playoff loss to the San Francisco 49ers where he recorded a sack as well.
The fact of the matter is, though, that the Packers have plenty of other options that are more affordable than Smith. Rashan Gary is still in his rookie deal and Preston Smith is a more likely contract extension candidate. There are also rumors that the Packers may be interested in bring back Whitney Mericilus, who would come at a lower cost than Smith.
[pickup_prop id="20805″]
The Green Bay defense played very well without Za'Darius Smith last season. This is not to say he has no worth or he was not missed. Rather, it is to illustrate that the Packers have a track record of success without him. The Minnesota Vikings have hired former Packers' linebacker coach Mike Smith to their staff. It is very possible, then, that we see Za'Darius Smith joining him next season.
Mason Crosby
Mason Crosby is the Green Bay Packers all time leader in points. He was also the kicker on the Packers' last Super Bowl winning team. That being said, Crosby was just 25 for 34 on field goal attempts in 2021. His 73.5% accuracy was, by far, the worst of his career and almost 8% below his career rate. The Packers have two other kickers on their preliminary practice squad who may challenge Crosby for the job.
In 2022, Mason Crosby is going to carry a cap hit of $4.7 million. If the Packers were to release him, they would just have to pay $2.3 million in dead cap. The $2.4 million savings does not seem like much, but with the Packers' salary cap woes, every little bit helps.
Dean Lowry
Dean Lowry had one of the best seasons of his career for the Green Bay Packers in 2021. Playing in all 17 games, Lowry had five sacks and nine quarterback hits. Both of those stats were career highs for Lowry.
Unfortunately, the Packers cap situation is what it is. The fact of the matter is that they cannot pay everyone this year, and Dean Lowry is expendable. He is due to have a cap hit of just over $8 million in 2022. By cutting him, the Packers can save over $4 million by just paying $3.99 million with his dead cap hit. As with Crosby, this is not the most earth-shattering money move, but every little bit helps.
For More Great Wisconsin Sports Content
Follow me on Twitter at @theotherAdams14 and follow us @WiSportsHeroics for more great content. To read more of our articles and keep up to date on the latest in Wisconsin sports, click here! Also, check out our merch store for some amazing WSH merchandise!