One huge area of concern for the Packers on Sunday was the offensive line play. Granted, David Bakhtiari and Elgton Jenkins were out but an injury to Jon Runyan Jr. also caused some issues. The Packers look to be trying some different things with their line this week. To do so, they are bringing in a fan favorite from preseason. The Packers are signing another offensive lineman to the roster.
Caleb Jones Signs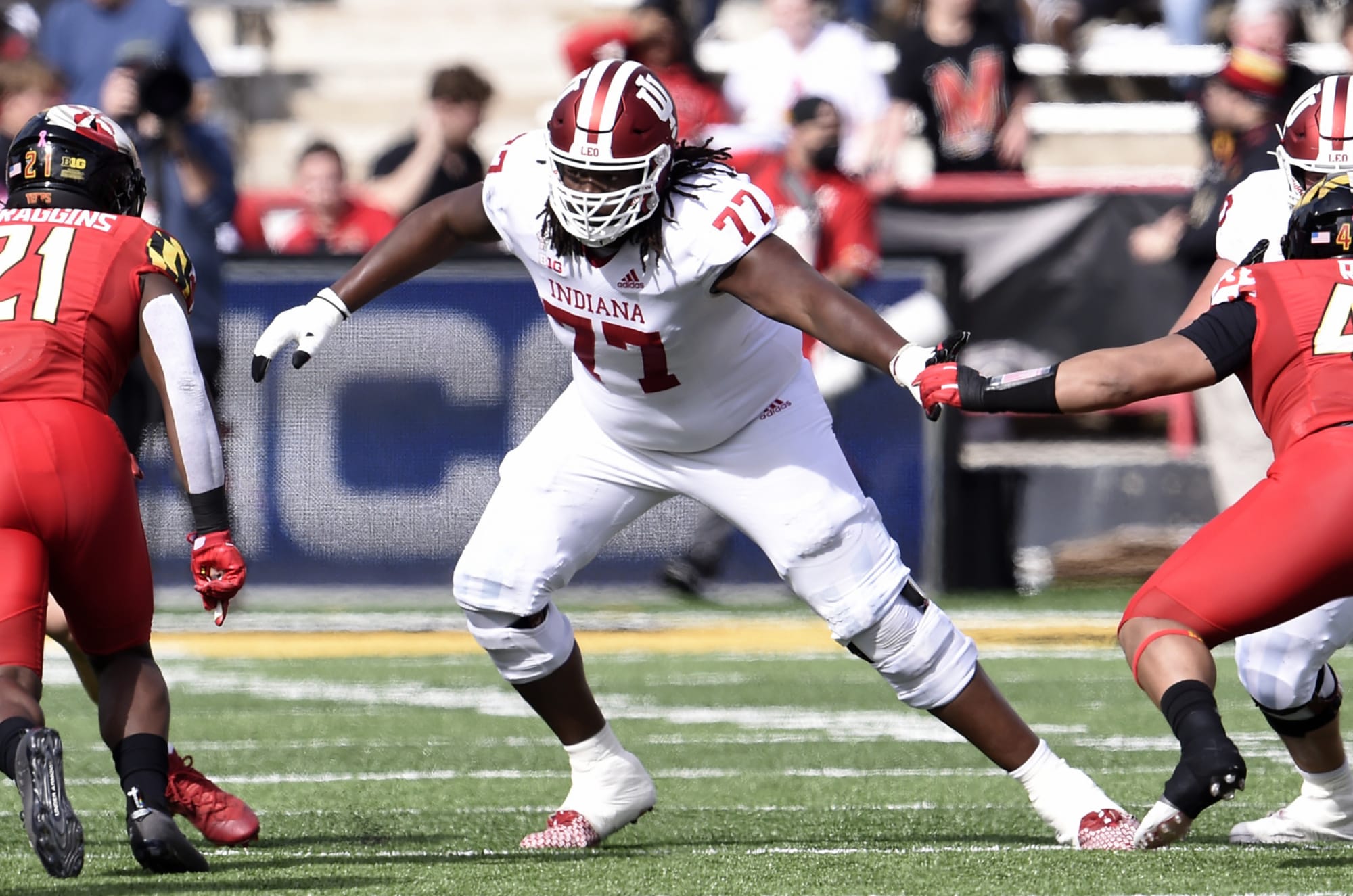 Caleb Jones didn't make the initial 53 but ended up on the practice squad. He has now been signed. What makes him a fan favorite. His 6-foot-9 stature makes him a tantalizing player to put on the line. Jones was an undrafted free agent out of Indiana and is a raw prospect. Green Bay took a flyer on him with how well they develop offensive line talent. It seems to be working out well. The Packers obviously think highly of him and Aaron Rodgers even gave him a nod in an interview. It is great to see this Packers offensive lineman on the roster.
Caleb Jones Highlights
This is my favorite part of Caleb Jones. Because of his size, he makes people look silly. Here is clip of him going against a veteran edge rusher who is 290 pounds.
Tanoh Kpassagnon is a 6'7" 290 lbs EDGE who's played in the NFL for 6 years, and LT Caleb Jones handles him easily. That length is eye-popping pic.twitter.com/CbB01AFKac

— Sam Holman (@Sam_DHolman) August 22, 2022
He completely shuts down the edge rush. The veteran looks completely overmatched. In the next play, Caleb Jones' strength is on display as he knocks another Saints player completely off balance.
Caleb Jones is a powerful man. Just knocks Granderson completely off balance pic.twitter.com/WwXwiOOyar

— Salvatore (@Fear_Jaire) August 21, 2022
He clearly has knowledge of how to use his body in order to generate power. It isn't just the passing game he is great. His run blocking has also shown promise.
I would not want a man the size of Caleb Jones running at me on a sweep play pic.twitter.com/SOOTDa8b1p

— Joey Van Zummeren (@JoeyVZ_) August 20, 2022
Imagine Aaron Jones or AJ Dillon running behind Caleb Jones. Trying to get through Caleb Jones and then having to tackle AJ Dillon is not a task that I would want. There is plenty to work on in Jones' game but the raw skills and eye popping plays are there.
The Packers Need Offensive Line Help
The offensive line was a mess. There was even a point where two Packers lineman blocked each other. Looking back at the tape, receivers were open but Rodgers just didn't have time. The Packers were simply beat at the line which led to other problems. It is not clear whether Jones will be inserted into the lineup or if he is just there to provide depth. Either way, the Packers signing an offensive lineman is a good thing to maybe shake things up.
Long term I think the Packers will be fine. Bakhtiari and Jenkins are coming back eventually which will help ease pressure off of backup players. I personally would love to see Caleb Jones get more reps. It will be interesting to see how the Packers use him.
Follow me on Twitter at @sorcerermatt, follow us @WiSportsHeroics. To read more of our articles and keep up to date on the latest in ALL of Wisconsin sports, click here!