Heading into the final five games of the season, I have the Green Bay Packers sitting at 9-3. At this point, the Packers must control their own destiny and dig deep as three of their last five games are all against divisional opponents. They also complete their series against the AFC North with matchups against the Cleveland Browns and Baltimore Ravens. Similar to what I mentioned in my previous article, this quarter of the season is going to be extremely tough and crucial to make the postseason. Let's take a look and see how the Packers will fair against their opponents:
Week 14- Chicago Bears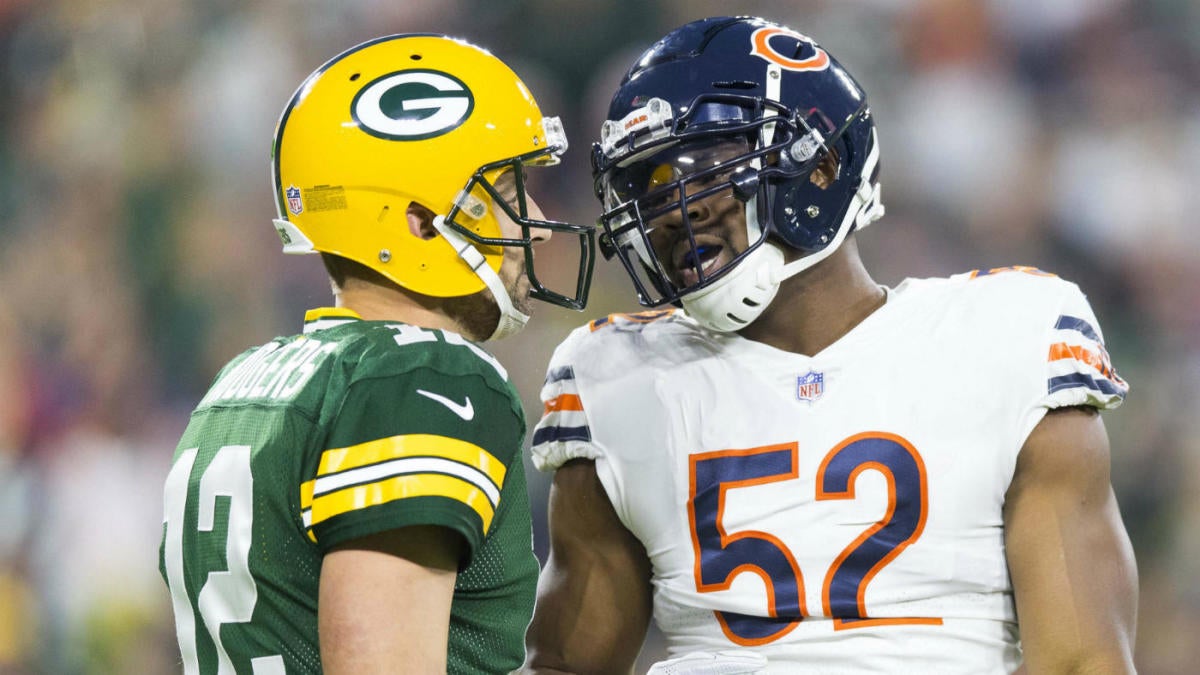 If there is one time in the year that Green Bay would prefer to not play Chicago, it would be on a mid-December Sunday. Both teams seem to play very competitively as they are very accustomed to the cold weather. Looking at this matchup, it has all the feels to being a trap game for Green Bay. Chicago is going to be hungry for a victory as I see them as the biggest threat to the Packers in the NFC North. The one aspect that is going to determine the outcome of this game is whether Green Bay can contain Justin Fields for four quarters. I think Fields is going to play very well, but the rookie's inexperience will come to light when it matters the most. Green Bay will force a late game turnover and sneak out of this game with a huge division win.
Prediction: Packers: 20, Bears: 17
Week 15- Baltimore Ravens
Green Bay's streak of playing top-level quarterbacks does not get any easier as they face Lamar Jackson and the Baltimore Ravens. Two years ago, Jackson burst onto the scene and took home the 2019 MVP award. Green Bay has not had the best reputation of containing mobile quarterbacks in the past. The only difference here compared to Russell Wilson and Colin Kaepernick is that Lamar Jackson does not have the weapons that these two quarterbacks had. This could play tremendously in Joe Barry's favor. On the opposition, Baltimore has arguably one of the best defenses in the AFC. Based off of this, I think that this going to be a seesaw battle and very low scoring. Also, do not be surprised if Lamar Jackson has more rushing yards than passing yards. However, Green Bay is going to have a tough time scoring on this Ravens' defense.
Prediction: Packers: 14, Ravens: 21
Week 16- Cleveland Browns

Green Bay will get the chance to recover at home with a Christmas Day matchup against the Browns. Going into this season, I do think that Cleveland is a darkhorse candidate win the AFC Championship. All the pieces are there to make that happen. This is going to be the complete opposition of the Ravens game as this is going to be a very high scoring game. It is going to take at least 28 points to win this game. Aaron Jones and Davante Adams are going to have tremendous days on the field. On the other hand, Nick Chubb is going to give Green Bay a very difficult task to stop him. Baker Mayfield is going to make some plays when it counts the most. In the end, Nick Chubb is going to be the work horse and give Green Bay consecutive losses for the first time this season.
Prediction: Packers : 38, Browns: 45
Week 17- Minnesota Vikings
After losing consecutive games, Green Bay is going to be hungry for a win. This game is slated for a Sunday night primetime game, what else needs to be said? Last season, we saw Dalvin Cook run all over the Packers' defense for four touchdowns at Lambeau Field. I do think that Green Bay is going to contain Cook a little bit better, but he will still be the highlight of the Vikings' offense. In opposition, I think that Aaron Rodgers is going to by far one of his best games of the season. Having a division title on the line and two straight losses will fuel his fire and ignite him to lead his team to a victory. In Aaron Rodgers' final regular season home game at Lambeau Field, Green Bay reigns victorious and clinches the NFC North title.
Prediction: Packers: 28, Vikings: 17
Week 18- Detroit Lions
Green Bay will be walking into this game as division champions. With that being said, the Packers will be resting their starters, so we are going to get our first glimpse of Jordan Love in a regular season game. In a game that may not seem to have much impact or implication on the Packers, the future of the Packers will be on display and in full fashion. Detroit's main focus is going to be to ruin Love's debut. However, I think Love is going to surprise us and put a good performance. This will be encouraging to fans as Aaron Rodgers' future in Green Bay does not look very good at all. The Packers are going to get a win in this matchup, setting them up nicely for the playoffs.
Prediction: Packers; 21, Lions: 7
Follow me on Twitter @ChrisBuboltz and follow us @WiSportsHeroics for more great content! Check out our merch page here. Use Promo Code WISCO at checkout to get $1 off your order. To read more of our articles and keep up to date on the latest in Wisconsin sports, click here.