In the 2022 draft, the Packers waited on a wide receiver. All reports point to that they still got their guy in Christian Watson in the second round. However, he has yet to make his team debut do to a knee procedure that landed him on the PUP list for a short time. Once he came off, the question was how long until he seems team play. On Sunday, Packers rookie Christian Watson made his team drills debut.
Sooner Than Expected
Wow. Massive news. Bakhtiari off PUP and Christian Watson taking part in team drills. That should make a happy Sunday for Packer fans!!!

— Andy Herman (@AndyHermanNFL) August 21, 2022
Packers fans were not expecting this news. The David Bakhtiari situation has tainted fans' views on how long it takes a player to come back. There has not been much optimism on the injury front as of late but that makes the Watson news all the more exciting. The rookie getting his debut into team drills signals that he is fully healthy and should be a full participant from here on out.
Why This Is Important
It is vital that rookies get reps with their team. It is even more vital when the rookie wide receivers are needed to play bigger roles this season. With the loss of Davante Adams, the Packers are hoping that Watson can be a playmaker in the offense. However, Watson is a raw prospect and will need to work on learning the timing of the offense and perfecting his route running. Rodgers has been critical of the young receivers route running in camp so they need all the reps they can get. If Watson can quickly get on the same page as Rodgers and the rest of the offense, he could be a force for the Packers this season.
Preseason Debut?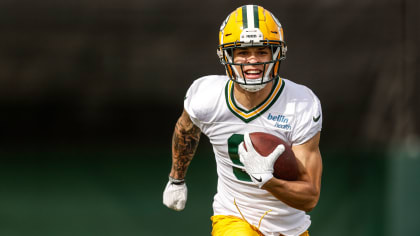 The other aspect of this move is that Watson could see the field in the last preseason game. While the availability of other starters is up in the air, it would be great for Watson to get some game reps. He went out for warm ups on Friday versus the Saints but ultimately did not play in the game most likely for precautionary reasons. It would be great for the Packers to see what they have in Watson during a game instead of just practice.
The good news keeps coming for the Packers. A whole week of practice and game reps for Christian Watson would be a welcome sight. It will be interesting to see how Watson fairs in his team drills debut.