The Packers lost their first preseason game against the Houston Texans with a score of 26-7. It was disappointing that the team could not get a win, but it's only preseason. Most important was that no devastating injuries occurred.
Despite the loss, the Packers still had a lot of good things happen in this preseason game. Here are the positive notes that came from Saturday.
The Right Players Played
Without a doubt, it was the best decision by the Packers to keep all their starters and top backups on the bench to avoid unnecessary injuries.
For example, Green Bay had no reason to play locked-in tight ends Robert Tonyan and Mercedes Lewis. Josiah Deguara and Dominique Dafney didn't see the field either. It was the same way at wide receiver. Davante Adams, Allan Lazard, Marquez Valdes-Scantling, Equanimeous St. Brown, and Randall Cobb all did not play.
Rather, most of those who did were rookies who needed the snaps and players on the bubble trying to make the roster.
Great Inside Linebacker Play
Green Bay's inside linebacker group played very well on Saturday. Ray Wilborn had a solid game, making plays all over the field.
Oren Burks did as well, with seven tackles and a sack. It looks like he's adjusting to the new defensive system, which is a good sign. This makes Burks a surprising front-runner for the roster, as he is a factor on special teams as well. Burks's play on Saturday was certainly a surprise, as he's been pretty underwhelming during his time with the Packers.
The Packers look to have a fairly deep group at inside linebacker, as shown by Oren Burks and Ray Wilborn.
Depth at WR
The Packers' wide receiver room is also very deep this year, and Saturday proved that. There were a lot of flashes from rookie Amari Rodgers, making tough catches and once losing his helmet in the process. Even Malik Taylor had a solid game.
However, the best receiver versus the Texans was Devin Funchess. He looks to be in great shape after missing two full years of football due to injury and COVID-19. Funchess made a lot of big catches and moved the chains on numerous occasions. Houston eventually had to double team him.
Funchess was carted off the field on Wednesday in the first Packers and Jets joint practice. Hopefully his injury is not serious, as his performance on Saturday may have been enough to lock a spot on the 53-man roster. of made himself almost a lock for the 53-man roster with his performance.
Overall, the Packers are in a strong position with their wide receivers.
Many Offensive Line Options
The Packers' offensive line played well against the Houston Texans, but they could have been better. Most of the linemen were either young, rookies, or on the roster bubble. Josh Myers and Lucas Patrick were the only starters playing and both had limited snaps.
As a whole, the offensive line was good in pass blocking but their run blocking needs work. They performed well outside of Yosh Ninjman, who gave up a costly strip-sack. Myers, Patrick, Royce Newman, Cole Van Lanen, Dennis Kelly, Jake Hanson, and Jon Runyan all showed they can be solid offensive line members for the Packers this coming season. Hopefully they only continue to improve this preseason.
The Quarterback Room Is Sneaky Good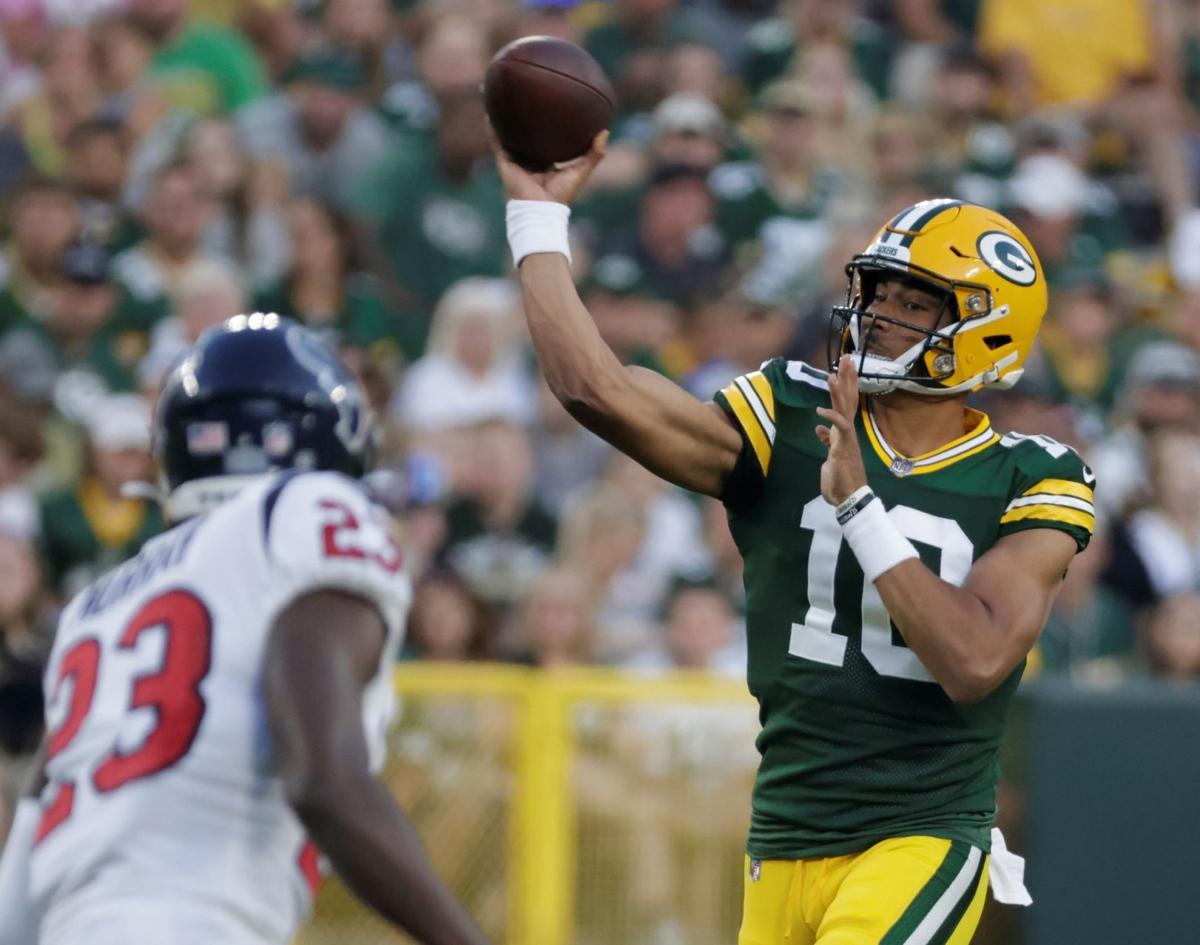 The Packers continue to have great strength in their quarterback room.
Jordan Love's debut as a starter went as well as could've been expected. He made a lot of good decisions and had some impressive tight-window throws. Love's toss to rookie Kylin Hill went thirty-two yards for a touchdown. However, he still needs work and will be rehabbing a shoulder injury.
Third-string QB Kurt Benkert was not too bad himself on Saturday, making some decent plays as well. Like Jordan Love, Benkert was not perfect, but he did show off a few great throws.
Overall, the quarterback trio that includes reigning MVP Aaron Rodgers is indeed in very good shape this year.
Lots of Options at Safety 
The Packers had good safety play on Saturday against the Houston Texans. Both Vernon Scott and Henry Black were playing exceptionally well. Vernon Scott was targeted seven times and only gave up two completions for minimal yards. Henry Black was flying all over the field making key stops and gave up zero yards, which was outstanding. Also, Black played well on special teams, showing he deserves to be on the Packers' 53-man roster this year.
These two safeties, among others, showed great promise against Houston. All are fighting for roster spots and playing time, when the Packers want to play a three-safety look and move Adrian Amos and Darnell Savage closer to the line of scrimmage. This may force the Packers to keep five safeties. Good things they have a lot of options to choose from.
Cornerback Group Has Much Promise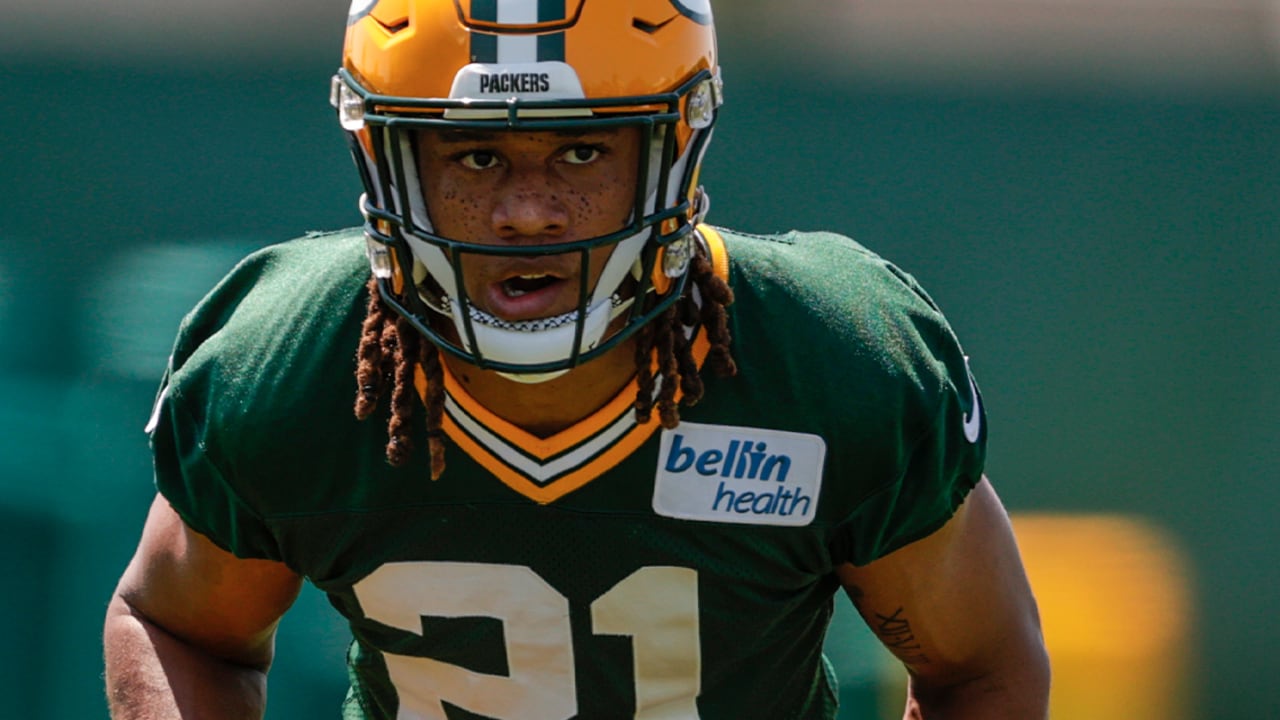 The Packers did not play their top three cornerbacks: Jaire Alexander, Kevin King, and Chandon Sullivan. Still, the group as a whole managed to have a strong game.
Eric Stokes played limited snaps but only gave up four yards. He was pulled early, showing the Packers have already seen what they needed to from him. Kadar Hollman was solid, as a lot of targets were not going his way. Kabion Ento had a few pass break-ups and an interception; he's one to watch these next two preseason games. Shemar-Jean Charles had his bad moments but a number of great plays from the slot, too.
This cornerback room looks really talented and might be one to keep an eye on.
[pickup_prop id="10357″]
Follow for More
Follow me @CarlosS29143608 and follow us @WiSportsHeorics for more content. Check out our merch page. Use the promo code WISCO at the checkout for 1$ off! To keep up on all of your favorite sports Wisconsin click here!