The Green Bay Packers have one of the richest histories of any franchise in all of sports.  Throughout their over 100 years of existence, they have had a plethora of great wide receivers.  In recent years, another receiver has added to the position's legacy in Green Bay and is climbing the team's all-time list in receiving yards, receptions, and touchdowns.  In this edition of Packers Past and Present, we spotlight the season and career of that player: Davante Adams
Dominating the College Game
Davante Adams played his college ball at Fresno State University of the Mountain West Conference.  As a freshman in 2012, Adams led the conference in receptions (102), receiving yards (1,312), and touchdowns (14).  His performance on the field earned him an All-American selection and was named to the First Team All-Mountain West.
Adams was even more dominant in his sophomore season in 2013.  That year, he led the conference again with 131 receptions, 1,719 receiving yards, and 24 touchdowns.  Again, he was selected as an All-American and named to the First-Team All-Mountain West.  2013 would be his final year in college, as he declared for the NFL Draft.  He ended his two-year college career with 38 touchdown receptions, which is a Mountain West and Fresno State record.  That total also ranks Adams 16th in FBS history in touchdown receptions.  In addition, Adams set 13 more more Mountain West records and 10 more Fresno State records.
Davante's Early Career in Green Bay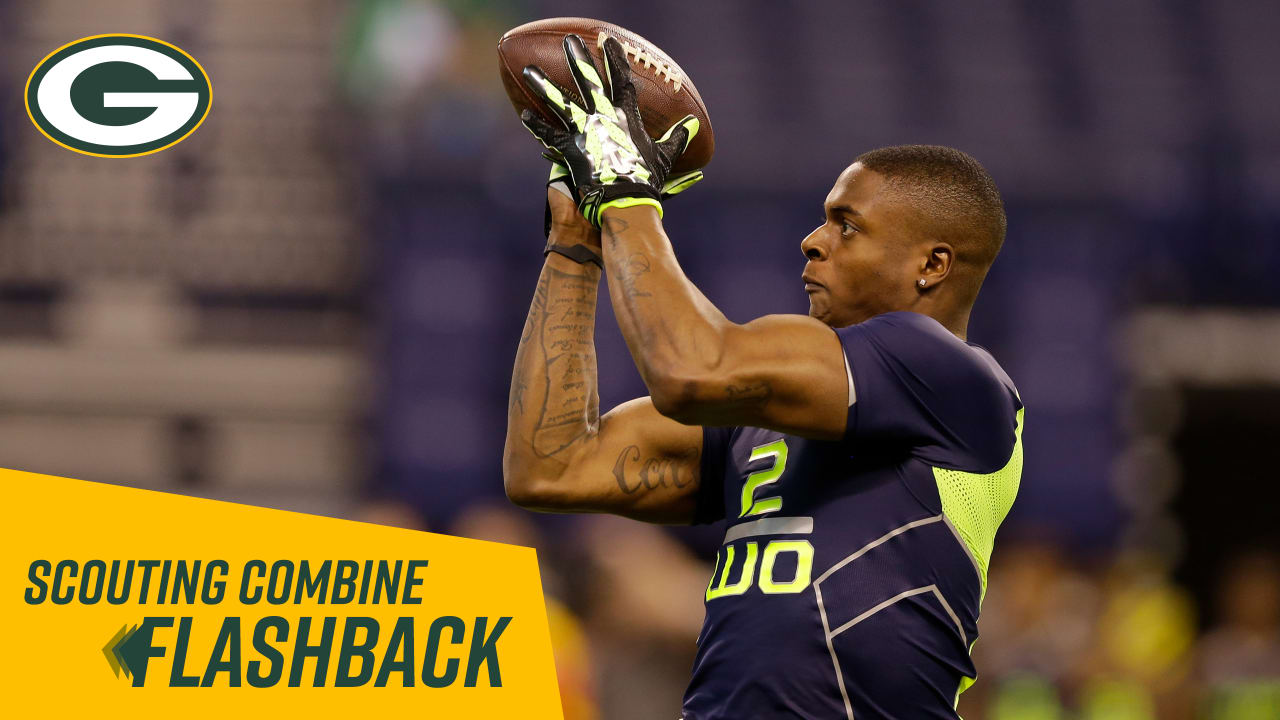 Davante Adams was drafted by the Green Bay Packers in the second round (53rd pick) of the 2014 NFL Draft.  Adams joined a Packers' roster that included popular wide receivers Jordy Nelson and Randall Cobb.  Nelson and Cobb each had over 1,000 yards receiving and were named to the Pro Bowl.  As the third receiver, Adams caught 38 passes for 446 yards and three touchdowns.
The next season, 2015, was the year that Nelson infamously tore his ACL in the preseason.  The Packers added veteran wide receiver James Jones, who received the majority of Jordy's targets throughout the season.  Adams, for his part, caught 50 passes for 483 yards and a single touchdown.
While his first two seasons' statistics seem rather pedestrian, it was not long until Adams' true potential would start to be realized.
2016-2019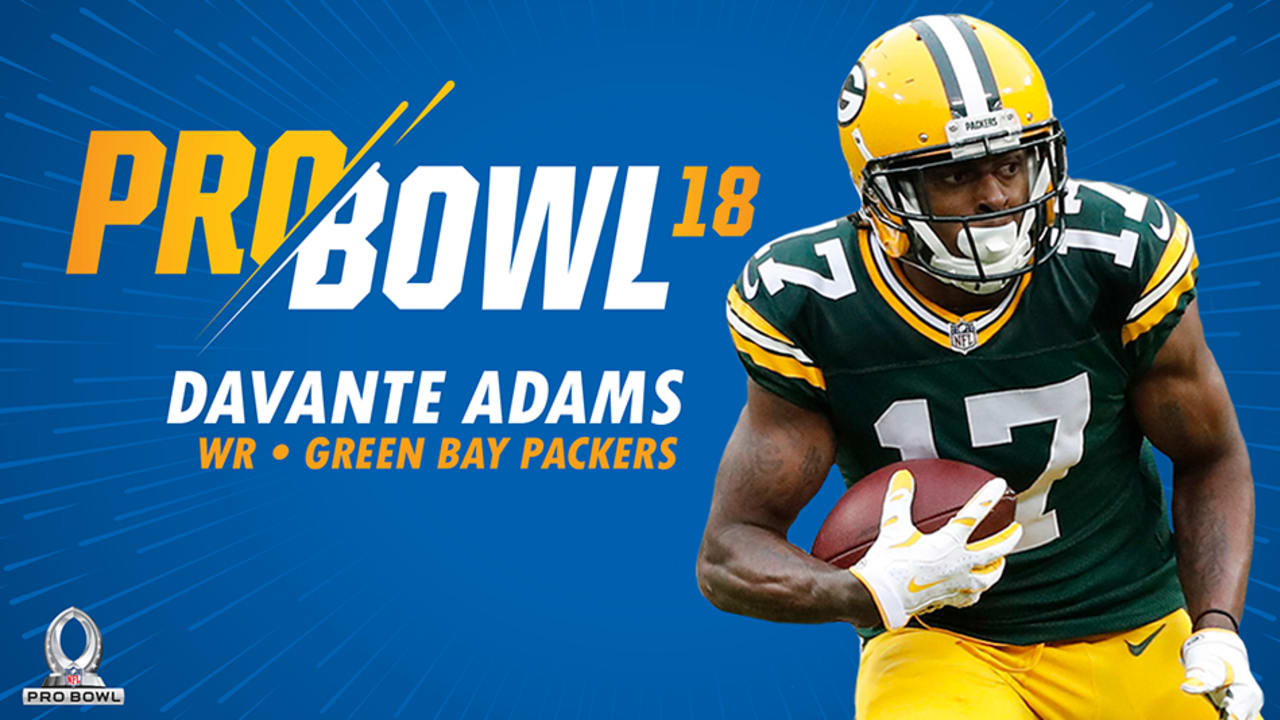 In 2016, Davante Adams made a tremendous leap in production.  Jordy Nelson was back from injury and was the clear number one receiver with over 1,200 yards receiving and 14 touchdowns.  Adams, though, surpassed Cobb as the number two target and more than doubled his career numbers in yards and touchdowns in just this single season.  Adams recorded 75 receptions for 997 yards and 12 touchdowns.
The following year, 2017, was the first of three straight Pro Bowl seasons for the Packers' star receiver.  With Nelson's production falling, Adams became the Packers' clear-cut number one target on offense.  In 14 games, Adams recorded 74 receptions for 885 yards and 10 touchdowns.  Notably, Adams raised his catch percentage to 63.2%, the highest of his career.  Amazingly, Adams achieved these numbers despite not having Aaron Rodgers as his quarterback for half of the games in which he played.  Rodgers suffered a broken collar-bone, which was a debilitating blow to the Packers' offense.  If it were not for Adams' sure hands and route-running, the season would have been more of a disaster than it was.
2018, up that point, would be Adams' best season as a pro.  He was named to the Pro Bowl again while recording 111 receptions, 1,386 yards, and 13 touchdowns.  In addition, Adams averaged a career-high 92.4 receiving yards per game and again raised his catch percentage, this time to 65.7%.
Last season was set up to be another career-year for Davante Adams, but he missed four games during the year with a turf-toe injury.  Despite playing just 12 games, Adams had 83 receptions for 997 yards and five touchdowns.  While there were growing pains in learning a new system under first-year head couch Matt LaFleur, it was certain that Adams was going to thrive in his system.
Davante Adams in 2020
For years, it appeared that Davante Adams was somehow being held back from realizing his full potential, which sounds strange considering he has made three straight Pro Bowls.  Whether it was injuries, a new offense, or some unknown reason, it was clear that Davante Adams was better than the production he generated.  2020 is a different story.
Despite missing a couple of games with a hamstring injury, Davante Adams is putting up arguably the best season of any receiver in the NFL this year.  Currently rated as Pro Football Focus' number one receiver, Adams has 61 receptions, 741 yards, and a league-leading nine touchdowns.  In addition, he leads the NFL in receiving yards per game (105.9).  His route-running has earned him the praise of the national media and his catch percentage is an astounding 75.3%.
The Green Bay Packers currently have the NFC's top seed, and the offense is looking more consistent this year than it has looked in years.  Davante Adams is a big reason behind their success, and hopefully will continue to get the praise and accolades that he deserves.
More in the Series
For More Great Wisconsin Sports Content
Follow me on Twitter at @theotherAdams14 and follow us @WiscoHeroics1for more great content. To read more of our articles and keep up to date on the latest in Wisconsin sports, click here!