The Green Bay Packers are 3-1 on the season and have already accomplished a great deal. Aaron Rodgers is now tied for sixth with 420 career touchdown passes. Aaron Jones moved to tenth on the Packers' all-time rushing list in their last game against the Steelers. As we look ahead to the next 13 games of the season, there are more milestones and records within reach for several individual players.
Aaron Jones Can Climb All the Way to Top Five Rushing in Packers History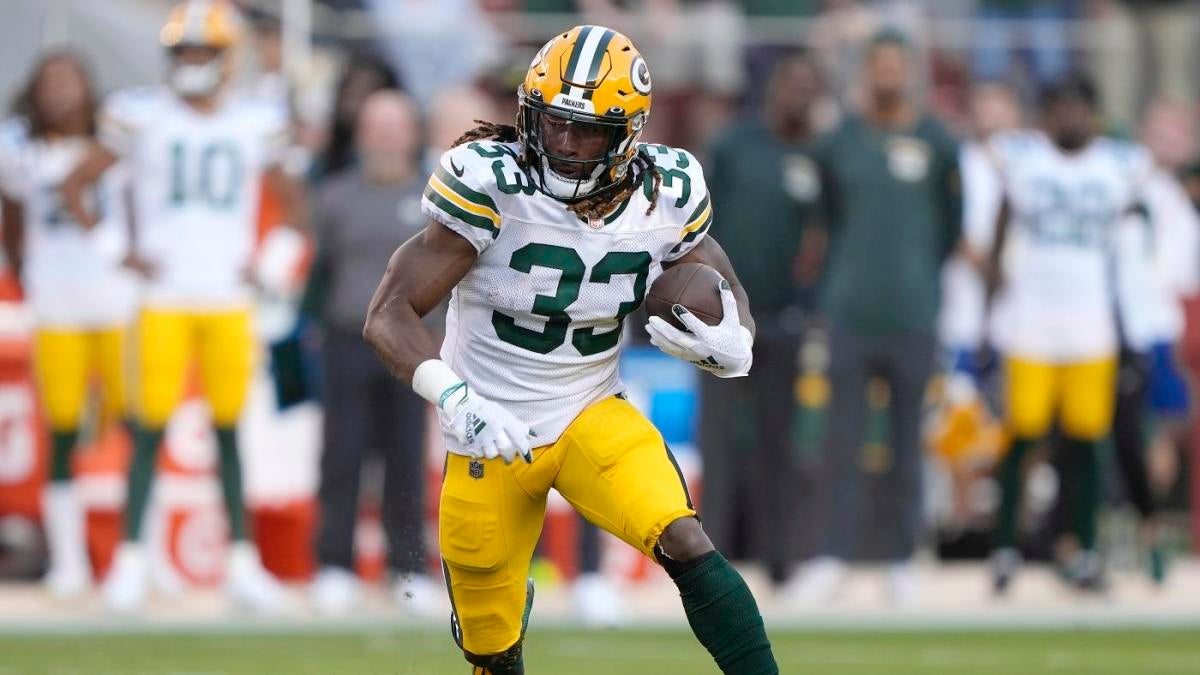 As mentioned, Aaron Jones now ranks tenth all-time in Packers' history for rushing. That will certainly not be the first time he climbs up the list this season. With 3,570 career rushing yards, Jones is well within reach of fifth place all-time. As the season goes on, watch for him to pass legends Paul Hornung (3,711), Gerry Ellis (3,826), Clarke Hinkle (3,860), Dorsey Levens (3,937), Ryan Grant (4,143), and Tony Canadeo (4,197).
[pickup_prop id="5629″]
Aaron Rodgers Will Pass Brett Favre for Touchdown Passes
While Aaron Rodgers may be well-behind Brett Favre for career touchdown passes, he is certainly going to break Favre's Packers' record. Favre currently holds the team record with 442 touchdown passes. With 420, Aaron Rodgers needs 23 more to become the Packers' all-time leader. With 13 games left to play, he needs to average 1.8 touchdown passes per game to do it. 23 more touchdown passes would give Rodgers 31 for the season, a number he has reached six times before in his career.
[pickup_prop id="4827″]
Davante Adams Could Become a Top-Five Receiving Yards Leader
Currently, Davante Adams ranks sixth in Packers' history with 6,941 yards. Earlier this season, he passed Boyd Dowler who had 6,919 yards for the Packers while playing from 1959-1969. Next on the list is Jordy Nelson, who finished his time with the Packers with 7,848 yards. To get there, Adams would need 907 more yards in the team's final 13 games. Fourth on the list is the legendary Don Hutson, who had 7,991 yards during his career. To pass Hutson, Adams would need 1,050 yards over the Packers' final 13 games. 1,050 more yards would give Adams 1,423 yards on the season, which would be a career high.
[pickup_prop id="5561″]
Davante Adams Could Reach Second in Touchdown Receptions
Late last season, Davante Adams passed Donald Driver for fourth on the Packers' all-time touchdown receptions list. Despite having just one touchdown reception through the team's first four games, there is little reason to believe he won't start racking up the scores soon. With 63 career touchdown catches already, Adams is within two of Sterling Sharpe and four of Jordy Nelson. Don Hutson, of course, is the Packers' all-time leader in receiving touchdowns with 99. Adams will undoubtedly pass that number at some point in his career. The question, however, is whether or not it will come as a member of the Green Bay Packers.
[pickup_prop id="7100″]
Randall Cobb Will Reach Top 10 in Touchdown Receptions
With his two touchdown passes against the Steelers, Randall Cobb tied Billy Howton for 11th on the -Packers' all-time touchdown receptions list with 43. He needs just three more to pass James Jones (45) for tenth on the Packers' all-time list. Also within reach is the legendary James Lofton, who is ninth in Packers' history with 49 touchdown catches.
[pickup_prop id="9961″]
For More Great Wisconsin Sports Content
Follow me on Twitter at @theotherAdams14 and follow us @WiSportsHeroics for more great content. To read more of our articles and keep up to date on the latest in Wisconsin sports, click here!