Packers Injury Status Heading Into Bye Week
The Green Bay Packers have been dealing with a slew of injuries this season. Head coach Matt LaFleur recently provided updates on the status of key players heading into the bye week, including Aaron Rodgers, David Bakhtiari, Aaron Jones, and Romeo Doubs.
Aaron Rodgers Battling Thumb and Rib Injuries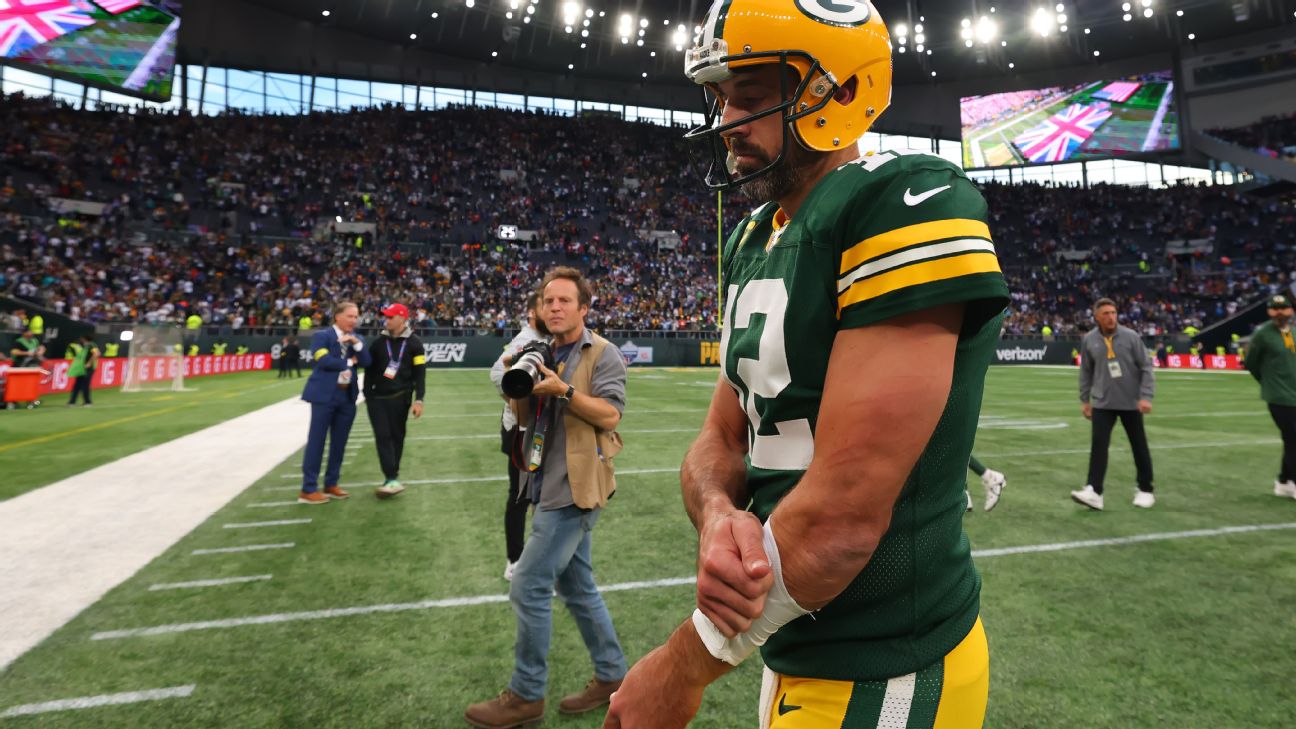 Aaron Rodgers has not been himself this season. You can attribute his dropoff to a lack of offensive weapons, but you can also point to his injuries. Rodgers has been playing with a broken thumb since Week 5, and he also suffered a rib injury in Week 12. Thankfully, the offensive line was able to protect Rodgers against the Bears by not allowing any sacks or quarterback hits.
When addressing Rodgers injury concerns, LaFleur said, "I think he held up pretty nicely. So you know, he seemed to be in great spirits after the [Bears] game, which is always a good sign. Just with limited interactions with him, he seemed to be doing well."
David Bakhitari Out For Multiple Weeks
Last Friday, David Bakhitari had an emergency appendectomy, which ruled him out for the Packers' most recent game against the Bears. At the moment, it is uncertain when Bakhitari will be back on the field. However, LaFleur said, "We'll see how he feels when we come back from the bye and see where he's at. But from what I've been told, it could be awhile."
Aaron Jones Injury Scare vs Bears
Luckily, Aaron Jones was able to avoid a serious injury on Sunday in Chicago. Jones left the game, but was able to return, seeming to battle a shin injury. As a precaution, Jones was limited, only giving him two snaps in the second half.
LaFleur justified his decision to sit Jones by saying, "I think he'll be in good shape. But you always get a little concerned when he's up, he's down, he's up, he's down. That happened a few times in the game where he was just working through getting landed on or whatever."
AJ Dillion saw a majority of the snaps against the Bears. However, Jones should be ready to go against the Rams on Dec. 19.
Romeo Doubs Sidelined Since Week 9
Packers' rookie wide receiver Romeo Doubs has been out since Week 9, suffering an ankle injury against the Detroit Lions. Green Bay thought they might get Doubs back against the Bears. Deciding to be cautious, the Packers decided to sit Doubs for another week.
When speaking about Doubs, LaFleur said, "He's doing everything he can. He's diligent about his rehab and just the process that you got to go through to get back, and I know he's definitely eager to be back out on the field and be able to contribute. So yeah, definitely excited to hopefully get him back in the fold."
For More Wisconsin Sports News:
Follow me on Twitter at @alex_ratliff and follow us @WiSportsHeroics for more great content. To read more of our articles and keep up to date on the latest in Wisconsin sports, click here!