This has indeed been a real quiet free agency for the Packers. They have not made any big splash moves so far. In fact, they are currently the only team that has not made one single free agent signing. Now that will draw criticism for a team that is close to a Super Bowl title. We may have to face a huge reality for the Packers in free agency as they might not sign any one. At the same time some optimism.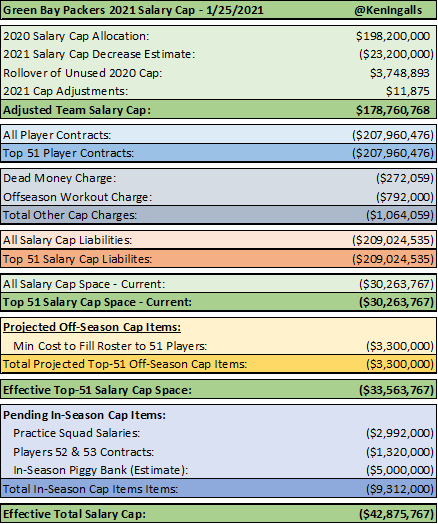 Packers Cap Space Is Decent, But Not Great 
Currently the Packers cap space is in a decent place at 2.9 million. On the other hand that is not a really great spot to be in. This means the Packers options are really limited and have little money to play with. They cannot afford to overpay or spend too much on a free agent if they sign one. Also the Packers need enough to sign their draft picks for this up and coming NFL draft next month. They also have contracts coming in the future for players they want to keep. One of them is Jaire Alexander who is certainly becoming a lockdown corner and will command a huge payday and deserves it. Zadarius Smith and Davante Adams are going to need extensions as well. The Packers cap space is staying afloat, but again not in a great spot. Hopefully the Packers can work some magic.
Wisconsin Continues to be an Unattractive Spot For Free Agents
The Packers do indeed have most talented quarterback to ever throw a football in Aaron Rodgers. Even so, that is not enough to bring free agents to Green Bay. Wisconsin is not the most desirable place for most free agents to play. The market is not big in Wisconsin compared to places like California or Florida that have huge ones. On top of that is the weather that seems to be a huge reason to drive away free agents. It is really cold in Wisconsin, especially in Green Bay. It is a good community, but weather is not favorable to lots of free agents. The Packers have to hope that players who want to play here will overcome the weather.  It worked in 2019, now they need it to work for a crucial season in 2021.
Players Want a Payday the Packers Cannot Give Them
At the end of the day most NFL players are gonna want the team that can give them the most money. Don't blame them, they have to care of themselves and their families in the future, which is certainly important. Players so far are getting huge paydays from teams like the New England Patriots who have tons of cap space and can spend lots of money. The Packers on the other hand do not have the money to give any player the payday they want. Brian Gutekunst has shown he will give players a fair and decent deals, but other teams offer more and willing to overpay. The Packers have to hope someone will take a little discount to play for the Packers, but be on a contending team.
There Are Still Many Options For the Packers Out There
Even with the quiet free agency so far for the Packers they still have options. There are indeed still good options for the Packers get that can improve the team. Guys like Josh Reynolds and TY Hilton are receivers who can be solid options for the Packers. Also defensive tackles that the Packers really need are out there. Solid options like Jurell Casey would indeed help the Packers tremendously. The Packers have been quiet, but the options are really still out there. We will see if they make any moves in the upcoming weeks.
Looking Good on Paper Does Not Always Mean Success 
One thing that is certain is that looking good on paper does not mean a winning season. Remember the Cleveland Browns won the offseason and looked good on paper in 2019. Then they ended up with a horrible record and not making the playoffs and firing their head coach.  The Packers looked bad on paper in 2020 because of the offseason and the draft, but ended up having the number one scoring offense, 13-3 record, and made the NFC championship game. Keep in mind that if David Bakhtiari did not tear his ACL in December they probably go all the way to the Super Bowl.  Looking good on paper does not mean instant success. Even if the Packers do not make any big offseason moves does not mean anything. Football starts in September not in March.
The Draft Can Help The Packers As Well
The Packers even if they do not make any big moves in free agency there is the 2021 NFL draft. The thing is the Packers certainly have pieces on both sides of the ball to win now. This draft can help the Packers add the missing pieces they to get them over the hump. There will be good options for the Packers to draft in each round.  This will be a draft that the Packers need to nail if they wanna make this team even better in 2021. Packers are tied for second in draft picks with ten. They have the draft capital to make a impact, but can they take advantage? We will see when the draft takes place next month.
In Conclusion: Follow me @CarlosS29143608 and follow us @WiscoHeroics1 for more great content. Checkout our merch page. Use the promo code WISCO at the checkout for 1$ off! For more articles and to keep up on all of your favorite sports Wisconsin click here!