Okay, I'll admit it. The Packers did not have the draft I expected them to have.
I was not alone. Aaron Rodgers and Devante Adams were among countless close to the team who admitted they expected a new star wide receiver in the mix on day one. Instead, they pulled a "Rodgers" and drafted the potential QB1 of the future in Jordan Love to sit behind a GOAT currently at the helm. It was a bold move that likely won't pay off for the team for at least a couple more years. Or will it?
The Packers went offense-heavy in the draft for the first time in what seems like forever. None of the names called that night after the first round blew up Twitter (at least not in a positive way), but upon doing some research, I find myself more excited about the greenest Green Bay Packers than are likely to be.
Without further ado, here is my analysis of the three fantasy-impactful rookies from the Packers draft this year: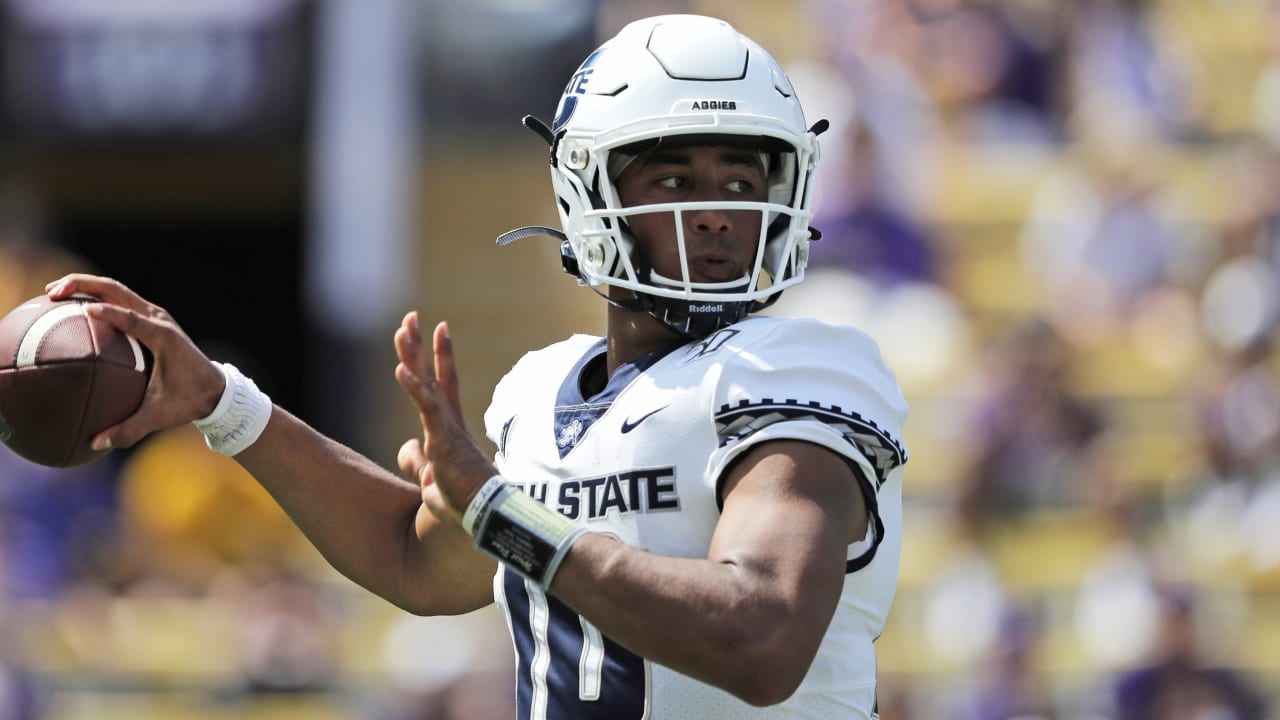 ROOKIE #1
ROUND 1/PICK 26: Jordan Love, QB
Full disclosure, when they announced this pick, I spat out my beer.
This pick had been written in the stars by multiple sources, but there was so much WR talent still available, I assumed as much as the next viewer Green Bay would do the logical thing and put a potential star opposite Adams. But we were forced to contemplate mortality—specifically, the mortality of our green-and-golden god, Aaron Rodgers.
Rodgers had just expressed his desire and expectation to retire in Green Bay after playing into his 40s. He has been above-average, albeit not as high as the lofty expectations he leads us to expect. Even so, he never played poorly enough for us fans to even contemplate his potential departure.
However, after some crying and a few shots of whiskey, I realized a couple of things:
Jordan Love can flat-out play football. 
Here are two QB stat lines:
13 games/64% comp. rate/3767 yards/8.6 yards per att/32 TDs/6 Int
16 games/62% comp. rate/4002 yards/7.7 yards per att/26 TDs/4 Int
The former is Jordan Love's sophomore year, the best indication of his potential. The later was Rodgers last season. The most significant caveat here is the level of talent both players faced. Every player Aaron Rodgers played against is a pro-level talent, the world's best, while Jordan Love maybe played a handful of people who will be at that level. It's silly to compare them.
However, the point I'm trying to prove here is that Love has proven he knows how to move the ball down the field and protect the ball. With a few years behind Rodgers, the rookie could develop into a legitimate star. I mean, just look at this…
B O O M @jordan3love ✈️ @jordannathan_ for 7️⃣5️⃣ yards!

TUNE IN ➡️ @ATTSportsNetRM pic.twitter.com/opM8FCoMOv

— USU Football (@USUFootball) April 7, 2020
Nasty.
This leads us into observation number two (and the most impactful one for fantasy this upcoming season).
2. Aaron Rodgers has never had someone this good behind him on the depth chart.
If I see Taysom Hill's name mentioned in the comments, I will see to it you are banned.
Rodgers has never really had any real competition for his job. In all fairness, once he claimed the position, it was pretty clear he was even better than advertised. But we know Rodgers wants to end his career in Green Bay, and he doesn't want his career to end any time soon. So this only means one thing: Rodgers is going to tear everyone he faces to shreds this year.
He needs to prove that he is still the man and will be the man for the foreseeable future. I don't know if he will do enough to swing another MVP (a couple of kids in Kansas City and Baltimore will likely have something to do with that), but with Love breathing down his neck, I predict Rodgers will return to MVP form. And you know what? I'll take it.
ROOKIE PREDICTION: Hopefully nothing but garbage time nonsense, but the boost he could give to Rodgers' competitive edge may turn the tide for his underwhelming fantasy output.
SHOULD I DRAFT HIM? Only if you are in an extremely deep dynasty league with a couple of starters you can already use and are incredibly optimistic about using a slot on a kid who may never play. In other words: NO.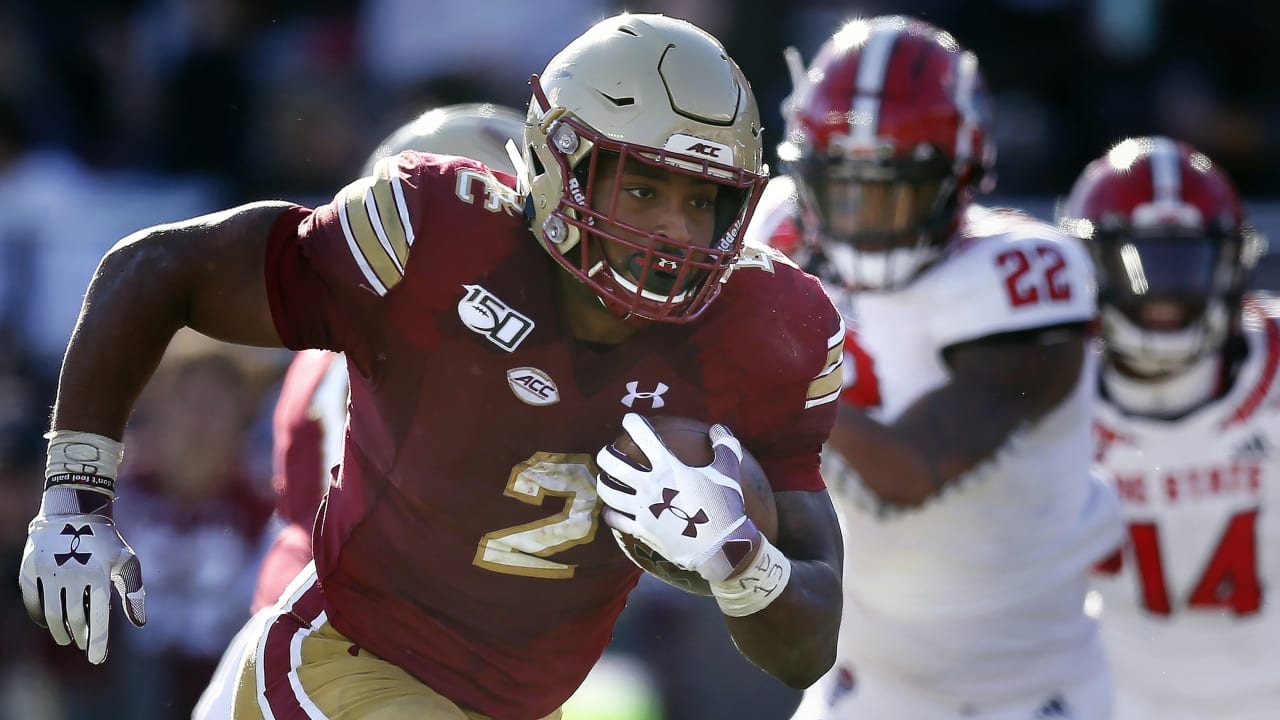 ROOKIE #2
ROUND 2/PICK 62: A.J. Dillon, RB
Honesty time. I was confounded when this pick came through. A glance at Dillon's draft profile showed he was a late-round flier for a team that needed RB depth. It was then I started wondering if Green Bay was losing their way (which generally doesn't happen until at least rounds 4 or 5). But then I saw the measurables:
6'0″/247lbs/4.53 40/41″ vert/131″ broad jump/23 reps benched.
This dude is a compact Derrick Henry. Almost to the decimal.
His all-time ranks in the ACC are legitimately terrifying; 4th all-time in rush attempts, 4th all-time in rushing yards, 8th all-time in scrimmage yards, and a top-20 all-time offensive player in ACC history. All this, and he always had the odds stacked against him. Literally.
He faced a stacked box on a staggering 75% of his career rushing attempts. Boston College's offense went through A.J. Dillon. They didn't hide it, and every opposing team knew it. And he still put up 1,685 yards with an average of 5.3 yards per carry. This dude can play.
Oh, and he can do this…
Told ya I'd get 72" 🐰🐰 pic.twitter.com/upLsl7WHzS

— AJ "Quadzilla" Dillon (@ajdillon7) May 24, 2019
Even more exciting for potential Dillon owners, he is almost a no-brainer for goal-to-go possessions, meaning he will all but certainly vulture some TD's from Jones. The only person this hurts is a Jones owner, but we had a hell of a ride last year, and as long as the Packers are scoring and winning, I'm here for it.
Packers fans and potential Dillon owners should rejoice. This kid is for real.
ROOKIE PREDICTION: 450 rushing yards/100 receiving yards/4 rushing TDs/1 receiving TD. 85~ fantasy points (non-PPR) 93~ fantasy points (PPR).
SHOULD I DRAFT HIM? Yes, but wait. Once all starting-caliber running backs are off the board, you can think about taking a flier on a reliable second option. Dillon is a risky play week in and week out, but you will be thrilled the rookie is on your bench (and not your opponents).
ROOKIE #3
ROUND 3/PICK 94: Josiah Deguara, TE
Another pick, another beer spat onto the floor. An unremarkable athlete and slightly undersized TE with our third pick in the top 100? Say it ain't so! But, when the sky stopped falling, I dug a little deeper.
Coming in at roughly the same size and weight as Dillon (6'2″, 242lbs), he's only a couple steps behind him in the 40 (4.72), and ranked first among all TE's at the bench (25). The guy is pretty compact and strong, and he's not afraid to block, which will likely put him in more of a Marcedes Lewis role. After his selection, the joke was that we got a fullback in the 3rd round, but here's the interesting thing…
🚨BEST PLAY YOU DIDN'T SEE IN WEEK 1: Cincinnati @GoBearcatsFB TE #83 Josiah Deguara (aligned at right TE) makes an unreal hustle play to prevent a pick-six vs. UCLA. That kind of relentless effort will get NFL scouts' attention. The Reese's Senior Bowl sees you, @JosiahD5! 💪👀 pic.twitter.com/tWZCDseoF5

— Jim Nagy (@JimNagy_SB) September 2, 2019
The kid hustles. With good speed for his size, a mindset that is not afraid to do some dirty work, and the fact that he is a top-100 pick, I can see a scenario where he winds up on the field more often than not. This is especially true now that the running game will be a much more significant factor. Now that I've said that, Deguara is also capable of doing things like this…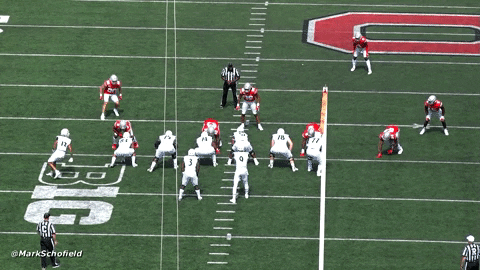 Check out the competition. This Ohio State game was huge for him. He got the better of a ferocious pass-rusher in Chase Young all night, but when asked to go out for a pass, he's a smart route-runner. If he can build some trust with Aaron Rodgers early, I can see him being an excellent safety option and first-down machine his rookie year.
The biggest thing going against him is Rodgers' apparent inability to see TE's and his current standing on the depth chart. But he's still a third-round pick, so he will find his way onto the field. But should the rookie be on anyone's fantasy radar?
ROOKIE PREDICTION: 150 receiving yards/2 receiving TD's. 27~ fantasy points (Non-PPR) 35~ fantasy points (PPR).
SHOULD I DRAFT HIM? On draft day, no. But with there being a real lack of consistent top-tier TE's for fantasy purposes, I would flag him. He's more likely than most rookie TE's this year to be on the field for a high % of snaps as a blocker, but with Rodgers penchant for improvising and holding onto the ball, it's just a matter of what happens on those snaps. Keep an eye on him unless you have someone like Kelce, who, coincidentally enough, also went to Cincinnati *insert eyeball emoji*.
Looking for More?
Want more amazing Fantasy Football content? Make sure you follow me @theryanebert on Twitter and follow us @WiscoHeroics1! To keep up with all the latest news in Wisconsin sports, click here.