The Green Bay Packers' defense has a new defensive coordinator in Joe Barry.  Known for his work with linebackers and given the Packers' struggles at the position last season, it is likely that linebacker may be a target in the early rounds of this year's NFL Draft.  One intriguing prospect who may fall to them is Zaven Collins out Tulsa.  If he is available at pick 29, the Packers could very well be tempted into taking him.
National Accolades
Zaven Collins was a three-year starter at Tulsa.  This past season, he was the best defensive player in the entire country, winning the Bronko Nagurski Award.  This award is given to the best defender in the nation.  Previous winners include Aaron Donald, Chase Young, Ndamukong Suh, and Warren Sapp.
In addition to this award, Collins was named First-Team All-American.  Needless to say, there are not many linebackers as decorated as Collins in this draft.
Zaven Collins: The Positives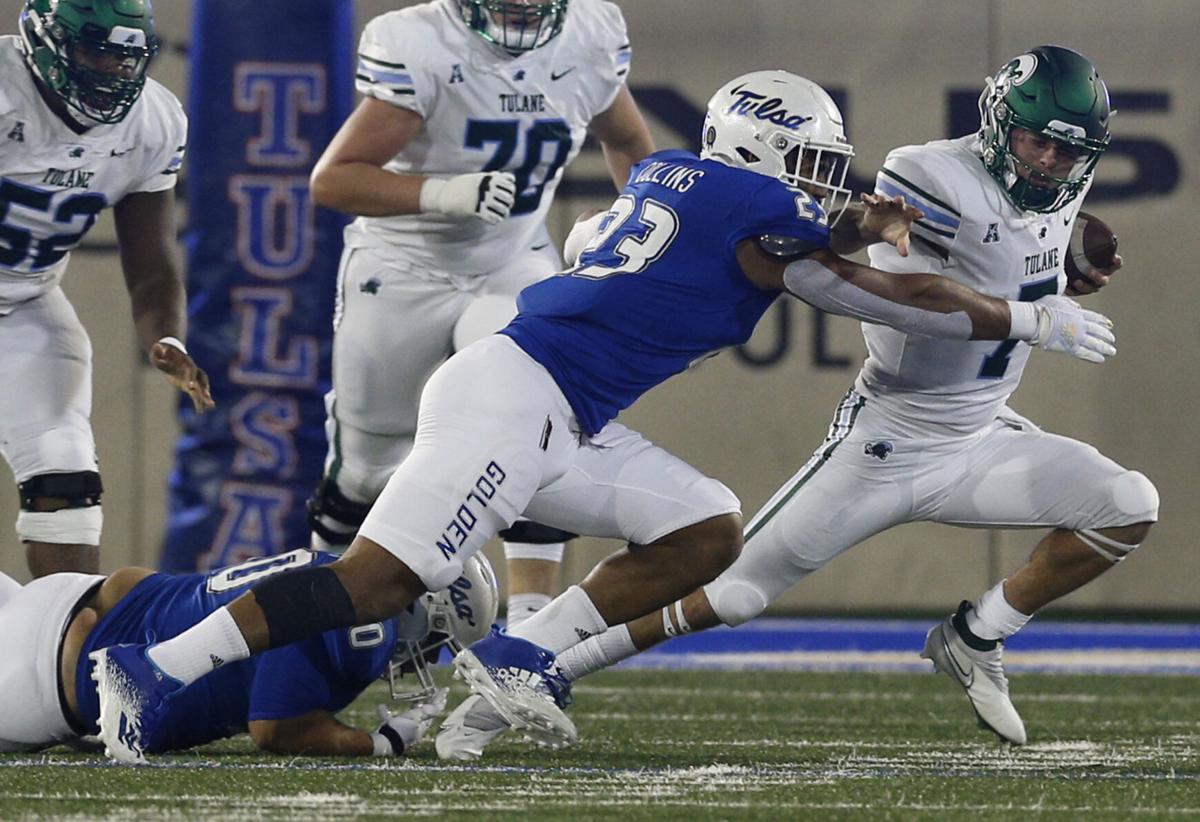 Zaven Collins is a kind of retro-style linebacker in the sense that he is not overly quick.  Instead, he is an incredibly smart player with an incredible closing burst.  He uses his quick decision making to close running gaps and is a staunch run defender.  In addition, he is an above average pass rusher from the middle linebacker position, which is something that the Packers desperately need.
Additionally, Collins is a great pass defender from the middle linebacker position.  In eight games last season, he had four interceptions and two pass deflections.
Zaven Collins: The Negatives
Zaven Collins is an excellent prospects with very few flaws.  That being said, there are some areas of his game in which he can improve.  One is that he sometimes chooses the wrong gap to plug.  As mentioned earlier, he is also not overly quick.  His quick closing burst allows him to jump into passing lanes, but he will struggle to keep up with faster wide receivers over the middle.
Why Should the Packers Draft Zaven Collins?
The Packers have two good young inside linebackers in Barnes and Martin, but are not very deep at the position with adequate talent.  Zaven Collins will likely supplant one of them from one of the starting spots, or at least will be the first linebacker of the sideline in sub situations.
As mentioned previously, Joe Barry is known for his work with linebackers, and it would make sense for the Packers to stack up talent at that position, especially first round talent.  Collins is a good run defender, which is certainly a place of improvement for the Packers' defense.  In addition, as a pass defender, he wreaks havoc on passing lanes over the middle and has good enough hands to grab the ball out of the air.
Perhaps, though, Collins' biggest contribution will be in tackling and playmaking.  Green Bay has great edge rushers and an Pro Bowl cornerback, but lack playmakers at other positions.  Collins could very well become the most exciting linebacker the Packers have had since Clay Matthews.
Why Shouldn't the Packers Draft Zaven Collins?
Linebacker is certainly an area of need for the Packers, but it may not be the most glaring need.  Cornerback, of course, is in desperate need of talented depth and there are a plethora of good cornerbacks who may be available at pick 29.  In addition, the Packers lack depth along the interior of the defensive line.  This position is not nearly as deep in talent in this draft, and the team may choose to take a lineman before all the best ones are gone.
Another position of concern is wide receiver.  The Packers have a solid core group for receivers who helped the offense become the NFL's number one scoring unit in 2020.  However, none of them are under contract after this season ends.  The Packers may look to add some early-round talent at that position as they look into the future.
[pickup_prop id="5691″]
For More Great Wisconsin Sports Content
Follow me on Twitter at @theotherAdams14 and follow us @WiscoHeroics1 for more great content. Check out our merch page here and use promo code Wisco at check out for $1 off! To read more of our articles and keep up to date on the latest in Wisconsin sports, click here!