The Green Bay Packers are first place in the NFC North and hold the number two seed in the NFC. After a 36-28 win over the Los Angeles Rams, the Pack is now 9-3. They took care of business Sunday and are now currently on a bye week with much-needed rest.
The team needs this week in order to heal up and try to get as healthy as possible. With the Packers on their bye week and half way through their season, let's take a look at each position group.
Here are the bye week grades for each position group on the Packers.
Quarterbacks Grade: B+
Aaron Rodgers has had his bit of struggles this year. His deep throws have been off, not playing within the offense, and holding the ball taking unnecessary sacks.
However, despite all that, his numbers show that he is still indeed an elite quarterback in the NFL. He has twenty-three touchdowns to four interceptions and a 105.5 passer rating which is not bad at all.
Jordan Love even got some action this year in week one in a blowout loss but got his official start against the Kansas City Chiefs. He did very well considering the circumstances he was under.
In addition, he outperformed Patrick Mahomes and probably wins that game if special teams did their job. Overall a good performance for the Packers' quarterbacks.
Packers Offensive Line Grade: B-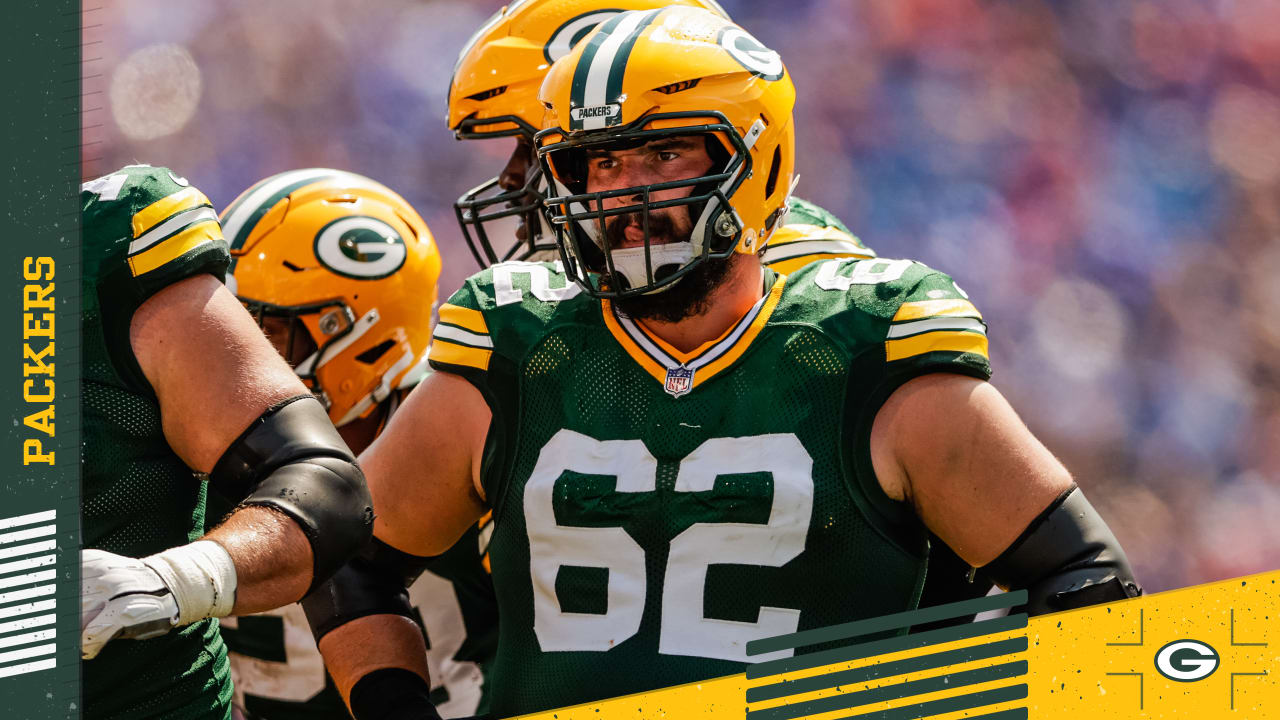 The problem with the Packers on the offensive line this year is mainly injuries.
David Bakhtiari still recovering from a torn ACL last year, Elgton Jenkins tearing his ACL this year, and Josh Myers recovering from surgery he had on his knee.
Also having inexperienced guys like rookie Royce Newman and Yosh Ninjman in the starting lineup. In addition, Lucas Patrick being the starting center for the last month.
Yet the Packers still were able to do a good enough job in protecting Aaron Rodgers as he has been sacked only twenty-one times ranking 16th most in the NFL. Considering that Rodgers holding the ball caused a good amount of those sacks that's pretty impressive.
The offensive line should be good when David Bakhtiari and Josh Myers return. But even without these two, they have been a strong, tough group to face.
Packers Running Backs Grade: A
The Packer's running game has been a big strength for the Packers this year. That has to do with the duo of Aaron Jones and AJ Dillion.
Aaron Jones has shown why the Packers gave him an extension as he is having another good year. On pace for another one thousand yard season for the third year in a row and has done work in the passing game as well.
AJ Dillion has given the Packers a physical presence on offense they have lacked in many years. Dillon, according to PFF, is thriving. He's forced eight missed tackles and has 543 rushing yards. He's made great improvement and is proving to be very dependable for the Packers.
Both of these running backs have taken the pressure off Aaron Rodgers and have carried the offense when needed to.
Wide Receivers Grade: C+
The Packer's wide receivers overall have been pretty good this year. Yes, the numbers outside of Davante Adams are not great. However, everyone has played a role on the Packer's offense.
Davante Adams is without a doubt going to get most of the targets as he the best threat on the team in the passing game. Others have done their part too at wide receiver.
Marques Valdes Scantling despite what the numbers say is important to this offense as his speed opens things up as he can take the top off of defenses.
Allan Lazard has done a lot of the dirty work in the run game. Equanimous St. Brown has been coming along in recent weeks.
Amari Rodgers still getting used to the speed at the NFL level as a rookie. The wide receivers have not been all great but have played their roles really well.
Tight-Ends Grade: C
It is really tough to evaluate the tight-end group this year.
One is because of Robert Tonyan getting hurt tearing his ACL this year. In addition because of the injuries on the offensive line they have been mostly used for blocking to help out a makeshift offensive that's missing key starters. Hopefully, when guys start coming back on the offensive line we can see more of them used in the passing game.
On the other hand, Josiah Deguara, Dominque Dafney, and Mercedes Lewis all have been well good blockers, especially in the run game. In these next games coming up, we will see if all of these guys will be used in the passing game more.
Edge Rushers: A+
The Packers lost Zadarius Smith for most of the season due to a serious back injury. In his absence, Rashan Gary and Preston Smith stepped up and have been phenomenal.
Gary is starting to show why the Packers drafted him high in the first round as he has been a monster this season. Do not let the sack numbers fool you Gary has done a lot of things that do not show up on the stat sheet. He disrupts the quarterback getting pressure and is always setting the edge when defending against the run.
Preston Smith after a bad 2020 campaign has had a huge rebound and is showing signs of what he was in 2019. Also, Johnathan Garvin, LaDarius Hamilton, and Tipa Galeai all have stepped up when called upon.
Once Zadarius Smith hopefully returns lookout for the Packers pass rush.
Packers Defensive Line Grade: B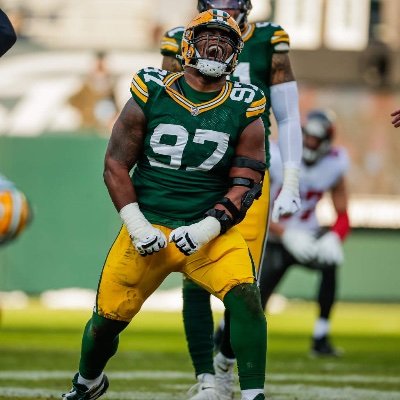 The biggest surprise of the year is the Packer's defensive line. T
hey have played very well this year. Kenny Clark is getting the help that he has needed the last couple of years. Dean Lowry has been playing some of his best football and creating havoc inside getting that interior pressure.
Kingsley Keke has just been a force as he has done well in getting after the quarterback and stopping the run.
Tederarell Slaton has shown a lot of flashes as a rookie and may get more playing time as the season goes along. Tyler Lancaster has been a decent depth piece and does well on limited snaps. If this defensive line can keep their success going, the playoffs and potentially Super Bowl is going to be a difficult one for their opponents.
Linebackers Grade: B+
This is arguably the best inside linebacker play the Packers have had in many years; This can be credited to the acquisition of De'Vondre Campbell.
Campbell has played at a high level this year as he is one of the best inside linebackers in the NFL. His play in coverage and calling the Packers defense has been outstanding.
Krys Barnes has been pretty solid too as he is continuing where he left off last year as a rookie. Though he's had his bad games, overall he is making huge strides in his second year with the Packers.
Oren Burks and Ty Summers have been decent depth and quality special teams players. So far this Packers linebacker group might be the best they have had in years.
Cornerback Grade: A-
This Packers cornerback group has been really good this season. Key player Jaire Alexander has missed a big portion of the season due to injury, so it's surprising how well the cornerbacks have been performing.
Rasul Douglas has been great for the Packers as he was picked up off the Arizona Cardinals practice squad. He has made a big impact for the Packers and is a key player in that cornerback group.
Kevin King when healthy has played well and was Pro Football Focus's highest-graded corner for a couple of weeks.
Eric Stokes has played fairly well as a rookie and will continue to get better. Devante Adams has previously said that Stokes is "the closest thing to Jaire here as far as mentality and ability from what I've seen so far."
Once Alexander returns to the field, the Packers are truly going to be a tough force to beat and a a strong Super Bowl contender.
Packers Safety Grade: A
Since Charles Woodson left the Packers after 2012, the backend of the Packers defense has not been as strong. However, that has all changed with the duo of Darnell Savage and Adrian Amos.
This is arguably the best safety duo in the NFL as both are really good players.
Darnell Savage is coming into his own just needs to take advantage of the takeaways given to him as he has dropped many interceptions. Having a bit of an injury scare in the games against the Rams, Savage is doing just fine.
Adrian Amos is arguably the best strong safety in the NFL. Second highest-graded safety by pro football focus, Amos has been a quiet leader for the Packers' defense since he has got here in 2019. Henry Black, the third safety behind them has been solid as well finding a role in the Packers defense.
Expect this group to continue to grow as this season trucks along.
For More
Follow me on Twitter at  @CarlosS29143608 and follow us at @WiSportsHeroics for more content. To keep up on all of your favorite sports in Wisconsin, click here!